A creamy, no-bake frozen blueberry pie, perfect for summer!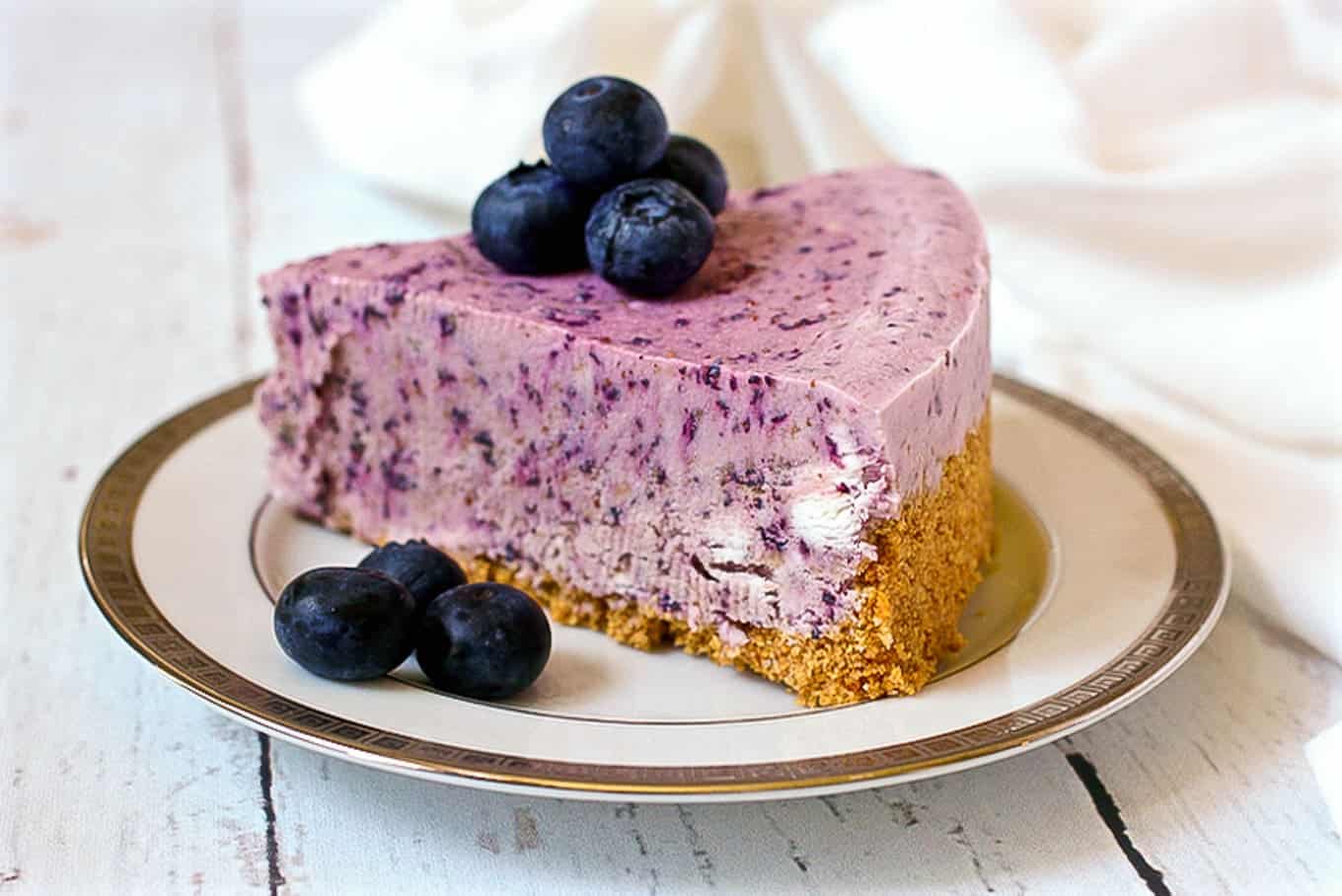 Summer doesn't get much better than this. Sweet, ripe blueberries, frozen pie and no ovens. Can I get a hells yeah?
My main problem with this pie is trying not to eat all of the filling before I get it into the freezer. It starts with licking the spoon. Then I'm accidentally dropping the spoon back into the batter so I can lick it again. Then I'm unashamedly spooning the filling into my mouth from the bowl.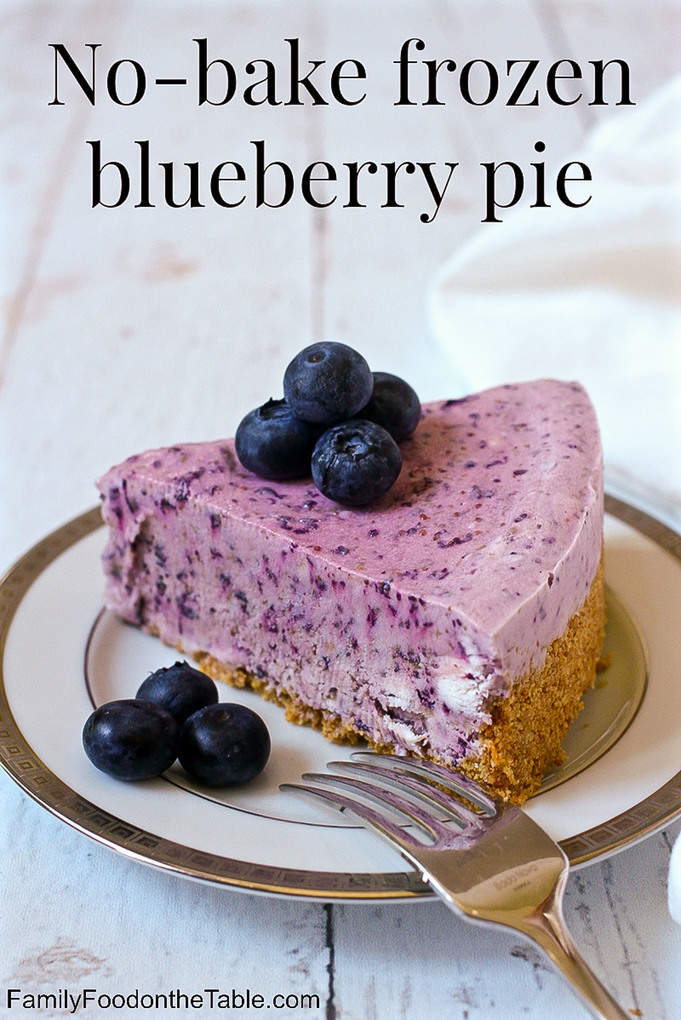 At some point, I make the wise choice to go ahead and dump what's left into the graham cracker crust and put it in the freezer. But what do you know, I left quite a bit of it in the bowl there, didn't I? Commence finger swiping all around the rim and inside the bowl. I may or may not have licked it with my tongue and gotten some all over my chin and cheeks in the process. I'm just glad no one was here to witness this.
The next hardest part is waiting for the blueberry pie to freeze. Probably helps if you don't keep opening the freezer to peek at it. It only takes a few hours, but I was eager.
But your (lack of) restraint and patience will pay off because this beauty is unbelievably tasty. It's like frozen blueberry cheesecake and it's amazing. Sweet, a tiny bit tart, the most beautiful purple and so cold and creamy. It's the perfect summer dessert! And I even lightened it up a tad, so it's healthy-ish.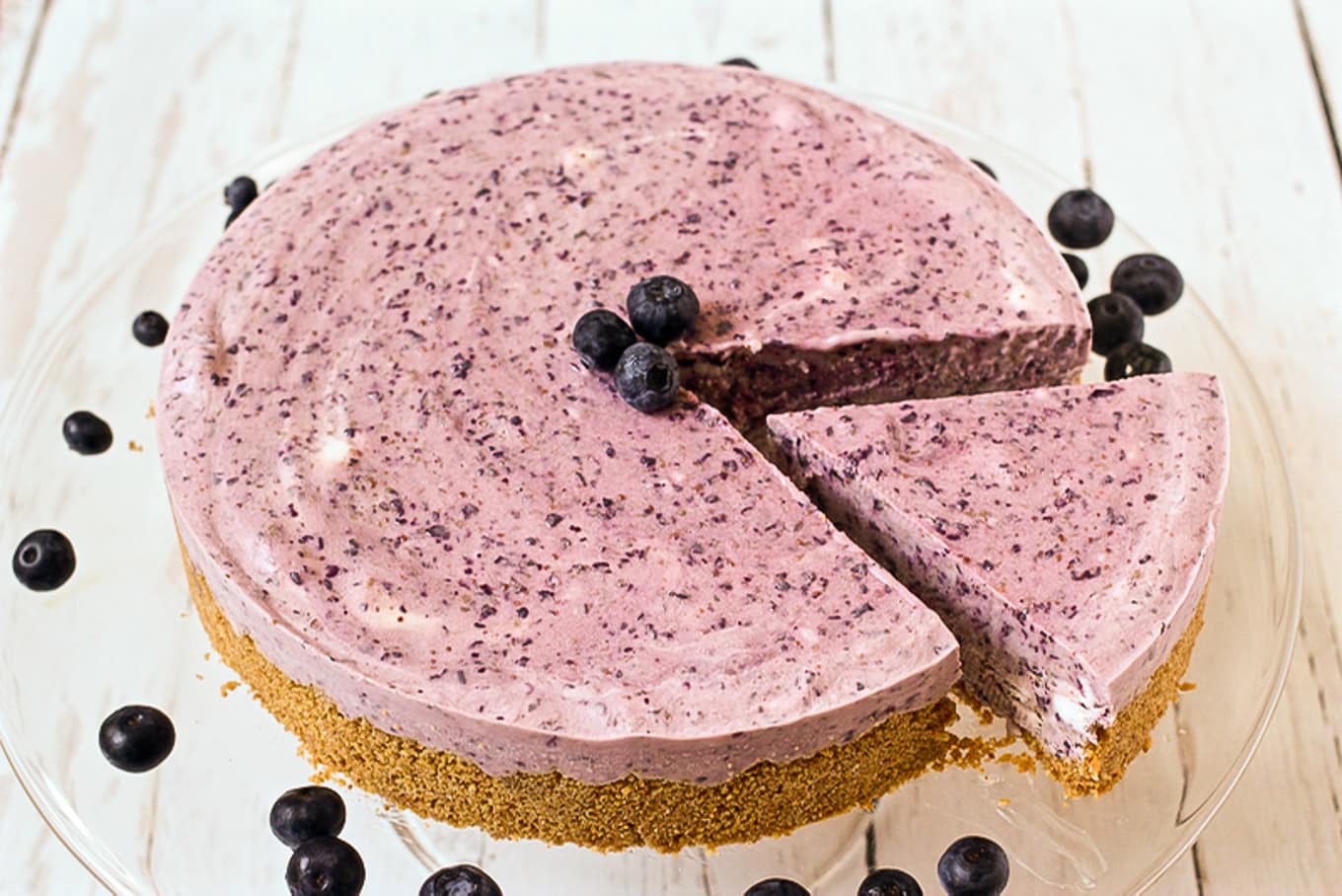 You have simply got to make this frozen blueberry pie.
About 20-30 minutes prep, pop it in the freezer and you are in for a serious treat. Invite some friends or neighbors over because this recipe is its own reason to celebrate.
Happy summer!
Yield: 1 pie. I'll let you decide how many that serves.
No-bake frozen blueberry pie
A creamy no-bake frozen blueberry pie, perfect for summer!
Total Time
3 hours
30 minutes
Ingredients
For the graham cracker crust:
1 ½ cups graham cracker crumbs (from about 1 ½ packages from a box)
¼ cup sugar
¼ cup butter, melted
For the blueberry pie filling:
3 cups fresh blueberries (see notes)
⅔ cup granulated sugar
8 oz. cream cheese (I use ⅓ less fat)
1 ½ cups plain yogurt (I use nonfat)
½ cup powdered sugar
1 teaspoon vanilla extract
½ cup heavy cream (see notes)
Instructions
Make the graham cracker crust. I crush the graham crackers in a food processor (that I reuse in the next part for the blueberry pie filling), then add the sugar, pulse it to combine, and add the butter. Pulse it a few times and it'll get nice and combined and crumbly for you.
Dump the crust into a well-greased 9-inch springform pan or deep-dish pie plate. Spread it evenly around the bottom and then work it up the sides. I use a measuring cup or a glass to flatten the bottom and then press the mixture against the sides of the pan. Stick the pan the refrigerator to firm up a bit while you make the filling.
Next, combine blueberries, sugar and ½ cup yogurt in your (wiped out) food processor and process until smooth. You could use a blender, too.
In a large bowl, combine cream cheese, remaining 1 cup of yogurt, powdered sugar and vanilla and use an electric mixer (or stand mixer) to combine until smooth. (Start on slow so your powdered sugar doesn't go everywhere.)
Add the blueberry mixture to the cream cheese mixture and beat on medium to combine.
In a separate bowl, add heavy cream and use your (rinsed off) mixer to beat it until it turns into whipped cream - stiff peaks are what you want (see notes below).
Fold the whipped cream into the blueberry mixture and carefully combine. Get your graham cracker crust from the refrigerator and pour the blueberry pie filling into it.
Freeze the pie until solid, about 3-4 hours. Slice with a serrated pie cutter or knife, serve and enjoy! *Extras can be stored in the freezer, well covered with plastic wrap, for up to 1 week. Maybe more, but it never lasts that long here so I'm not sure 😉
Notes
I've not tried this using frozen blueberries, but you probably could substitute them. Make sure they are completely thawed and don't have too much extra water or liquid with them.

You could sub store-bought whipped cream, but it takes just minutes to make your own. You've already got the hand or stand mixer out, so go ahead and use it. It took me maybe a minute on medium-high speed to whip the heavy cream into whipped cream. I wasn't even paying close attention to the "peaks," so don't worry if you've never done it before. Confession: I hadn't! We don't ever use whipped cream so I'd never made my own. But guess what - it's super easy!
Recommended Products
As an Amazon Associate and member of other affiliate programs, I earn from qualifying purchases.
Nutrition Information:
Yield:
8
Serving Size:
1
Amount Per Serving:
Calories:

444
Total Fat:

23g
Saturated Fat:

14g
Trans Fat:

0g
Unsaturated Fat:

8g
Cholesterol:

63mg
Sodium:

242mg
Carbohydrates:

55g
Fiber:

2g
Sugar:

44g
Protein:

6g