Homemade blueberry sauce is easy to make with just 5 ingredients and 15 minutes! The perfect way to use fresh summer blueberries and goes great over ice cream or yogurt, waffles or pancakes!
Are you all loving the fresh blueberries that seem to be just exploding everywhere? I feel like I'm seeing them by the bucketfuls at the grocery store and farmer's market.
And I'm so loving it!
But I keep buying them and then I gotta find a hundred ways to use them. #goodproblemtohave
Homemade blueberry sauce to the rescue!
This uses a lot of blueberries -- a whole pound! -- and is great for having on hand all summer long. (It stores beautifully in the fridge or freezer.)
A jar of this in your fridge and you will be ready to serve up some fancy ice cream, top some pancakes or waffles (even my whole wheat blueberry waffles), or just drizzle a bit on your yogurt. Shoot, drizzle it on some toast. It's that good.
(Love strawberries too? Be sure to check out my easy strawberry sauce.)
And homemade blueberry sauce couldn't be simpler to make.
Just boil some fresh blueberries with sugar, a pinch of salt and a splash of orange juice, then blend it up, cook the mixture in the pan to help it reduce a little, cool and store.
That's all folks. 15 minutes and you've got the sweetest, prettiest little sauce stored away. Ready for brunch, dessert or any other way you can find to use it. 💙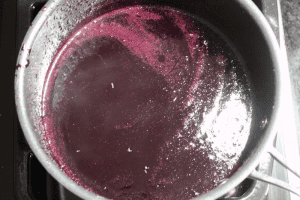 Plus, you can pop some of this in the freezer and you can enjoy a taste of summer freshness throughout the winter months. Just leave a little room at the top of the jar so it can expand in the freezer.
It also makes a wonderful hostess gift or a new-neighbor or teacher gift. Slap a tag and a ribbon on a little jar of this blueberry sauce and you are going to be making lots of new friends.
(Need even more ways to use up your fresh blueberries? Check out my no-bake frozen blueberry pie or this blueberry crumble pie that I've been dying to try!)
Word to the wise: Don't be so lazy that you stick your immersion blender right in the big pot on the stove. It will splatter all over your kitchen and despite some very good scrubbing, two days later you'll find you have some ants visiting. Ugh.
Instead, transfer the mixture to a blender or to a smaller container better suited for an immersion blender. (Or just off the heat for a couple of minutes.)
Lesson learned. At least J likes pointing at the ants when he finds one and saying, "Oh!" Mama is not quite so smitten. 😔
Round up all the fresh blueberries you can and get your sauce on.
Enjoy!
XO,
Kathryn
Yield: about 2 ¼ cups
Blueberry sauce
Homemade blueberry sauce is easy to make with just 5 ingredients and 15 minutes!
Ingredients
1 pound blueberries (about 3 ½ cups)
¾ cup granulated (white) sugar
pinch of salt
1 tablespoon orange juice (or you can substitute lemon juice)
1 teaspoon pure vanilla extract
Instructions
Add blueberries, sugar, salt and orange juice to a large pot and bring to a boil over medium-high heat, stirring occasionally.
Once boiling, remove from the heat and carefully add to a blender, or to a container to use with your immersion blender. Blend - carefully - then return to the pot.
Return the mixture to a low boil and cook for 7-10 minutes. The sauce will thicken and should adhere to the back of a spoon when you run your finger across it (see picture above).
Remove from the heat. Skim the foam if needed (I usually don't) and stir in the vanilla. Let cool.
You can strain the sauce through a fine-mesh strainer to make it more smooth or to remove any blueberry skins, if you have some remaining. Otherwise, pack the sauce up in jars and store in the fridge (for up to a month) or the freezer (for up to 3 months).
Recommended Products
As an Amazon Associate and member of other affiliate programs, I earn from qualifying purchases.
Nutrition Information:
Amount Per Serving:
Calories:

4
Carbohydrates:

1gg
Sugar:

1gg
Disclaimer: This post contains affiliate links. If you purchase a product through an affiliate link, your cost will be the same but I receive a small commission. Your support is greatly appreciated!