This super creamy, bright 5-ingredient healthy homemade hummus is ready in just 5 minutes! Serve as an appetizer with veggies and pita chips or use for wraps and sandwiches.
5 ingredients and 5 minutes. That's all you need to make your own hummus at home. And that "5 minutes" pretty much covers clean up as well. It's just that easy!
Healthy homemade hummus is about the easiest thing to do. Promise. I've been making this for over a decade. It's one of the earliest recipes I made regularly out of college, when I was very new to cooking.
So if I could do it then, anyone can!
Also, we are lightening things up a bit here.
This version of hummus doesn't have any olive oil, so it's a lot lighter on calories and fat. Yet it's rich and creamy and so, so delicious.
I got this basic homemade hummus recipe from a friend whose father was Lebanese.
We worked together in D.C. when I was in my hummus-every-day-at-lunch phase. And back when I was buying it.
She asked if I'd ever made my own hummus and gave me her family's recipe to try.
I actually bought my mini food processor for this very reason. It's gotten a lot of use and made a countless number of batches of hummus! Homemade is seriously superior.
(Also way cheaper and so much more convenient!)
Now, I've got some notes, tips and substitutions coming up below on how to make hummus. Just tryin' to be helpful.
If you want to jump on down to the recipe, simply scroll right on through the rest of the text. The recipe card is near the bottom of the page, above the comments section.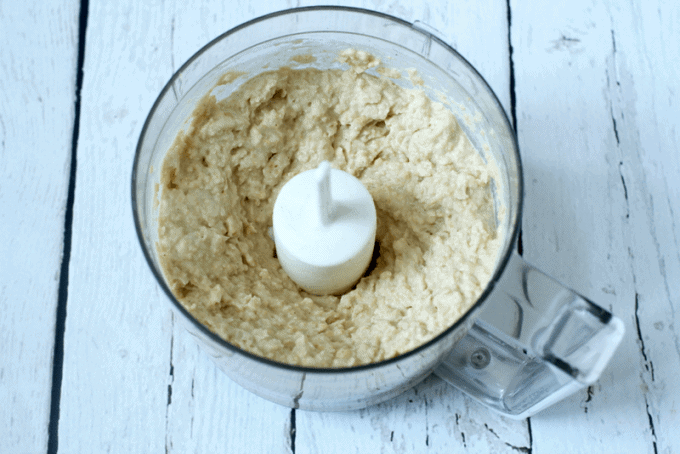 Notes on making healthy homemade hummus:
Chickpeas - These are also called garbanzo beans. You can buy a can at the store or make your own chickpeas in the crock pot for extra tender chickpeas that result in even creamier hummus. (I do it overnight; so easy!)
Draining - You can rinse and drain the canned chickpeas all the way OR you can reserve a couple of tablespoons of the canned liquid to use for the hummus. I love the extra flavor this adds.
Tahini - This is a paste made from sesame seeds and sold in jars at the store. The various brands can have big differences in flavor and really affect the taste of your hummus. Many stores only sell one brand, but you might want to experiment and find the flavor you like best.
Lemon juice - Adjust the amount of lemon juice to your liking. Add a little extra for extra freshness and lemony flavor, or use a little less if you want it more as a background flavor. You could add some lemon zest if you want some serious lemon flavor. 🍋
And absolutely you can drizzle in some extra virgin olive oil as you are blending your hummus or serve it with a little puddle of oil drizzled in the middle of the bowl.
Nothing wrong with that!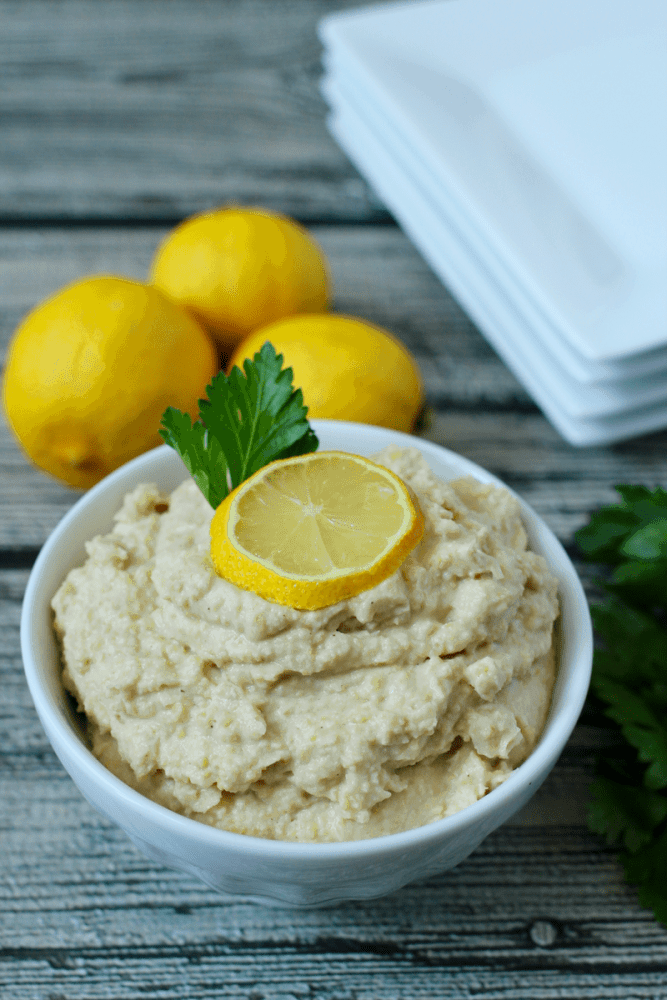 Last thing - what to do with leftovers.
Hummus can be stored in the refrigerator, in a covered container (or in a bowl covered with plastic wrap) for up to 7-10 days.
Are you a total hummus lover like me?
If so and if you want to change up the flavors, check out this Mediterranean layered hummus dip and southwestern hummus for a different twist on basic hummus.
I even make a festive holiday hummus that uses a roasted red pepper hummus as a base.
Serve this homemade hummus with your favorite fresh veggies, crackers and pretzels as an appetizer that everyone will want to dive into.
You can also use it as a spread for baguette slices or sandwiches or wraps. Adds so much flavor and creaminess!
Or use it for hummus pita pizzas or hummus and veggie roll ups. The options are endless.
It's so delicious, you'll be looking for new ways to eat it!
Enjoy!
XO,
Kathryn
Yield: about 1 ½ cups
Lightened up hummus
A super creamy, bright homemade hummus in 5 minutes!
Ingredients
1 ½ cups chick peas, rinsed and drained *
2 tablespoons water (or reserved liquid from chick peas)
1 ½ tablespooons lemon juice (use less or more, to your liking)
1 ½ tablespoons tahini
1 clove garlic, minced
½ teaspoon kosher salt
Instructions
Dump all your ingredients in a food processor and mix until smooth and super creamy. No really, that's all! You can add extra water if you want to thin it out a bit more.
Serve with fresh cut veggies, pita bread, crackers, pretzels - whatever you like! Or use it as a sandwich spread. Delicious!
Nutrition Information:
Yield:
24
Serving Size:
1
Amount Per Serving:
Calories:

23
Total Fat:

1g
Saturated Fat:

0g
Trans Fat:

0g
Unsaturated Fat:

1g
Cholesterol:

0mg
Sodium:

45mg
Carbohydrates:

3g
Fiber:

1g
Sugar:

0g
Protein:

1g