It's so easy — and economical — to make your own chickpeas in the crock pot!
It sure is easy to buy a can of beans when you need it. And trust me, I do that a lot. I've always got a pantry stocked with cans of beans. Black beans, cannellini beans, refried beans, pinto beans, we are a bean-loving family. Especially my kiddos.
But I do also like to cook my own sometimes. You get to control the sodium level and you can cook them to your desired consistency.
Usually, a bean is a bean is a bean in my book. But with chickpeas, when you use them mainly for 5-minute hummus and the occasional healthy cookie dough, it helps to have extra soft and tender and creamy chickpeas. The ones in the can tend to be hard. And we eat a lot of hummus around here. My kids are particularly found of beet hummus and I make about a dozen different varieties of other types of hummus for appetizers. So I always need lots of chickpeas around and I'm fond of the homemade kind because they are softer, resulting in a much creamier hummus, in my opinion.
An easy fix, achieved through making your own chickpeas in a crock pot or slow cooker.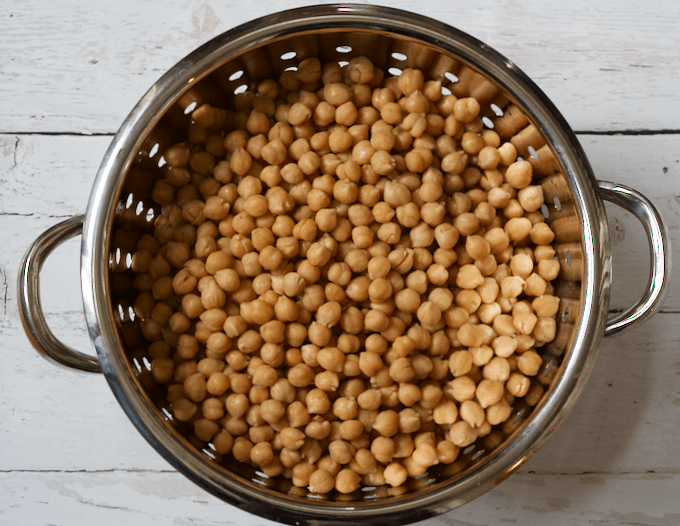 It couldn't be easier. Dump in your beans, some water and salt and set your crock pot or slow cooker. I even cook them overnight sometimes. Gotta love a kitchen appliance that's hard at work while you're asleep. You wake up and you have a big batch of chickpeas ready to go. Honestly, the hardest part is bagging them up once they're cooled.
I love having a stockpile of chickpeas in my freezer ready to go when I need them. So every couple of months, I make a big batch of crock pot chickpeas.
All of your chickpea needs are covered. Rest easy now. And then go make some hummus!
Yield: 8 "cans" worth - see notes below
Crock pot chick peas
It's so easy -- and economical -- to make your own chickpeas!
Total Time
9 hours
5 minutes
Ingredients
2 16-oz bags of dried chickpeas (also called garbanzo beans)
14 cups water
2 teaspoons kosher salt
Instructions
Rinse the chickpeas in cold water and pick over them to remove any broken or funny looking pieces.

Dump chick peas in the crock pot.

Add 14 cups of water.

Sprinkle the two teaspoons of salt over the top.

Cover and cook on low for 8-10 hours, until desired consistency. (I like them soft since I almost always puree them for hummus.)

Drain, let cool and store in the fridge for up to 3 days or the freezer for up to 3 months.
Notes
This batch yields the equivalent of about 8 cans. I bag them up into individual portions, which is about 1.5-1.75 cups of chick peas per portion.
Recommended Products
As an Amazon Associate and member of other affiliate programs, I earn from qualifying purchases.
Nutrition Information:
Yield:
12
Serving Size:
1
Amount Per Serving:
Calories:

124
Total Fat:

2g
Saturated Fat:

0g
Trans Fat:

0g
Unsaturated Fat:

1g
Cholesterol:

0mg
Sodium:

369mg
Carbohydrates:

21g
Fiber:

6g
Sugar:

4g
Protein:

7g