These easy baked falafel patties are sturdy with bright, fresh herbs running through them. Perfect for stuffing into pitas and drizzling with this simple, creamy tahini sauce!
*** This post has been updated with new photos and notes. It was originally published in February 2016. ***
My favorite restaurant in college was a hole-in-the-wall Mediterranean joint and I loved their falafel appetizer.
I also loved their crazy music, their interesting paintings and their ability to give me massive amounts of food for so very little money. College dining on the cheap, right?
But their falafel, amazing as it was, was fried. And in recent years, I don't do fried. Plus, I moved 😉
So after much trial and error, I present my lovely homemade baked falafel patties. They are easy — just mix and form into patties - and they are sturdy and will hold together for you. 🙌
You should probably be careful not to burn your fingers as you reach for one on the pan straight out of the oven. Cannot resist. Is that just me?
These falafel are bursting with bright flavors from the fresh cilantro and parsley, and they pack a hefty, hearty flavor from all the meaty chick peas. They have a crispy crust on the outside and a soft, creamy inside.
You are going to want to eat falafel forever!
Breakfast, lunch, dinner, I'll eat these any time of day. Doesn't get any better than those amazing flavors all smushed up together, if you ask me.
Oh and I should mention that they are vegan and gluten-free too. 👍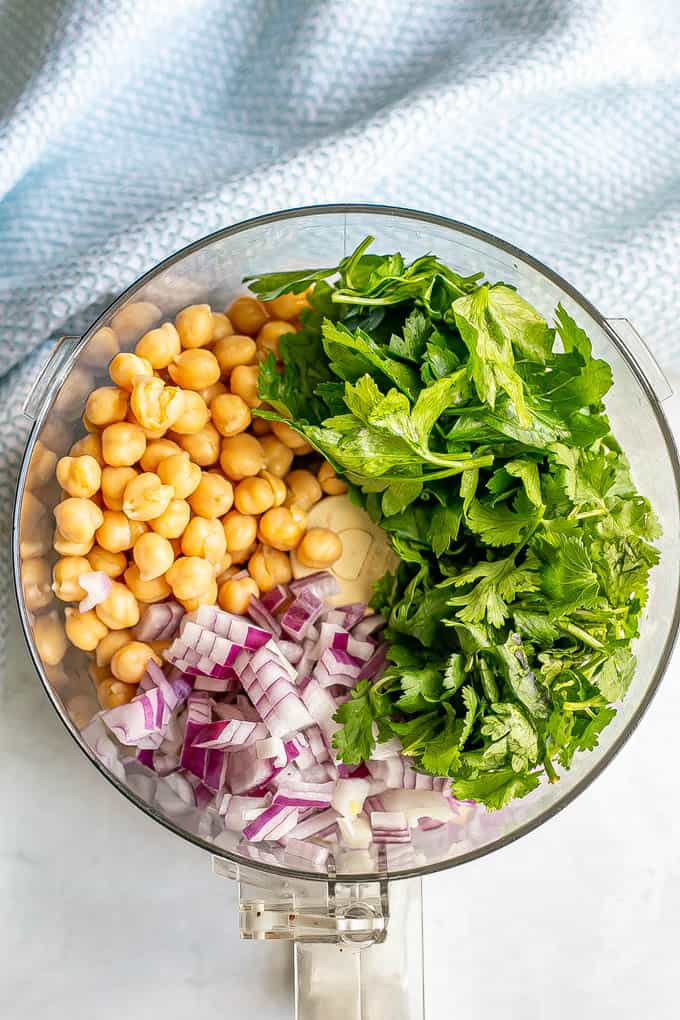 So let's get cooking!
Now, I've got some notes, tips and substitutions coming up below on how to make falafel. Just tryin' to be helpful.
If you want to jump on down to the recipe, simply scroll right on through the rest of the text. The recipe card is near the bottom of the page, above the comments section.
Tips on how to make baked falafel:
Make small, thick patties. This makes them easier to flip. And then you get a big bite to sink your teeth into.
Refrigerate the patties for a little while after you form them - this helps them firm up so they stay together when you are cooking them. This is also a great step for parties so you don't have to fuss with them right before the guests come. (You can freeze them in a little less time if you're too eager and want to speed things up. I know I'm impatient when it comes to falafel.)
Spray the baking pan with cooking spray so the patties don't stick to the pan when you try to flip them.
Flip carefully. If a couple start to crumble on you, just smush them back together. They will firm up in the second round of baking.
Let the baked falafel cool slightly for a couple of minutes on the pan and then serve. Once they've sat out, they can be a bit crumbly. That goes for any leftovers, too. But no worries. You can still stuff the crumbly bits into some pita bread, or just sprinkle it over a bowl of hummus or on a salad. 👍
Ready to eat? Me too.
Here's a few serving ideas, cause falafel really is very versatile!
Ways to serve baked falafel:
- They are perfect stuffed into a pita with lettuce and tomato and drizzled with the easy tahini sauce I've included in the recipe card below.
- They also are great topped with hummus (alone or in pita or a wrap).
- Serve the falafel patties over salads or grain bowls for a plant-based protein.
- You can even eat these falafel patties with scrambled eggs and some salsa in the morning for a savory breakfast! 😋
If you're feeling particularly ambitious, I highly recommend a massive Mediterranean spread of this baked falafel along with my 5-minute homemade hummus, some tabbouleh, warm pita bread, a mix of olives and anything else you can scrounge up to go with it. ❤️
ALL the delicious flavors in one place. This is the stuff dreams are made of.
Finally, here's what to do with any extras.
How to store leftover falafel:
- Leftover falafel patties can be stored, covered, in the refrigerator for up to 5 days.
- Reheat in the microwave or in a toaster oven. (A toaster oven will help get some of the crusty edge back.) They may be a bit more crumbly, but still work great stuffed into pitas or crumbled over a salad or grain bowl.
- You can also freeze leftover falafel. Place the patties in a (labeled and dated) freezer-safe ziplock bag and freeze for up to 6 months.
- Defrost overnight in the refrigerator and then heat to serve.
Last thing: I have received some comments that these are too salty. I recently remade them and cut the salt back to 1 teaspoon. (It had been 1 ½ teaspoons.) They came out fine so I have revised the recipe card to reflect that.
Now, I did sprinkle some salt on a couple when I served them, but they may not need it depending on how you are planning to use them.
I also must emphasize that you must rinse your canned chickpeas well to get rid of the sodium-heavy liquid from the can.
Also, I use kosher salt. It has a different sodium level than iodized table salt, so they cannot be substituted 1:1 or you will get different results. OK, that's it!
Mediterranean food calls to me. It's in my bones somehow and there's no denying its temptation. So I submit. Happily.
I hope you will too. Enjoy!
(Also, update on the oven, which if you read my last post, is non functional. The new one is going to come sooner than we thought - next week. So excited! Maybe these falafel will be the first thing I make... 😊)
XO,
Kathryn
Yield: 10-12 patties
Easy baked falafel and tahini sauce
These easy baked falafel patties are sturdy and have bright, fresh herbs running through them. Goes great with the creamy tahini sauce!
Total Time
1 hour
15 minutes
Ingredients
For the falafel:
2 (14.5 oz.) cans chickpeas (or 3 cups crock pot chickpeas), rinsed and drained
1 cup chopped red onion
4 cloves of garlic, chopped
½ cup loosely packed cilantro
¼ cup loosely packed parsley
1 tablespoon olive oil
1 tablespoon lemon juice
1 tablespoon ground cumin
2 teaspoons ground coriander
1 teaspoon kosher salt (see notes)
1 teaspoon baking soda
For the tahini sauce:
¼ cup tahini (see notes)
2 tablespoons lemon juice
2-3 tablespoons of water
salt and pepper to taste
For serving (optional):
Pita bread
Lettuce and tomato
Instructions
Combine the chickpeas, red onion, garlic, cilantro and parsley in a food processor. Process until broken down but still a little chunky.
Transfer the mixture to a bowl and add the remaining ingredients (through baking soda). Mix well.
Form the falafel mixture into patties. I like doing small, thick patties - it makes it easier to flip them and they hold together better. Plus, you get a generous bite!
Place the patties on a plate, then cover and refrigerate for at least 1 hour. Or, you can stick the patties in the freezer for 20-30 minutes. This helps them set up so they'll hold together better.
Preheat the oven to 400. Remove falafel patties and space them out evenly on a baking pan sprayed with cooking spray.
Bake at 400 for 20 minutes, then flip carefully. If any of the patties fall apart a little, you can carefully use the spatula and your hand to smush them back together. They firm up by the time they are finished baking.
Bake another 10-15 minutes, until well browned and firm.
In the meantime, make the tahini sauce. Mix the tahini, lemon juice, 2 tablespoons of water and a dash of salt and pepper in a small bowl. Add additional water, a tablespoon at a time, if needed, to get the sauce to a drizzling consistency. (It will depend on the thickness of your tahini.)
Once they are finished cooking and nicely browned, remove the falafel patties and let cool for a couple minutes on the pan. This helps them finish setting up so they hold together.
Serve in the pitas with the tahini sauce, and enjoy!
Notes
Tahini: Tahini is a sesame seed paste with a great nutty flavor. I usually find it near the peanut butter in the grocery store.
Chickpeas: You can use canned chickpeas or make your own crock pot chickpeas from dried beans.
Salt: Some readers have said these were too salty. I retested the recipe and revised the amount of kosher salt down to 1 teaspoon, as listed above. (It had been 1 ½ teaspoons.) I did add some salt for serving to suit my tastes, but they might not need it depending on how you serve them. You must rinse canned chickpeas well to remove the sodium-heavy liquid they are in. Also, I use kosher salt. Regular iodized table salt has a different sodium level and shouldn't be substituted 1:1 or you'll get different results.
Serving: These are also great served with hummus in a pita. Or just topped with hummus and eaten alone. Or serve as a vegetarian protein with salads or grain bowls. They even go great with some eggs in the morning, topped with salsa.
Leftovers: Leftover falafel patties can be stored, covered, in the refrigerator for up to 5 days. Reheat in the microwave or a toaster oven. They can be a bit more crumbly, but I love sprinkling them on salads or into pita pockets. You can also freeze leftover falafel. Place the patties in a (labeled and dated) freezer-safe ziplock bag and freeze for up to 6 months.
Recommended Products
As an Amazon Associate and member of other affiliate programs, I earn from qualifying purchases.
Nutrition Information:
Yield:
6
Serving Size:
2 patties
Amount Per Serving:
Calories:

93
Total Fat:

4g
Saturated Fat:

0g
Trans Fat:

0g
Unsaturated Fat:

3g
Cholesterol:

0mg
Sodium:

574mg
Carbohydrates:

14g
Fiber:

4g
Sugar:

3g
Protein:

3g