This tabbouleh salad shines with the bright, fresh flavors of parsley, mint and lemon. It's great as a side salad with other Mediterranean dishes.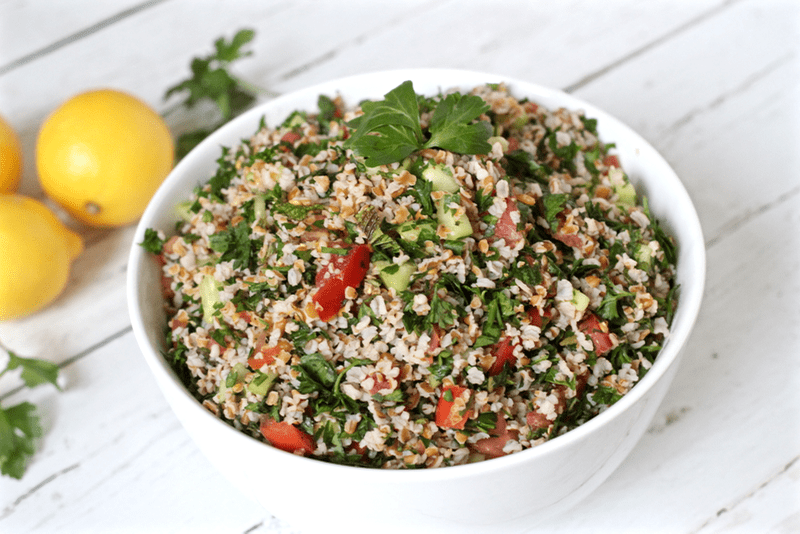 Tabbouleh is a Middle Eastern salad that's just bursting with bright, fresh flavors! It features bulgur wheat and loads of fresh herbs and is super easy to throw together.

So, I'm pretty sure I was meant to be born in Lebanon. You know how everyone has a regional food that they feel drawn to? Maybe it's Italian, maybe it's Mexican, maybe it's French or Indian or Southern or Californian. For me, I can't get enough of the Mediterranean flavors. I could nosh on hummus, shawarma, kabobs, tabbouleh and marinated salads every day and be a happy lady.
Though the same could be said for tacos... and paninis... and chopped salads... and roasted veggies. Oh, don't make me choose!

So when I'm fixing a spread of falafel and hummus and pita and veggies, I love to have this at the table. It bring so much color and flavor to the party.
And if you find yourself with extra tabbouleh, add it to a wrap with some hummus and you are in lunch heaven! Or top off your turkey sandwich with a bit of tabbouleh - that'll put a pep in your step!
P.S. Check the notes in the recipe below. I've got a few ideas for punching up this tabbouleh side salad into a more substantial vegetarian main dish if you want to serve it that way. It's amazing however you fix it!
Yield: 4-6 servings
Tabbouleh
The bright, fresh flavors of parsley, mint and lemon shine in this tabbouleh salad!
Ingredients
For the bulgur:
1 cup bulgur wheat
½ teaspoon salt
1 ½ cups boiling water
For the salad:
Zest and juice of one lemon
2 cups parsley, finely chopped
½ cup mint, finely chopped
1 cucumber, chopped small
2 large tomatoes (or 3 smaller tomatoes), chopped small
½ teaspoon salt
½ teaspoon black pepper
Instructions
Prepare bulgur: Combine bulgur and salt in a heat-proof bowl. Pour boiling water over bulgur. Cover bowl with plastic wrap and let sit for 15 minutes. After 15 minutes, uncover and pour bulgur into a fine-mesh sieve to drain any excess water.
Meanwhile, prepare the salad ingredients. Lots and lots of chopping. And more chopping. And more chopping. Relax right into it. You'll be chopping for a while.
Combine bulgur, parsley, mint, cucumber and tomatoes. Top with lemon juice and zest, salt and pepper and stir to combine.
Serve immediately to maximize the fresh, bright flavors! But it's also good for several days. (You can always squeeze some more lemon juice over it to brighten it up again.)
Notes
Notes: If you want to make your tabbouleh more than a little side salad, add in some or all of these fixings:
1 cup rinsed and drained chick peas (or homemade)
½ cup slivered almonds or pine nuts
¼ cup dried fruit (raisins, dried cranberries, chopped dried apricots, etc.)
Nutrition Information:
Yield:
6
Serving Size:
1
Amount Per Serving:
Calories:

123
Total Fat:

0g
Saturated Fat:

0g
Trans Fat:

0g
Unsaturated Fat:

0g
Cholesterol:

0mg
Sodium:

378mg
Carbohydrates:

29g
Fiber:

3g
Sugar:

14g
Protein:

2g