Microwave Rice Krispies are super quick and easy to make and are chewy, gooey and so delicious. Just 2 ingredients and 2 minutes needed for this treat!
Today's recipe is brought to you by my college dorm room years.
I lived in the same dorm my freshman and sophomore year at Northwestern, and we had a cafeteria on the first floor.
Especially our freshman year, we almost always ate dinner there. It was super convenient and on really cold days there on the lake north of Chicago, it was lovely not to have to bundle up and go outside.
Now, the rule was that you couldn't take food out of the cafeteria. You had to eat it there and toss any leftovers.
And while I'm normally a big-time rule follower, that just didn't work for me.
I usually wasn't in the mood for dessert immediately after eating my dinner. But I knew I would be later on, and I had plenty of really late nights of studying and homework.
So I routinely made myself a from-scratch Rice Krispie treat, wrapped it in napkins and tucked it into my bag to take upstairs to my room for later.
How did I do this, you wonder?
I perfected the art of making single Rice Krispies in the microwave.
The cafeteria had cereal bins that were out and stocked all day long. They also had cooking spray by the waffle maker. And they had some dessert toppings like marshmallows and hot fudge nearby as well.
So I'd take a cereal bowl, spray it with cooking spray, microwave some marshmallows until they were gooey, then add the Rice Krispies cereal, stir and voila!
Instant Rice Krispie treat!
These days, I have a full kitchen at my disposal and two kids who love making a full pan of these treats at a time so they can snack on them for days. (Chocolate Rice Krispies are also on the regular rotation.)
But I just had to bring you this quick and easy microwave Rice Krispies version in case it helps someone who's away at college, in a tiny apartment or someone who just wants a single Rice Krispie without all the fuss. And without the stirring and waiting.
I get it. I'm super impatient, too.
Or maybe you don't want a whole tempting tray of these calling your name for the next several days. You just need a quick fix and then you're set.
I get that, too.
So let's get cooking.
Now, I've got some notes and tips coming up below on how to make microwave Rice Krispies. Just tryin' to be helpful.
If you want to jump on down to the recipe, simply scroll right on through the rest of the text. The recipe card is near the bottom of the page, above the comments section.
Notes on making microwave Rice Krispies:
Spraying your microwave-safe bowl ensures that you get the entire treat and don't have to fight to unstick every last bit. Don't skip this!
Also, I don't recommend adding butter, like you would use when making regular Rice Krispies. We're working in such small quantities that even putting in a little butter makes the mixture goopy.
Marshmallows expand in the microwave. Big time. You need to keep an eye on these as they are in there and stop the microwave if they are going to overflow from your bowl. (See photo below.) As soon as you cut the power, they will deflate back down. Then you can restart and keep an eye again.
I prefer mini marshmallows because they are less likely to go crazy and overflow, but you can use regular size marshmallows too. The recipe card below includes info for both.
Use ⅓ cup cereal for more gooey, marshmallowy Rice Krispies. Or use up to ½ cup cereal for a sturdier Rice Krispie treat.
Also, I should point out that these are meant for immediate and individual eating. We're making single serve Rice Krispies to enjoy this very minute.
Gotta love an instant dessert.
However, because I used to make a few extras of these in college and sneak them out of the cafeteria and into my dorm room for late-night study snacking, I do know that you can store them.
They will harden up - they don't seem to stay as soft as regular Rice Krispies - but they are still delicious. Especially at about 1:30 a.m. when you are famished but have an essay to finish.
Even so, I recommend you enjoy immediately or at least within the first 24 to 48 hours.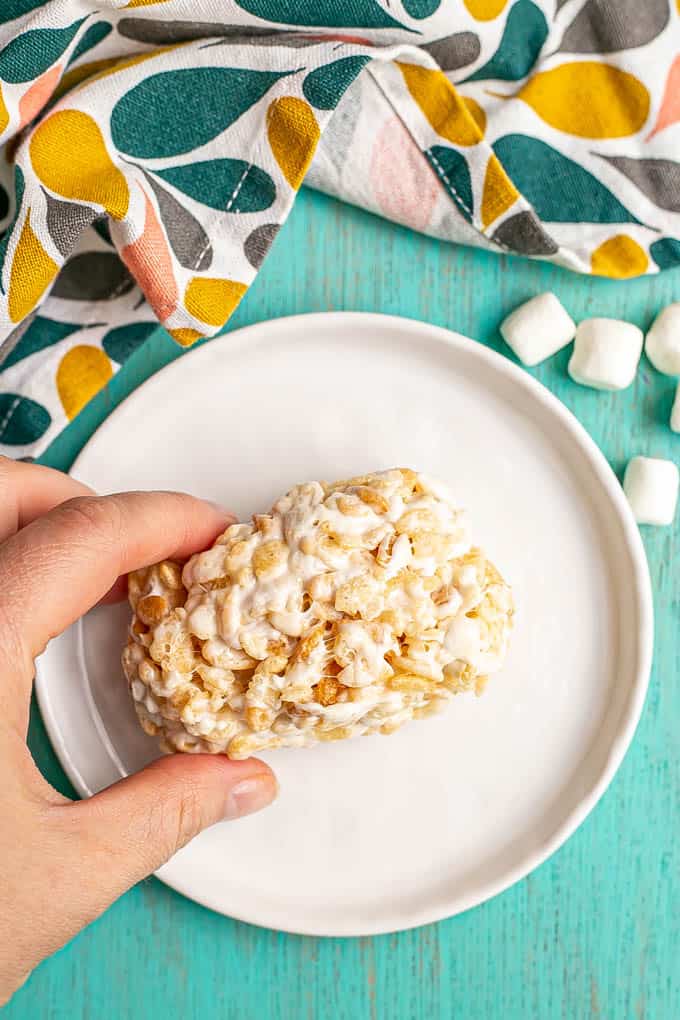 (Also, if you know you are going to store these for later, I recommend using just ⅓ cup cereal so they don't get too hard as they sit.)
So for all you college students out there, all you late-night snackers or all of my fellow inpatient people who want immediate satisfaction, I hope you give these microwave Rice Krispies a try soon.
Enjoy!
XO,
Kathryn
P.S. Stay tuned because I have another fun microwave dessert recipe coming up soon that you're going to love. (Update: Check out these microwave s'mores. So gooey and delicious!)
You can sign up for my free e-newsletter to get all of my new recipes delivered straight to your inbox so you never miss a thing. I'll even send you my free e-cookbook, Healthy Weeknight Dinners, as a thank you!
Yield: 1 serving
Microwave Rice Krispies
Microwave Rice Krispies are super quick and easy to make and are chewy, gooey and so delicious. Just 2 ingredients and 2 minutes needed for this treat!
Ingredients
Cooking spray
½ cup mini marshmallows (see notes for regular marshmallows)
⅓ to ½ cup Rice Krispies cereal
Instructions
Spray a microwave safe bowl with cooking spray. (Be sure to use a decent size, semi-deep bowl because the marshmallows will expand.)
Add the marshmallows and microwave on high for 40-45 seconds. Watch closely so the marshmallows don't expand too much and overflow the bowl. If they are getting close, simply pause the microwave. The marshmallows will deflate right away and then you can continue with the microwave time.
Remove the bowl from the microwave and stir the marshmallows. They should be melty and gooey. Add the cereal, using just ⅓ cup if you want more a more gooey Rice Krispie treat, and stir well to combine.
Enjoy immediately!
Notes
Marshmallows: If you are using regular sized marshmallows, you'll need 4 to 5. You'll also need to microwave them closer to 1 minute to get them melted and gooey. Watch very carefully and stop the microwave as needed to ensure they don't expand too much and spill out of the bowl.
Cereal: Use ⅓ cup cereal for more gooey, marshmallowy Rice Krispies. Or use up to ½ cup cereal for a sturdier Rice Krispie treat.
Storing: These Rice Krispies are meant to be enjoyed immediately. They will harden if they are left (even if stored covered).
Nutrition Information:
Yield:
1
Serving Size:
1
Amount Per Serving:
Calories:

99
Total Fat:

0g
Saturated Fat:

0g
Trans Fat:

0g
Unsaturated Fat:

0g
Cholesterol:

0mg
Sodium:

44mg
Carbohydrates:

24g
Fiber:

0g
Sugar:

15g
Protein:

1g