This warm and cheesy one-pot broccoli cheese brown rice is an easy, healthy, delicious side dish with both veggies and whole grains! Kids love it too!

Quick update on the oven saga that continued yesterday...
The new one was to be installed yesterday but there was concern about the electrical support. So I was going to need to have an electrician come look at it.
I just knew this was going to be another serious delay and was super bummed. But, miracles can happen and the electrician came out at 3:30 p.m. He was able to do a quick fix.
And then, the oven installer came back over at 4:30 and stayed until the job was done. 🙌 #peopleareawesome #faithinhumanitytotallyrestored
So I'm going to be back to baking up all sorts of yummy foods for you. Stay tuned!
(You can sign up for my free weekly e-newsletter to get new recipes delivered to your inbox. I'll even send you my free e-cookbook, Easy Weeknight Dinners, as a thank you!)
As you probably know by now, I'm a brown rice gal, through and through.
Sure, it takes a little bit longer to cook, but it's just as easy as white rice. (See this post on perfect brown rice if you're scared of it like many friends I know.)
Brown rice recipes just have so much more of a robust flavor. And, also, please give me whole grains any day. Maybe that's the health and nutrition editor in me talking. 😉
And this broccoli cheese brown rice really kicks things up a notch.
You've got the classic broccoli cheese combination, folded into some fluffy brown rice until everything is completely combined and melted together in delicious harmony.
Warm, gooey, completely wholesome and absolutely irresistible. 💚
And my kids recently, they need a little tempting when it comes to rice.
J used to eat it plain, shoveling it down. My little carb lover. But he's gotten more selective in his ripe old age of 2 ½.
M, who is 4 ½, comes and goes with rice, too. Sometimes she loves it, sometimes not so much. Ah, kids...
But this broccoli cheese rice? I have two happy campers on my hands when this is for dinner!
To the point where, if I try to serve up plain rice, M will request hers with broccoli and cheese please. I think I'll take that as a win!
Plus, this is an easy one-pot side dish that I can whip up while I've got some chicken or pork going and voila, dinner is done. 🙌
Now, I've got some notes and tips coming up for this recipe. Just tryin' to be helpful.
If you want to jump on down to the recipe, simply scroll right on through the rest of the text. The recipe card is near the bottom of the page, above the comments section.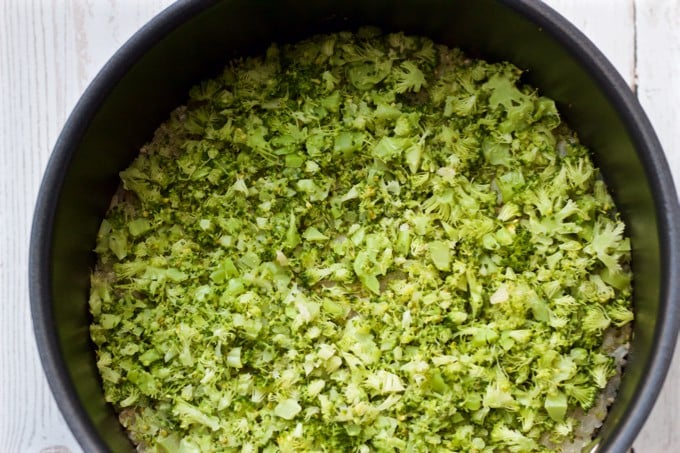 Notes on broccoli cheese brown rice:
I like having the sautéed onions mixed into this, but you could skip that part if you are onion averse.
You could skip the garlic too really, but I think it adds good flavor and it's not much.
We always use shredded cheddar cheese for this broccoli and rice recipe. I prefer white cheddar cheese, but use your favorite.
You could also try this with shredded mozzarella cheese if you'd like.
Finally, while I make my broccoli and cheese rice with a long grain brown rice, you could do this with regular white rice

too. You'll just need to adjust the cooking time. I'd recommend adding the chopped broccoli after about 12 minutes.
This recipe is vegetarian and gluten-free as is.
If you need to make it vegan, just substitute the butter with olive oil and use a vegan shredded cheese. 👍
(Technically, you could make this a broccoli and rice recipe and skip the cheese all together. But I sure do like it with the cheesy add!)
How to make one-pot broccoli cheese rice:
- First, you'll sauté the onion and garlic in butter (or olive oil). Flavor boost right there.
- Then you add the brown rice, get it coated in the oils (another flavor boost), and add the water. Bring it to a simmer, cover the pot, reduce the heat to low and let it cook.
- Before the rice is completely finished, add the finely chopped broccoli. You just put it right on top of the rice, no need to stir it in yet. Then cover the pot again and let it finish cooking, about 5 more minutes. The broccoli steams up on top while the rice finishes on the bottom. Gotta love that!
- Once the rice is done cooking and the broccoli is tender, stir it all together. Then turn off the heat and let it sit, covered, for a few minutes to help it all come together.
- Lastly, add your shredded cheese and stir it into the brown rice until it's melted. Takes just a minute. You're done!
This cheddar broccoli rice goes well with so many dishes. We've enjoyed it with paprika chicken, easy crunchy baked chicken, Ranch seasoned pork chops and crunchy baked pork chops. All good options!
If you're in a rice funk like my little ones, give this cheesy broccoli rice a try. 👍
Enjoy!
XO,
Kathryn
P.S. Looking for other healthy brown rice recipes? Check these out:
- Brown rice with spinach and Parmesan (Family Food on the Table)
- Confetti brown rice (Family Food on the Table)
- Lentils with brown rice and feta (A Family Feast)
- Brown rice and mushroom pilaf (Piping Pot Curry)
- Easy cheesy zucchini brown rice (Family Food on the Table)
Yield: 4 servings
One-pot broccoli cheese brown rice
This warm and cheesy one-pot broccoli cheese brown rice is an easy, healthy, delicious side dish with both veggies and whole grains! Kids love it too!
Ingredients
1 tablespoon unsalted butter (or you can sub olive oil)
½ cup onion, finely diced
1 clove garlic, minced
1 cup brown rice
½ teaspoon salt
2 cups water
1 medium head of broccoli, florets only, finely chopped
2 cups shredded cheddar cheese, plus extra for serving
Salt and black pepper, to taste
Instructions
Melt the butter in a medium sauce pan over medium heat. Add onion and saute for 2-3 minutes, until translucent. Add garlic and saute an additional 30 seconds.
Add brown rice and stir to coat the rice in the butter and onions for about 1 minute.
Add ½ teaspoon salt and the water and bring to a simmer. Cover the pan, reduce the heat to low and cook the brown rice for 25 minutes.
After 25 minutes, add the chopped broccoli to the pot (right on top of the rice; no need to stir it in yet).
Cover and cook for an additional 5 minutes. Then turn off heat and let it sit, covered, for 5-10 minutes.
Remove lid and stir broccoli into the rice. Add the cheddar cheese and stir to get everything well mixed and let the cheese melt.
Season to taste with salt and pepper and serve with extra cheddar cheese sprinkled on top.
Notes
I use white cheddar cheese, but feel free to use your favorite. You could also substitute shredded mozzarella cheese if you prefer.
Need to substitute white rice? Reduce the cooking time to about 12 minutes before you add the broccoli. The rest of the recipe is the same.
Nutrition Information:
Yield:
4
Serving Size:
1
Amount Per Serving:
Calories:

328