Peach baked oatmeal is light, soft, perfectly sweet and a delicious healthy breakfast! It's naturally sweetened, gluten-free and 100% whole grain.
This post is sponsored by Bob's Red Mill. As always, all thoughts and opinions are my own.
Yesterday, we celebrated my daughter's 9th birthday. 🎉
It looked a lot different this year, since we couldn't have a traditional party. Instead, we hung lots of banners and signs inside, got tons of balloons, decorated with fairy wands and wings and lights (her "theme" of choice), had some rental yard art delivered for the day, and invited her classmates and friends for a drive-by parade.
We also had her favorite foods (cinnamon rolls for breakfast, a pizza picnic lunch, a special order ice cream cake, and spaghetti and salad for dinner), took our usual family afternoon walk, chatted with family via FaceTime and had a movie night, her choice.
Final verdict? She said it was her best birthday ever! Made me so happy that this virus didn't put a damper on her day in the least. ❤️
But enough already. Let's talk about today's delicious recipe.
Have you ever had baked oatmeal?
It's a serious favorite in our house!
It all started with my banana bread baked oatmeal. It has been a regular staple at breakfast time for years.
So of course I started to branch out!
I make blueberry baked oatmeal, peanut butter banana baked oatmeal, carrot cake baked oatmeal and also pumpkin baked oatmeal with chocolate chips of a fun treat in the fall.
I've also got tons and tons of other healthy oatmeal recipes if you want to check them out.
We are oatmeal lovers through and through in this house.
Today, we're talking peach baked oatmeal. 🍑🧡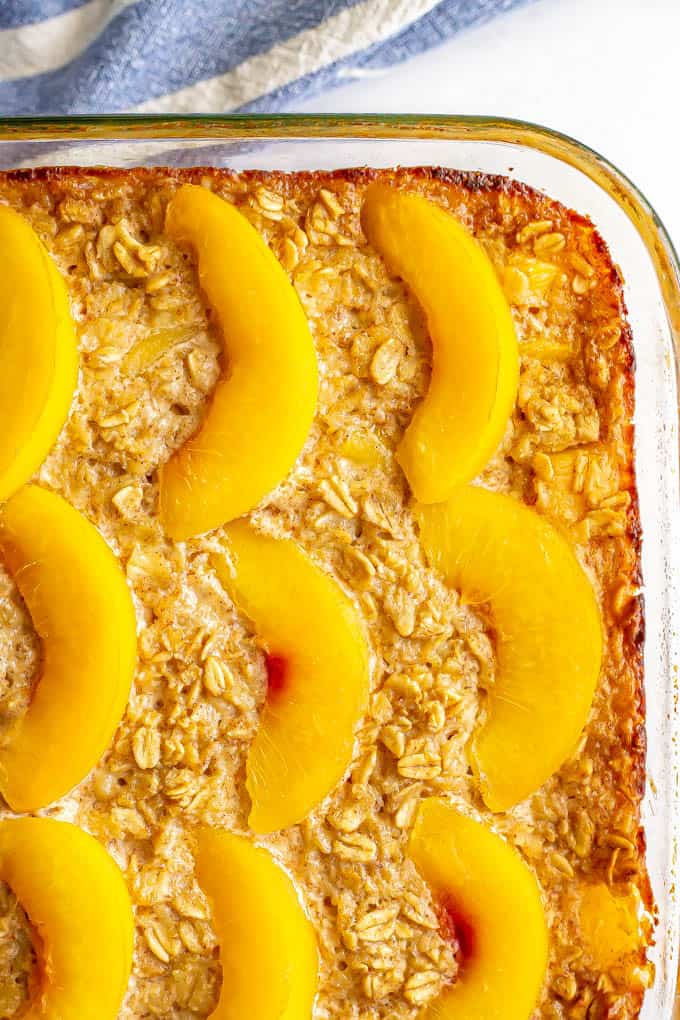 This has actually been a repeated reader request, so I knew I had to share it!
This oatmeal is light, peachy and so satisfying. It's loaded with whole grains, naturally sweetened and perfect for starting the day off right.
It also smells amazing as it's baking. 😍
My daughter came inside from playing in the driveway the other weekend when I was making this and said, "What is that amazing smell?!"
Gotta love that!
Plus, it's just a really delicious and healthy way to start your day.
(If you are looking for peach desserts as well, check out this peach cobbler for an easy summertime treat!)
I'm also so happy to be continuing my partnership with Bob's Red Mill this year. They are one of my favorite companies, and I always have a variety of their oats and flours in our pantry.
They are employee-owned and dedicated to using the best ingredients in their products. It feels good to support a company that's as wholesome as the products they make. ❤️
And during these uncertain times, Bob's Red Mill has turned their production over to the most requested items to ensure they can keep up with demand and fulfill orders. They're also working to collect food donations online to help those in need. AND, they're hosting a contest where you can enter your favorite restaurant to be eligible to win $5,000.
Yup, I can feel good about a company like that.
OK, back to the recipe at hand.
Now, I've got some notes and substitutions coming up on how to make peach baked oatmeal. Just tryin' to be helpful.
If you want to jump on down to the recipe, simply scroll right on through the rest of the text. The recipe card is near the bottom of the page, above the comments section.
Notes on peach baked oatmeal:
Fresh, frozen or canned peaches will all work for this recipe. They, of course, will have a slightly different texture and the sweetness can vary, but they'll all work.
Frozen peaches should be thawed and drained. Canned peaches should also be drained of any juices or syrups they are packed in.
I always use old-fashioned rolled oats for baked oatmeal. I recommend those over quick oats or steel cut oats for this recipe.
You can use skim or 2% milk or an alternative milk product like soy milk or almond milk for this recipe.
The mixture will be liquidy before baking. This is normal and the oats will soak up all that liquid as it bakes.
Do make sure you let this sit for a while after baking though. It'll set up all the way so that it doesn't crumble when you go to cut it. (I recommend waiting at least 10 minutes but 20 minutes is even better.)
Also, yes, this recipe does call for almond extract. And I know, I know, most of us don't have that on hand.
(Honestly, the only reason I have some in my pantry is because someone sent me some.)
It really adds another dimension of flavor here and so if you can, I do recommend using it.
But I get it, you don't want to buy it if you don't have it already. Totally understand.
In that case, add an extra 1/2 teaspoon of vanilla extract (to make 2 full teaspoons of it) and if you can, use almond milk for the milk. It'll give a bit of that flavor.
This peach oatmeal can also easily be made dairy-free and vegan with a few easy swaps.
– Use your non-dairy milk of choice for this recipe.
– Substitute a flax egg for the egg.
– Choose maple syrup instead of the honey for the sweetener.
– Use coconut oil in place of the butter.
– And choose your favorite non-dairy yogurt, such as soy or coconut milk yogurt, in place of the Greek yogurt. This may slightly change the flavor, but the baked oatmeal will still be delicious.
Now, we're ready to eat. Let's dive in!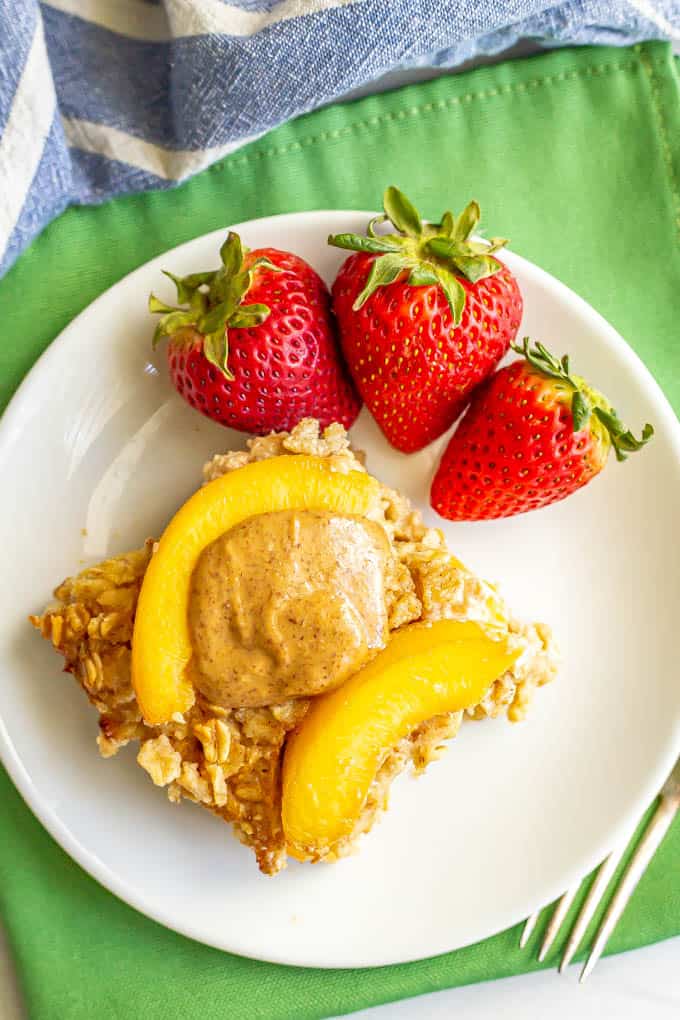 We love this warm and at room temperature. I like it cold from the fridge as well, but no one else in my family does, so go with what you like.
If you are making this oatmeal ahead, which is a great idea, and want to serve it warm, just pop a slice in the microwave for about 15-20 seconds. (It may take a little longer if it's cold from the fridge.)
The oatmeal is flavorful and sweet enough on its own but you can also add toppings if you like. (You know I'm always going to give you topping ideas!)
Optional toppings for peach baked oatmeal:
Drizzle of honey or maple syrup
Peach jam or jelly
Spread of butter
Dollop of almond butter
Full disclosure, my husband's favorite way to enjoy this is warmed up with a scoop of ice cream on the top for dessert. (We've been making this 3-ingredient homemade no churn ice cream on repeat.)
He says it tastes like bread pudding. ("I know, I know, it's oatmeal," he's always quick to say as a follow-up. 😊)
So you can pretty much enjoy this anytime of day!
Finally, let's chat about the leftovers.
You want some, trust me. This is a great breakfast to meal prep ahead or to have extras of on hand, ready to go.
How to store baked oatmeal:
– This peach baked oatmeal will keep covered, on the counter, for up to 3 days.
– After that, I recommend you move it to the refrigerator. It will keep there for another 2-3 days.
– You can also freeze the leftovers. Cut your baked oatmeal, once cooled, into squares. Place them in a freezer-safe ziptop bag (that's labeled!) and freeze for up to 6 months.
To thaw, just place in the refrigerator overnight. You can then warm it in the microwave for 20-30 seconds.
You can also warm it in the microwave from the freezer in a pinch. Start with 45 seconds and add time (and possibly turn it upside down) as needed.
I hope you give this a try for a new fun and fruity breakfast. 🧡
Enjoy!
XO,
Kathryn
Yield: 9 large servings
Peach baked oatmeal
Peach baked oatmeal is light, soft, perfectly sweet and a delicious healthy breakfast! It's naturally sweetened, gluten-free and 100% whole grain.

Prep Time 10 minutes

Cook Time 35 minutes

Total Time 45 minutes
Ingredients
2 1/2 cups old-fashioned rolled oats (such as Bob's Red Mill)
1 teaspoon baking powder
1 teaspoon ground cinnamon
1/2 teaspoon salt
1 large egg
1 1/2 cups skim milk (or 2% or soy or almond milk)
1/2 cup plain Greek yogurt (I use non-fat)
1/2 cup honey or maple syrup
2 tablespoons unsalted butter, melted (or coconut oil)
1 1/2 teaspoons vanilla
1/2 teaspoon almond extract (see notes)
2 cups peaches (fresh, canned or frozen, thawed), half diced and half sliced
Instructions
Preheat the oven to 375.
In a large bowl, combine the oats, baking powder, cinnamon and salt.
In a medium bowl, whisk together the egg, milk, Greek yogurt, honey or maple syrup, melted butter, and vanilla and almond extracts until smooth.
Add the wet ingredients to the dry ingredients and mix well. Fold in the 1 cup of diced peaches.
Transfer the batter to a well greased 8x8 pan. It will be full and liquidy. Top the oatmeal with the sliced peaches.
Bake at 375 for about 35 minutes, until the edges are browned and the middle is set.
Let cool at least 10 minutes before slicing. (It needs a few minutes to set up so the baked oatmeal squares aren't crumbly when you cut them.)
Store, covered, at room temperature for up to 3 days. After that, this oatmeal can be stored in the refrigerator for an additional 2-3 days or frozen for up to 5 months.
Notes
Fresh, frozen or canned peaches will all work for this recipe. They, of course, will have a slightly different texture and the sweetness can vary, but they'll all work. Frozen peaches should be thawed and drained. Canned peaches should also be drained of any juices or syrups they are packed in.

The almond extract adds an extra depth of flavor, but if you don't have any, you can add an extra 1/2 teaspoon of vanilla extract (to make 2 full teaspoons of it) and if you can, use almond milk for the milk. It'll give a bit of that flavor.

I always use old-fashioned rolled oats for baked oatmeal. I recommend those over quick oats or steel cut oats for this recipe.

You can use skim or 2% milk or an alternative milk product like soy milk or almond milk for this recipe.

The mixture will be liquidy before baking. This is normal and the oats will soak up all that liquid as it bakes.

Do make sure you let this sit for a while after baking though. It'll set up all the way so that it doesn't crumble when you go to cut it. (I recommend waiting at least 10 minutes but 20 minutes is even better.)

To make this baked oatmeal vegan and dairy-free:

- Use your non-dairy milk of choice for this recipe.

- Substitute a flax egg for the egg.

- Choose maple syrup instead of the honey for the sweetener.

- Use coconut oil in place of the butter.

- And choose your favorite non-dairy yogurt, such as soy or coconut milk yogurt, in place of the Greek yogurt. This may slightly change the flavor, but the baked oatmeal will still be delicious.

We love this warm and at room temperature. I like it cold from the fridge as well, but no one else in my family does, so go with what you like.

If you are making this oatmeal ahead and want to serve it warm, just pop a slice in the microwave for about 15-20 seconds. (It may take a little longer if it's cold from the fridge.)

Optional toppings for peach baked oatmeal:
Drizzle of honey or maple syrup
Peach jam or jelly
Spread of butter
Dollop of almond butter
Nutrition Information:
Yield:
9
Serving Size:
1
Amount Per Serving: Calories: 218Total Fat: 5gSaturated Fat: 2gTrans Fat: 0gUnsaturated Fat: 2gCholesterol: 29mgSodium: 204mgCarbohydrates: 39gFiber: 3gSugar: 23gProtein: 7g