Pig farming today is an industry full of farmers who are dedicated to respectful animal care, sustainability and continuous improvement. Get a behind-the-scenes look at pig farming and pork production, including how to buy and cook pork.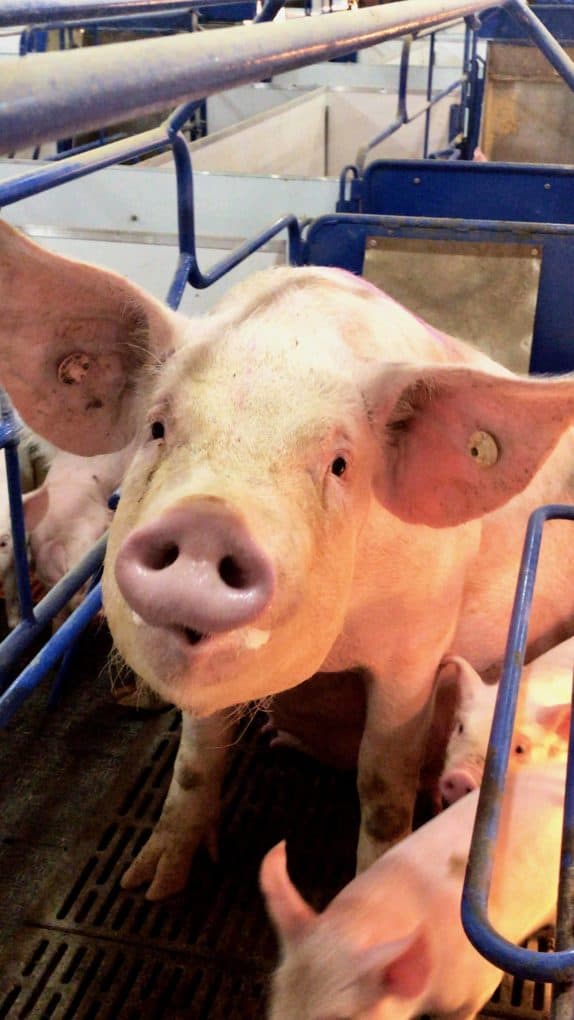 This post is sponsored by the National Pork Board. All thoughts and opinions are 100% my own.
I recently had the opportunity to travel to Illinois with the National Pork Board as part of their Pass the Pork Blogger tour.
I was looking forward to seeing some blogging friends, making new friends and visiting with some baby pigs.
But I honestly wasn't sure how I would feel about the whole pig farming production.
Now, I eat pork. I love pork. And I believe wholeheartedly in seeing where our food comes from. I've had the opportunity to follow both corn and dairy from farm to table in past trips and found the experiences to be fascinating and rewarding.
But pigs felt different. And part of that for me is coming from North Carolina.
Years and years ago when I was growing up, I was vaguely aware of various controversies regarding hog farms in the eastern part of the state. Something to do with animal care and a separate issue with the waste that was coming from some farms and contaminating groundwater and nearby lakes.
Or something like that. I was young, I don't remember the specifics. Just the general feeling it left me with.
So I went into the trip with curiosity but also a slight hesitation.
And I came out of the trip not only with the appreciation and fun I experienced on other farm tours, but with a really inspired view of what pig farming actually looks like today.
It's so different than I could have pictured and I'm really grateful I got an honest, hands-on view.
So I wanted to share with you what I learned and I hope it'll encourage you to see what things are like in the industry today for yourself. I really think you'll be impressed too.
Animal care in pig farming
We started our tour at a really large sow farm, meaning they focus on the care of mama pigs and the birthing of baby pigs. Once the piglets grow a bit and get weaned from their mothers, they move to a different farm to grow up.
Borgic farm is really large in its production, as pig farms go and in terms of the number of pigs they have, but it still felt very much like a family-owned farm. Because it is.
We spent lots of time with the owner, met his entire family, had lunch at his house after our tour, met the farm manager and others and really saw the day-to-day operations.
And it was impressive.
A few things I loved seeing and experiencing:
- The people who work at this farm are incredibly dedicated to their jobs, to the farm and especially to the animals in their care.
- You can easily see the love and respect they have for the animals and that every decision they make, every choice made in their care and custody, is made for the good of the animals.
- This farm also has a motto of "continuous improvement" and I just love that. (Aren't we all striving for that?!) They want to do the very best at their work on the farm and they want to continue to look for new ways to get even better.
A few takeaways I wanted to share:
- We had to shower in and shower out of the farm. Meaning, we had to go into a shower room, strip down into our birthday suits, and shower — including washing our hair — then put on sterile clothes on the other side before we could go in and see the pigs. They don't want any outside germs coming in that could make the pigs sick. (So employees have to do this every day, sometimes multiple times a day.)
- All equipment and other items also have to be sterilized. They have a light box for smaller items and a walk-in room for larger farm equipment.
- There is a "see it, say it" reporting program in place, with very visible posters throughout the farm. This means that employees are responsible for keeping a check on any possible animal abuses and are responsible for reporting those. (There's an anonymous number they can use if they don't want to bring it up to management.)
The day we visited also coincided (probably on purpose) with the monthly visit from the veterinarian who checks in on this and many other pig farms in the area. He helps ensure the pigs are healthy.
And he's the one who helped me birth a pig.
Yup, I delivered a baby piglet that morning, and you guys? It was so amazing. I feel like I was maybe a midwife in a past life. 😂
It was incredible to experience the start of a new little pig's life. To be the one who brought it out into the world and held it as it took it's first breath.
Definite highlight of the trip for me!
(If you want a sneak peak into a farrowing barn, which is what they call the area where the babies are born, you can watch this video from the National Pork Board.)
Pig farming sustainability efforts
Sustainability has made huge strides in the industry.
The first thing that impressed me was that farms are all zero discharge, meaning no manure can run off. The farm we visited keeps the manure stored in concrete pits underground (beneath the pig barns) and then it is pumped out into a truck.
From there it's directly injected back into the soil as a natural fertilizer that helps feed the crops. (They actually test the soil and apply the right amount of manure needed for each acre.)
But it never touches the air. It never contaminates the water.
Other fun facts:
Today's pig farms use 25.1% less water, 7.7% less carbon and 7% less energy than they did in 1960.
Pork production accounts from just 0.46% of greenhouse gas emissions in the U.S.
Now, let's talk about the use of antibiotics in pork, because I know that's something a lot of people are concerned with.
Antibiotic use in pork
Antibiotics are used in pigs to treat illness or to control the spread of illness. Farmers work with veterinarians to keep pigs healthy and to use only FDA-approved antibiotics.
There is a minimum withdrawal time for pigs that have been given antibiotics, to allow them to clear the medicine out of their system completely before they go to market.
At market, pigs are randomly tested for traces of antibiotics. If a pig tests positive, that farm gets a warning. If it happens a second time, that farm gets kicked out. Meaning they cannot sell their pigs.
So farmers are extremely motivated to use antibiotics very carefully, not to mention that they want to do their best to take care of their pigs and to produce safe pork for consumers.

Pork from farm to table
Now I know it might seem strange or a little sad to go from a pig farm to an industrial kitchen and watch as a pig carcass is broken down.
And maybe it was a little. But I definitely approach it with the view that we raise these pigs to become food. And yes, we want them well cared for and treated with respect. But we also know where they are going to end up.
("In my belly" keeps jumping into my head and I just can't help it. 😂 I am sorry.)
It also helped so much to see how the pigs were kept happy and healthy and were treated with such respect. I don't know, but it just helps me see it as a balanced process.
So let's talk pork as food. I learned a lot about the different cuts of meat that come from pork and how to prepare them.
Here's a nifty little graphic so you can learn about this too:
And here are some key take-aways on how to buy and cook pork.
Pork shopping tips
When you are shopping for pork at the store, keep in mind that raw pork should have a reddish color. The more color it has, the more moisture it has, so your cooked pork will be more juicy and flavorful.
You also want the pork to be firm, meaning it springs back when you press on it through the plastic wrap on the package.
Finally, the pork should be non-exudated, meaning it hasn't released a lot of liquid into the package. (If it has, that means it has lost moisture from the meat and will likely be more dry when cooked.)
Pork cooking temperature
- Pork muscle cuts, such as pork loins, chops or pork tenderloins, should be cooked to 145-150 for medium rare. It's 100% safe to have it be a little pink in the middle. And the flavor and texture this way is optimal. Don't overcook your pork!
- Ground pork and ground pork mixtures should be cooked to 160.

Pork nutrition
Pork loin and sirloin are both considered lean and are designated as heart-healthy by the American Heart Association. And pork tenderloin is considered very lean. It's actually as lean as a skinless chicken breast.
Pork is an excellent (and budget-friendly) source of protein, vitamin B6, thiamin, phosphorus and niacin.
Pork is also a good source of vitamins and minerals, including potassium, riboflavin and zinc.
So there you go. Now you too know all about pig farming and pork production.
So you can feel good about putting pork on the menu and serving it to your family. I know I do.
XO,
Kathryn
P.S. You can check out all my easy pork recipes for some cooking inspiration! Spice rubbed pork chops, balsamic pork tenderloin with thyme and easy skillet pork chops with gravy are some of our favorites.
Some photos used with permission from the National Pork Board.