A quick saute avoids the slime and makes the most of fresh summer okra with corn and tomatoes!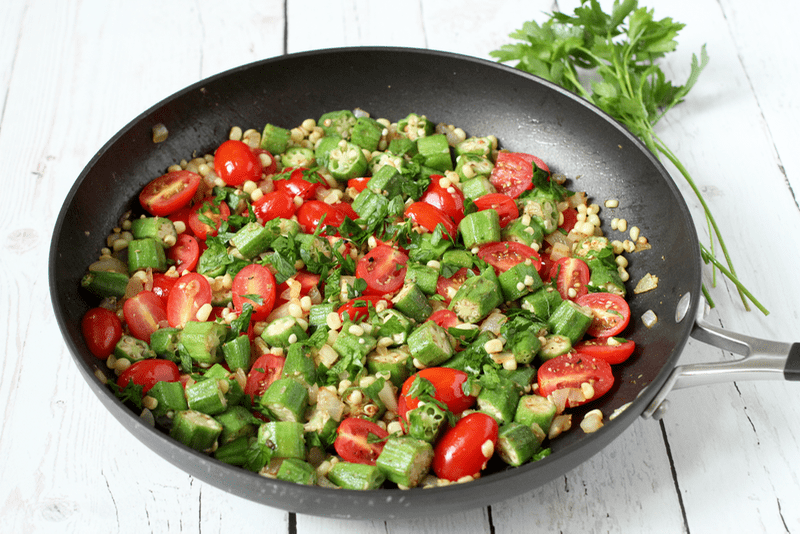 I have an important secret to share with you, so lean in. Ready? Okra is good for more than just breading and frying.
No, really. I'm not just trying to be healthy here. Okra is good all on its own, when cooked properly.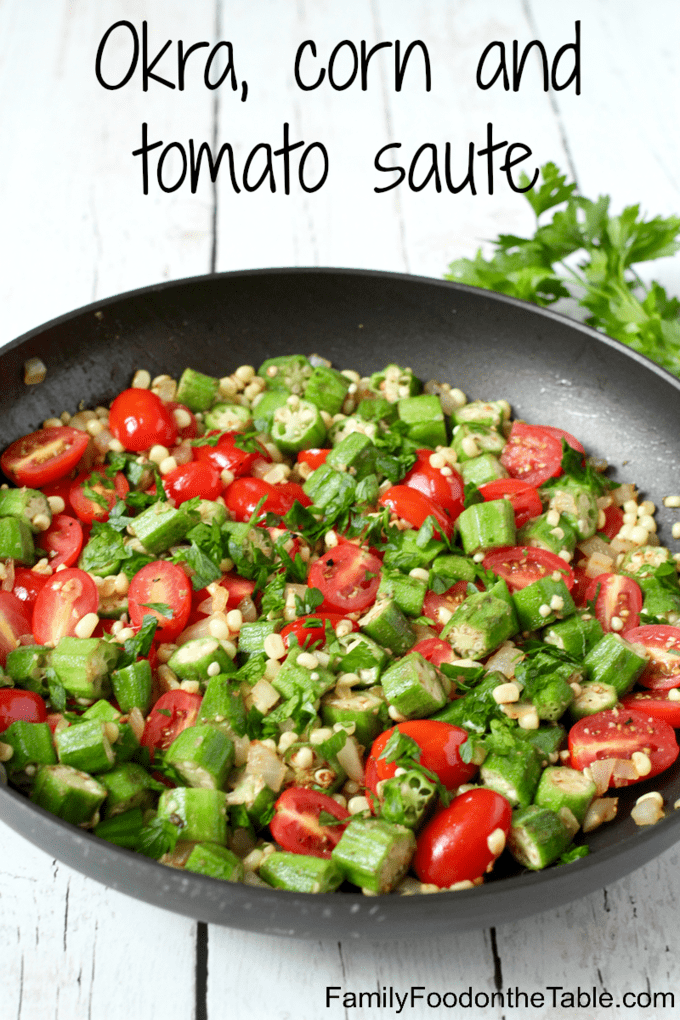 Okra gets a bad rap because of the slime factor. Trust me, I know all about it from making okra couscous for baby food, which I still make because my kids love the combo. In fact, they had it for dinner last night and gobbled it down. Baffles me.
The sliminess with okra happens when you cook it for a long time and it releases a gelatinous substance called mucilage, which is not a particularly tasty sounding word if you ask me. Sometimes that gumminess is good – it helps thicken gumbo, for instance. But otherwise, you don't need it.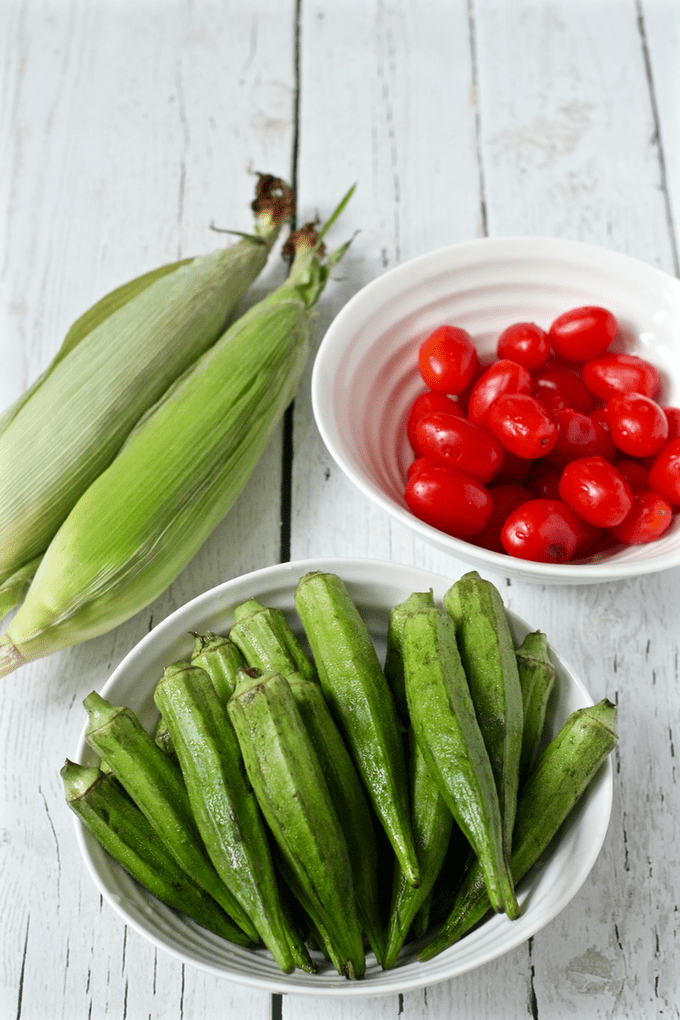 When you quickly sauté sliced okra, you get a barely tender, delicious vegetable, no slime in sight. Plus, you get to actually taste the okra, not just fried breading.
And y'all, okra is GOOD. It's a Southern staple for a reason. We know and appreciate our veggies.
Bonus? It's super fast to cook this way! This simple summer side of okra, corn and tomatoes is ready in under 20 minutes and pairs great with anything you put on the grill.
Give okra another go!
Yield: 4 servings
Quick okra, corn and tomato saute
A quick saute makes the most of these fresh, summer veggies!
Ingredients
2 teaspoons olive oil
1/2 onion, diced small
1 clove garlic, minced
1 pound okra, ends trimmed and cut in 1/2-inch pieces
2 corn cobs, corn kernels cut off (about 1 cup of corn kernels - can sub frozen)
1 pint cherry tomatoes, halved
kosher salt and freshly cracked black pepper, to taste
1/4 cup fresh basil or parsley (whatever ya got), roughly chopped
Optional: hot sauce
Instructions
Heat the olive oil in a large saute pan over medium heat.

Add onion and cook for 2-3 minutes, stirring a couple of times, until slightly tender.

Add garlic and cook another 30 seconds or so, until fragrant.

Add okra and corn. Season with salt and pepper. Cook 2-3 minutes, stirring regularly.

Add tomatoes and season again with more salt and pepper. I'm all about layering your seasonings. Cook another minute then turn off heat.

Taste and adjust seasonings (add more salt, pepper and/or optional hot sauce as needed).

Sprinkle with basil or parsley and serve hot.
Nutrition Information:
Yield:
4
Serving Size:
1
Amount Per Serving:
Calories:

132
Total Fat:

4g
Saturated Fat:

1g
Trans Fat:

0g
Unsaturated Fat:

3g
Cholesterol:

0mg
Sodium:

189mg
Carbohydrates:

24g
Fiber:

6g
Sugar:

8g
Protein:

5g