Air Fryer broccoli with Parmesan cheese is incredibly crispy on the outside, perfectly cooked through and tender on the inside, and ready in about 10 minutes!
I've started to realize that Air Fryer vegetables are a whole other realm of tasty when it comes to vegetables.
And this coming from me, a huge veggie lover through and through.
Previously I've shared Air Fryer Brussels sprouts and Air Fryer cauliflower, which are both super crispy and delectable. And also Air Fryer baked potatoes, which get a yummy, salty, crispy skin.
Today, it's Air Fryer broccoli and these toasty little bites are going to have you loving your broccoli!
We have broccoli with our meals – or incorporated into our meals – all the time. At least once a week probably. Love the stuff.
Usually it's just steamed or roasted and served as a side, but we also make chicken Alfredo with broccoli, this healthy chicken broccoli mac and cheese and sheet pan honey mustard chicken with potatoes and broccoli.
In the summertime, this healthy broccoli apple salad is one of my favorite things. So much crunch!
And these baked broccoli tots are something I made a lot when my kiddos were little.
So yes, broccoli is a very much an adored vegetable in my life, and giving them a spin in the Air Fryer may have just cemented my love forever and ever.
(We also adore Parmesan roasted broccoli, which get super crispy and have a delicious nutty flavor.)
They're so scrumptious made this way!
Air Fryer broccoli gives you all the nutty, savory, delicious notes of a roasted version, but with even more crunchy bites.
They are tender on the inside, seasoned through, and browned and crispy on the outsides.
Seriously addictive combo.
And I love that it's so fast to make them in the Air Fryer and hardly uses any oil. It's a much more consistent and even cooking than oven roasted, in my opinion.
Nom nom nom.
You can check out all of my Air Fryer recipes if you're obsessed like I am with the magic of this appliance.
And stay tuned because I have many more Air Fryer recipes planned for you!
You can sign up for my free e-newsletter to get all of my new recipes delivered straight to your inbox so you never miss a thing. I'll even send you my free e-cookbook, Healthy Weeknight Dinners, as a thank you!
OK, let's get cooking.
Now, I've got some notes and tips coming up below on how to make Air Fryer broccoli. Just tryin' to be helpful.
If you want to jump on down to the recipe, simply scroll right on through the rest of the text. The recipe card is near the bottom of the page, above the comments section.
Notes on making Air Fryer broccoli:
Cut your broccoli florets into bite size pieces. Huge florets take longer to cook through, have less surface area to get crispy and are harder to eat. Bite size is the way to go.
I spray the button of my Air Fryer basket with cooking spray to make sure these don't stick.
Shaking the tray about halfway through the cook time helps ensure even cooking and crisping.
Make sure to do an even layer of broccoli so they all get cooked and crispy around the edges. Don't pile them up.
Check for doneness at 8 minutes and add another minute or two, if needed. You don't want them to burn.
If your Air Fryer is on the smaller side, you may need to work in batches. If so, just add all the cooked broccoli at the end, even if they're stacked, for an additional minute of cook time to warm them through and have them ready to serve.
Like it spicy? You could add 1/4 teaspoon red pepper flakes to the seasoning mix for these broccoli for a little kick.
Also, because I know this is your main question…
How long do you cook broccoli in an Air Fryer?
– Bite-size florets of broccoli will cook in the Air Fryer in 8-10 minutes at 300 degrees Fahrenheit. Shake the tray halfway through the cooking time to ensure even cooking and crisping.
And in case you are in the market for an Air Fryer, I highly recommend both of mine.
Yes, I have two. Don't judge.
I got the first one as a gift for Christmas a couple of years ago and it's been fabulous, but it's on the small size. (It would be great for singles or couples.)
So this past year, I bought myself a bigger one for Christmas. 😂 This one is usually on sale, which is nice, and I have loved it. It's a better fit for families with children, I think, or just if you're cooking for bigger groups or at least want that option.
Now, as mentioned, I will happily devour these crispy broccoli bites as is. Maybe with just a bit of extra Parmesan grated over them to serve.
However, you could certainly add a dipping sauce or a sauce to drizzle over the broccoli when serving.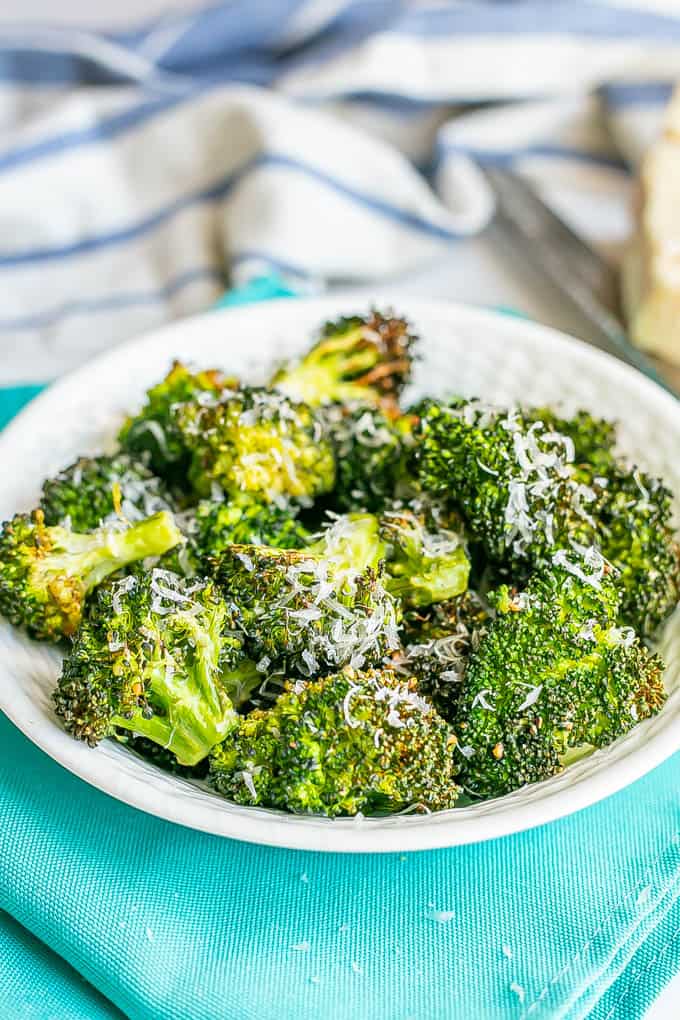 Here are a few ideas, though feel free to get creative.
Dipping sauces for Air Fryer broccoli:
Ranch or Caesar dressing
Honey mustard
Tahini sauce
Creamy pesto dip
Green goddess dressing
And of course, feel free to use these broccoli as a veggie add-in for grain bowls or with pasta or other dishes. They play nice with all kinds of other foods.
I hope you give these a try soon.
Enjoy!
XO,
Kathryn
Yield: 4 servings
Air Fryer Broccoli
Air Fryer broccoli with Parmesan cheese is incredibly crispy on the outside, perfectly cooked through and tender on the inside, and ready in about 10 minutes!

Prep Time 3 minutes

Cook Time 10 minutes

Total Time 13 minutes
Ingredients
1 medium head of broccoli, cut into bite-size florets
1 1/2 teaspoons extra-virgin olive oil
2 tablespoons grated Parmesan cheese
1/2 teaspoon kosher salt
1/4 teaspoon black pepper
1/8 teaspoon garlic powder
For serving:
Extra grated Parmesan cheese
Instructions
Preheat the Air Fryer to 300 (if yours requires preheating).
Toss the broccoli florets with olive oil, Parmesan cheese, salt, pepper and garlic powder to coat evenly.
Spray the Air Fryer tray with cooking spray then add the broccoli in an even layer. Cook at 300 for 8-10 minutes, pausing to shake the basket halfway through the cooking time to help the broccoli cook evenly. (Check for doneness at 8 minutes to avoid burning them. Add an additional 1-2 minutes as needed.)
Serve hot, sprinkled with extra Parmesan cheese.
Notes
Bite size: Cut your broccoli florets into bite size pieces. Huge florets take longer to cook through, have less surface area to get crispy and are harder to eat. Bite size is the way to go.

Shake the tray: Shaking the tray about halfway through the cook time helps ensure even cooking and crisping.

Batches: If your Air Fryer is on the smaller side, you may need to work in batches. If so, just add all the cooked broccoli at the end, even if they're stacked, for an additional minute of cook time to warm them through and have them ready to serve.

Like it spicy? You could add 1/4 teaspoon red pepper flakes to the seasoning mix for these broccoli for a little kick.

Dipping sauces for Air Fryer broccoli:
Ranch or Caesar dressing
Honey mustard
Tahini sauce
Creamy pesto dip
Green goddess dressing
Nutrition Information:
Yield:
4
Serving Size:
1
Amount Per Serving: Calories: 48Total Fat: 3gSaturated Fat: 1gTrans Fat: 0gUnsaturated Fat: 2gCholesterol: 4mgSodium: 356mgCarbohydrates: 4gFiber: 2gSugar: 1gProtein: 2g