Whole wheat zucchini muffins with almond butter -- a delicious and protein-packed breakfast or school lunch option!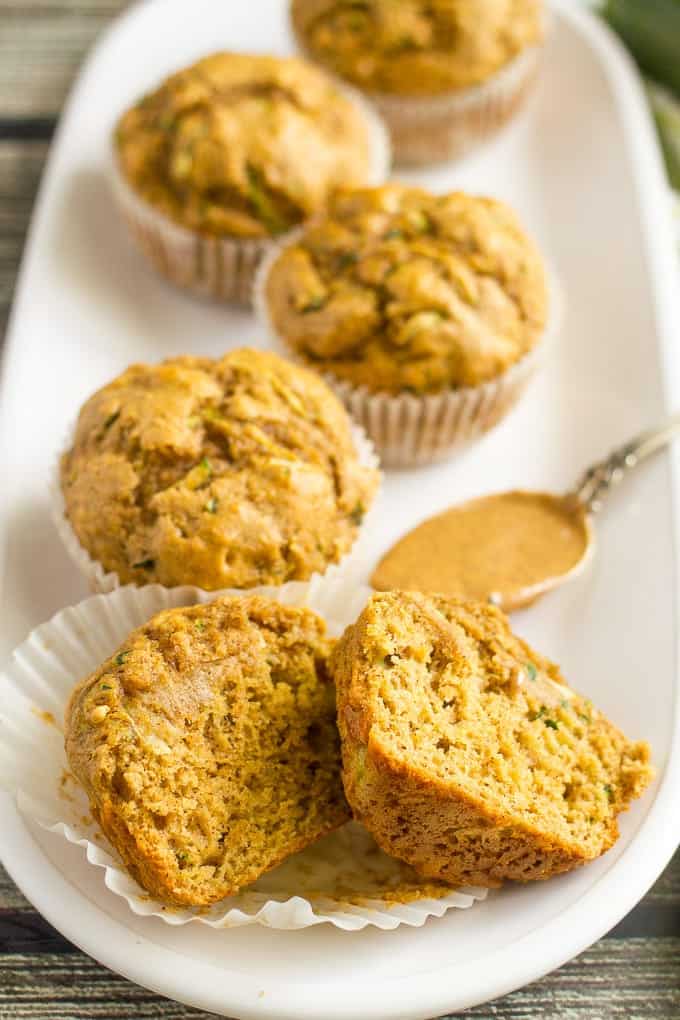 I'm sure most moms can relate. This recipe came about because my kids suddenly stopped liking the previous version.
I used to make them zucchini carrot muffins with raisins to take to preschool for lunch (usually with yogurt and some sort of fresh fruit).
They loved them. Gobbled them down. I always had some in the freezer.
Then M started not to eat hers. She said she didn't like the raisins in her muffins. Despite loving raisins everywhere else. Because of course.
OK. Mama's got this. I substitute chopped prunes - one of her favorite dried fruit treats.
She ate them a couple of times and then decided, no, those wouldn't do either.
They keep us on our toes, right? Sigh...
OK, so pivot again. This time I went with a no-fail approach. Add peanut butter (or in this case, almond butter so they were OK to send to preschool) and they are pretty much guaranteed to eat it.
Is that just my kids or is this a universal phenomenon?
So I developed this zucchini muffins with almond butter recipe and sent them off to school. Sure enough, lunch boxes came home empty and M raved about her new delicious muffins.
Mom 1, Kids, 1 billion. It's a start, right? Right?!
That was about a year ago and we're still going strong on these almond butter zucchini muffins, so I'd say they are a winner!
(If you have muffin munchkins like I do, or just like having some in the freezer for emergencies, definitely check out my muffin category collection.)
I love, too, that they're getting whole grains, vegetables and protein, all in a perfectly portable muffin!
And I still pair these muffins with yogurt (plain Greek yogurt with one of my fruit mix-ins) and some sort of fresh or dried fruit. Plus milk. Great healthy school lunch!
Knowing how these things go though, we'll probably switch it up again in a few more months, so stay tuned 😉
A few quick notes on these almond butter zucchini muffins:
You can use peanut butter if your child/school isn't peanut-free.
I use muffin liners and spray them with cooking spray. These don't have oil or butter so I want to make sure they don't stick. Cause that would make the kiddos sad!
These freeze great! I wrap them up in small pieces of aluminum foil and toss them in a plastic freezer bag. I thaw a couple muffins overnight in the refrigerator before adding them to my kids' lunch boxes.
If you're enjoying these at home, you should absolutely top them with some extra almond butter! 👍
Hope you give these a try for an on-the-go power breakfast, a school lunch or an afternoon snack.
Enjoy!
~ Kathryn
Yield: 12 muffins
Almond butter zucchini muffins
These muffins make a delicious and protein-packed breakfast or school lunch!
Ingredients
1 ½ cups white whole wheat flour
1 ½ teaspoons ground cinnamon
1 teaspoon baking soda
¼ teaspoon baking powder
½ teaspoon salt
2 large eggs
½ cup unsweetened applesauce
⅓ cup honey
⅓ cup almond butter
1 teaspoon vanilla
1 medium zucchini, shredded, with extra moisture squeezed out (about 1 cup packed after squeezed out)
Instructions
Preheat oven to 350. Put muffin liners in a muffin tin and spray the liners with cooking spray.

In a large bowl, mix together flour, cinnamon, baking soda, baking powder and salt.

In a separate medium bowl, whisk together the eggs, applesauce, honey, almond butter and vanilla until well combined. Stir in shredded zucchini.

Add wet ingredients to dry and mix until just combined.

Scoop batter into muffin liners, filling about ⅔ of each cup.

Bake at 350 for 14-17 minutes, until a toothpick inserted in the center comes out clean.

Cool on a wire rack. Store extras in the refrigerator for up to 5 days, or freeze for up to 3 months.
Notes
You can substitute peanut butter if your child/school isn't peanut-free.
Nutrition Information:
Yield:
12
Serving Size:
1
Amount Per Serving:
Calories:

142
Total Fat:

5g
Saturated Fat:

1g
Trans Fat:

0g
Unsaturated Fat:

4g
Cholesterol:

31mg
Sodium:

217mg
Carbohydrates:

22g
Fiber:

3g
Sugar:

9g
Protein:

5g