Cooking tips from food bloggers, time-saving strategies, words of wisdom and lots of great, easy recipes!

Making a home cooked meal for your family every night sounds lovely and idyllic, doesn't it?
Everyone sitting down at the table, sharing a wholesome dinner, discussing their days and making memories.
And then real life hits and you wonder how you could possibly manage to make that happen, night after night, week after week, dinner after never-ending dinner.
It's not easy, that's for sure.
We've all got busy lives and a million other things competing for our attention and time.
Cooking can seem like one more chore, and one that comes at the end of the day, when we're tired and maybe not in the mood.
But I'm here today to share some cooking tips and inspiration from food bloggers who have some great strategies up their sleeves to help you make it happen.
I hope some of these cooking tips resonate with you and help you get dinner on the table as often as you hope to - whether that's nightly or just a few times a week.
And if you're interested, here's my official guide to meal planning — something that's been invaluable to me in making sure I can get dinner ready every night, even on the crazy days.
And here's where I shared 5 reasons to cook at home more.
I would love to hear your own strategies, solutions and cooking tips — or just your hang-ups and hesitations. 😉 Leave me a comment below!
(And be sure to scroll to the bottom for some great, easy recipes from these fabulous food bloggers!)
Here's to home cooking! Enjoy!
~ Kathryn

Top home cooking tips
"I keep my pantry, fridge, and freezer well stocked so I can toss together last-minute meals any night of the week. I keep cans of tuna and salmon on hand for fast seafood meals, eggs, low-fat cheese, and baby spinach for quick omelets, and plenty of fresh, frozen, and shelf-stable ingredients for easy veggie filled soups."
-- Liz of Meal Makeover Moms
"Food prep. As an RD, I'm often asked for advice on healthy eating and food prep is always my first suggestion. Spending even just an hour on the weekends prepping food for the week can have such a big impact on your ability to quickly make healthy meals during the week."
-- Lindsay of The Lean Green Bean (She also has an ebook about food prep if you're interested!)
"When I come home from the grocery store or farmers market I always wash my greens and herbs like lettuce, kale, cilantro or Swiss chard. Since they are cleaned and ready to eat I'm more likely to throw together a quick salad or add greens to my smoothie throughout the week. By having healthy foods ready to go, I'm less likely to order take out or hit the drive through."
-- Liz of The Lemon Bowl
"My top strategy for staying on track is meal planning, I plan a week's worth of meals at once which means there's no scrambling at 5:00 every night to come up with something to make for dinner! Knowing what I'm going to make each day also helps me with time management because sometimes I can sneak in a few of the food prep tasks during the day which means dinner is on the table even quicker when everyone is cranky and hungry."
-- Sara of Dinner at the Zoo
"Not only do I make a list when I go to the grocery store [with meal ideas for breakfast, lunch, and dinner], I tend to restock my fridge, freezer, and pantry once a month with essentials that help make "everything but the kitchen sink" meals a possibility when a. I don't feel like making dinner or b. I'm out of ideas as to what to make for dinner! It also allows me to try new recipes without having to run to the store for special ingredients."
-- Katie of Mom to Mom Nutrition
"When it comes to meal planning, I first assess what I have in the house that needs to be used up. Then I look at activities for the week and determine how many quick meals I need or slow cooker meals I need to utilize to get dinner on the table. I plan my meals for the week, taking into account those two things and what the specials are on at the grocery store or farmer's market."
-- Kristen of A Mind "Full" Mom
"I always make sure to buy protein on sale so that my freezer is always full of options for dinner during the week. My goal each week is to choose 2-3 different proteins (chicken, pork, beef/bison or fish) and build a few meals around them. Once I do that I can usually pick up whatever veggies and fruit are seasonal or on sale and go from there. If I'm really organized I jot down my meal "plan" into my calendar based on what our evening activities are and make sure to prep anything I can to make the week go smoother!"
-- Aggie at Aggie's Kitchen
"I'm all about meal planning. I plan the menu for the week and, because I work from home, grocery shop 2-3 times a week. If I don't plan anything and have the ingredients that I need, I would be staring into the refrigerator and pantry wondering what to cook. I like to plan as much as I can in advance."
--Alice at Hip Foodie Mom
"I always try to have a meal plan, but then I often flake on making one and find myself wandering the grocery store with no plan in mind. My trick is buy tons of fresh produce (I often stump the cashier... they have to ask me what I'm buying!), and then I know I'll have all the pieces to throw something great together. As a bonus, I never want that stuff to go to waste, so it's a fantastic incentive to make dinner rather than order out."
-- Rachel at Rachel Cooks
"I try to get a head start on dinner early in the day, usually late morning before lunch. Whether its chopping veggies or putting something in the crockpot. The more I have done earlier in the day, the more likely our dinner will end up on the table at a decent hour."
-- Lauren at Lauren's Latest

Favorite time-saving tricks
"I keep the meals I prepare for my family VERY simple. Mainly the sides. While I tend to prepare more involved main dish recipes, I keep the sides as simple as sautéed zucchini [with olive oil and garlic], steamed broccoli, sliced watermelon, or a mixture of fresh berries. -- Katie of Mom to Mom Nutrition
"My favorite trick for saving time is the sheet pan meal - when life gets really hectic I line a sheet pan with foil and toss on some veggies, a protein and potatoes then bake the whole thing in the oven. It's the easiest homemade dinner possible with very little clean up at the end." -- Sara of Dinner at the Zoo
"I have a lot of fast and easy dinners that take no time to prep. Things like tacos or roasted sausages and veggies all on one pan are great go-to options. Most recently, we've been doing a 'salad bar' for dinner. I just lay out a bunch of different veggies, fruits and meats and let the kids pick what they want to eat." -- Lauren at Lauren's Latest
"I try to always have cooked shredded chicken and rice in the freezer. If the day has gotten away from me, I can quickly grab the chicken and rice out and defrost for a quick stir fry. Or make chicken and rice burrito bowls by mixing the rice and chicken with a jar of salsa. Another item I like to keep on hand is my homemade tomato sauce. I can heat it up and boil pasta in no time!" -- Kristen of A Mind "Full" Mom
"Prepping ingredients the night before (peeling and chopping etc), and using ready made ingredients or foods that can help reduce time. Like, ready made pizza dough, rather than making pizza dough from scratch. Or, Annie's mac and cheese and adding veggies." -- Alice at Hip Foodie Mom
"I love to cook grains in large batches. If I buy a bag of quinoa, I'll cook the entire thing on a weekend day and then portion it out and freeze it in freezer-safe bags. I do this with other grains such as freekeh, farro, and rice. It's simple to throw a salad or a quick stir-fry together when you have the more time-consuming task taken care of already and waiting for you in the freezer." -- Rachel at Rachel Cooks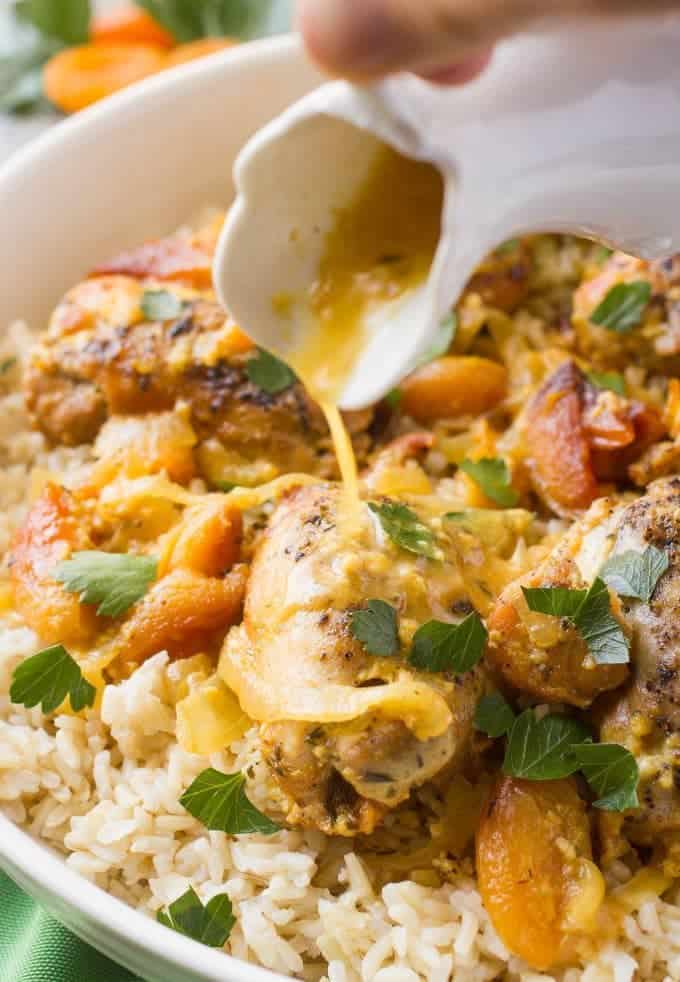 "My slow cooker is my best friend all year long. It's great for cooking large cuts of meat like pork shoulder, which can then be used in tacos, soup or enchiladas." -- Liz of The Lemon Bowl
"My personal strategy is typically to prep meal components so I can quickly throw them together to make different meals during the week. For example, if you cook a batch of rice, grill some chicken, cook some black beans and chop some veggies, you could easily make burrito bowls one night, stir fry another night, etc!" -- Lindsay of The Lean Green Bean blog
"I save time on busy nights by repurposing leftovers and creating delicious and nutritious meals with what's on hand. Food waste is an issue that concerns me deeply, so I'm constantly cooking up ways to use what I already have in my kitchen. By cooking mindfully with food waste reduction in mind, it's amazing what you can come up with. Over the past few months, I've also been obsessed with "bowl meals." And this style of eating is very conducive to using what's already at your fingertips!" -- Liz of Meal Makeover Moms
"If I have corn tortillas and cheese on hand, I can pretty much bake up tostadas with anything I can find. Also frozen veggies, chicken sausage and pasta is a lifesaver, you can make the quickest dinner with just a few staples from your pantry and freezer." -- Aggie at Aggie's Kitchen

Words of wisdom about cooking
"Start simple - you don't have to make a 5 course meal from scratch for dinner each night! Focus on mastering a few main course recipes that your family likes, then round out the meal with ready-made sides like a bag of frozen veggies." -- Sara of Dinner at the Zoo
"Just start! So many people are intimidated by the kitchen and the best way to start cooking more is just to start. It doesn't have to be anything fancy. Pick a simple, 5 ingredient recipe and try it out! As you get more comfortable you can branch out and try new cooking techniques, recipes that are a bit more complicated, etc!" -- Lindsay of The Lean Green Bean
"Find a meal that you are excited about cooking. If you maintain a good attitude, it will keep you motivated to continue to try more recipes :)" -- Lauren at Lauren's Latest
"Master one or two staples like a stir-fry or a hearty whole wheat pasta and then experiment with different proteins and seasonal vegetables. By using what you have on hand you'll never have to eat the same stir fry or pasta twice." --Liz of The Lemon Bowl
"For me, I know I feel better when I cook/eat at home. That motivates me enough. You know what is going into your meals - if you keep learn methods to keep things simple and fresh, it tastes way better too! Also, if you really look at how much money you are saving (for instance, when feeding a family of 5), eating out is usually not worth it in my opinion unless it's something special - that's when it becomes a real treat!" -- Aggie at Aggie's Kitchen
"Stick with it! You'll save money and hopefully be eating healthier. Watch cooking shows or read cookbooks, if you're into that. That helped me years ago get excited about cooking and recipes." -- Alice at Hip Foodie Mom
"Give yourself a realistic goal of trying a new recipe once a week or if that seems like a lot [which it is for many of us], try once a month. I love trying new recipes but it can be exhausting and it could also lead to a lot of food waste for your family IF they dislike the recipe [which I'm hoping they do not]. There's nothing wrong with keeping a meal rotation that works for your family--- even if it's grilled cheese and tomato soup--- which we often enjoy once a week!" -- Katie of Mom to Mom Nutrition
"It's easier to feed your family a nutrient-rich diet when you cook more at home. Plus, you have more control over the ingredients and the levels of sodium, sugar, and saturated fat that your family eats when take on the role of "executive chef" of your own home kitchen. Cooking at home has so many benefits: good nutrition, family bonding time, creative expression, and education (i.e. you get to teach your kids how to cook)." -- Liz of Meal Makeover Moms
"Keep it simple. At first don't experiment with crazy, complicated recipes. Make things like roasted chicken and potatoes, homemade spaghetti sauce, etc. --- things you know your family will like. Once you have mastered a few simple meals, you will feel like you can venture out and try new things or stick to the basics that please your family." -- Kristen of A Mind "Full" Mom
"It doesn't have to be a gourmet five course meal every night! A quick soup or sandwich is just as satisfying most evenings." -- Rachel at Rachel Cooks
OK, enough with the cooking tips and inspiration... let's move on to the food!!
Easy home cooked recipes