Cheesy Italian chicken burgers are juicy and so flavorful with just a few simple ingredients. They are topped with melty mozzarella cheese and great for a delicious, easy dinner!
This post is sponsored by the American Dairy Association Mideast. As always, all thoughts and opinions are my own.
I am back from my blogging conference in Chicago and looking forward to some summer fun with the kids.
M is doing an afternoon engineering camp this week and J is starting some swim lessons as a refresher. We also have a nanny that's with us in the mornings so that I can get through some of my work deadlines.
And hopefully we'll have some fun afternoons splashing at the pool or running around the backyard. Yay for summer!
And speaking of summer, let's talk summer food.
Y'all know I love me some veggie burgers, turkey burgers and chicken burgers, right?
I've shared a few chicken burgers with you already:
And today it's my cheesy Italian chicken burgers, which are so juicy and flavorful from the sun-dried tomatoes, Parmesan cheese, garlic and Italian seasoning.
Just a few ingredients, but man, they pack a punch!
(Also, that's a bowl of my summer quinoa salad with arugula and berries in the background that I recently shared with you.)
I'm also so happy to be partnering with the American Dairy Association Mideast to bring you this recipe.
Because June is Dairy Month and I wanted to celebrate that! 🎉
I was fortunate enough to get to travel with them through Ohio a couple of years ago and watch the story of milk, from visiting a dairy farm and feeding a baby calf to seeing cheese be made to enjoying some homemade ice cream.
Here's a few photos from that trip: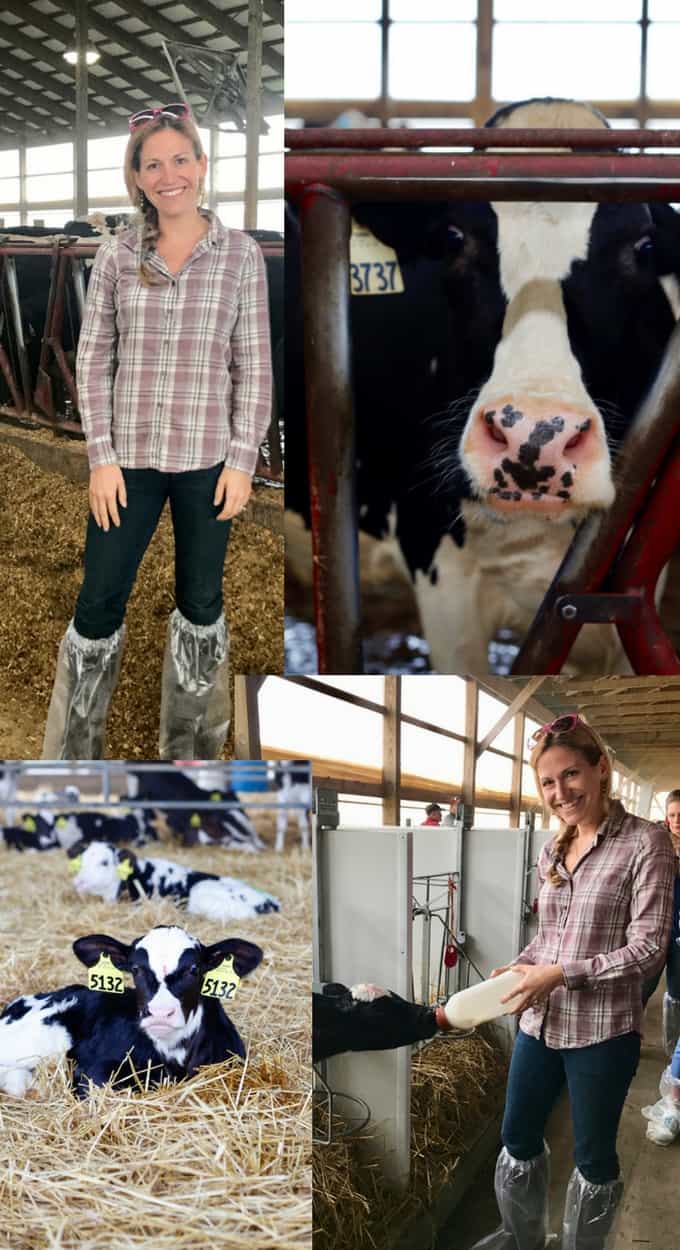 I actually got to see fresh mozzarella cheese, just like what I used for these burgers, being made during our visit.
It was the coolest! I loved walking through and seeing the cheese at different stages and the HUGE vats that they mix and make it in.
Over the course of the whole trip, we got to see cheese go from the farm — where we met some dairy cows — to the table. (Plenty of yummy eats during that trip too! 😋)
You can see the farm to fridge journey too in this video.
I remember being so impressed that milk goes from the dairy farm to our fridge in just 48 hours. So fresh!
And of course I love that a serving of milk, cheese or yogurt has 8 grams of protein and 9 essential nutrients. 🙌
So we are doubling up on the cheesy goodness with these Italian chicken burgers.
The burger patties themselves have Parmesan cheese mixed in for serious flavor and then they are topped with some gorgeous fresh melty mozzarella cheese.
Cheese pull heaven as you devour these!
My daughter, who is 8 and our little burger queen, said these were the "best burgers ever."
I mean, wow!
Granted, she has a flair for the dramatic, but the girl also knows and loves her burgers, so I think that just goes to show how juicy, flavorful and amazing these chicken burgers are!
Now, I've got some notes and tips coming up for this recipe. Just tryin' to be helpful.
If you want to jump on down to the recipe, simply scroll right on through the rest of the text. The recipe card is near the bottom of the page, above the comments section.
Notes on Italian chicken burgers:
I use lean ground chicken that's usually labeled 90% to 93% lean. The super lean kind (99% lean) doesn't have very much flavor in my opinion.
You can also make your own ground chicken. Cut a pound of raw chicken breasts into smaller pieces and place them in a food processor. Pulse and process until the chicken breasts are broken down. You can use half chicken thighs too if you want to mix in some dark meat.
I typically make our burgers in a skillet on the stove, but you can definitely grill them, if you prefer.
I have made these without the Parmesan cheese in the burger patty and they were still delicious. But it does add a great cheesy note and some umami flavor.
Finally, a pro tip on melting your mozzarella cheese. (This works for any cheese you add to a burger really.)
I put the cheese on after I flip the burgers and let it melt as the burgers finish cooking.
However, if it isn't melting down enough, cover the pan with a lid for the last minute of letting the burgers finish. The steam helps the process along. 👍
You can serve these burgers in a regular bun or make a lettuce wrap if you want to be low-carb (and/or gluten-free).
And of course I recommend some fun toppings!
Toppings for cheesy Italian chicken burgers:
- Standard burger fare like lettuce and tomato go great here. You can even get creative and use spinach or arugula for your lettuce.
- Sautéed onion and mushrooms are really good on top of these too.
- I love a smear of pesto on my bun when serving these burgers.
- Fresh basil is also delicious on top.
- Prosciutto works great here too and adds to the Italian vibe.
Load these babies up because toppings can take your burger over the top!
I hope you give these a try for a fun, cheesy and still healthy burger.
Enjoy!
XO,
Kathryn
P.S. Need some ideas to round out your meal? Check out these tasty burger side dishes:
- Paprika potatoes (Family Food on the Table)
- Mediterranean quinoa salad (Family Food on the Table)
- Bruschetta orzo pasta salad (Rachel Cooks)
- Cucumber and chickpea salad (Reluctant Entertainer)
- Citrus kale salad (Family Food on the Table)
- Classic spaghetti salad (Family Food on the Table)
Yield: 4 servings
Cheesy Italian chicken burgers
Cheesy Italian chicken burgers are juicy and so flavorful with just a few simple ingredients. They are topped with melty mozzarella cheese and great for a delicious, easy dinner!
Ingredients
1 lb. lean ground chicken (about 90% lean)
3 tablespoons chopped sun-dried tomatoes
3 tablespoons grated Parmesan cheese (optional)
2 cloves garlic, minced
1 teaspoon dried Italian seasoning
½ teaspoon kosher salt
¼ teaspoon black pepper
1 tablespoon canola oil
4 slices fresh mozzarella cheese (about ¼ inch thick each)
For serving:
Burger buns, sliced tomato, leaf lettuce or arugula, sautéed onions and mushrooms, fresh basil, prosciutto, pesto for topping
Instructions
In a large bowl, combine ground chicken, sun-dried tomatoes, Parmesan cheese (if using), garlic, Italian seasoning, salt and black pepper. Mix until just combined, using a fork or your hands.
Shape into 4 even patties, about ½-inch thick each.
Heat canola oil in a large skillet over medium high heat. Add the burgers to the pan when hot and cook for 5-6 minutes. (Alternatively, you can cook these over a well-greased grill on medium high heat.)
Flip the burgers over, add a slice of mozzarella to the top of each one and cook for another 4-5 minutes, until the burgers are done. (If your cheese isn't melting enough, you can cover the pan with a lid during the last minute of cooking time to help it along.)
Let rest for a few minutes so the burgers retain their juices. Serve hot on burger buns with desired toppings, and enjoy!
Nutrition Information:
Yield:
4
Serving Size:
1
Amount Per Serving:
Calories:

516
Total Fat:

35g
Saturated Fat:

11g
Trans Fat:

0g
Unsaturated Fat:

21g
Cholesterol:

162mg
Sodium:

989mg
Carbohydrates:

13g
Fiber:

1g
Sugar:

4g
Protein:

40g