This fresh citrus kale salad is light and lemony with crunchy walnuts, tart dried cranberries, Parmesan cheese and a hint of sweetness!
Raw kale is amazing if you treat it right.
Which means a little TLC, a little hands-on care, a little massage. Man, a massage sounds good, doesn't it? I could go for a massage...
Sigh, I digress.
Today, we're talking massaged kale, which is how you make the most delicious raw kale salad. And I'm sharing one of our favorites!
Citrus kale salad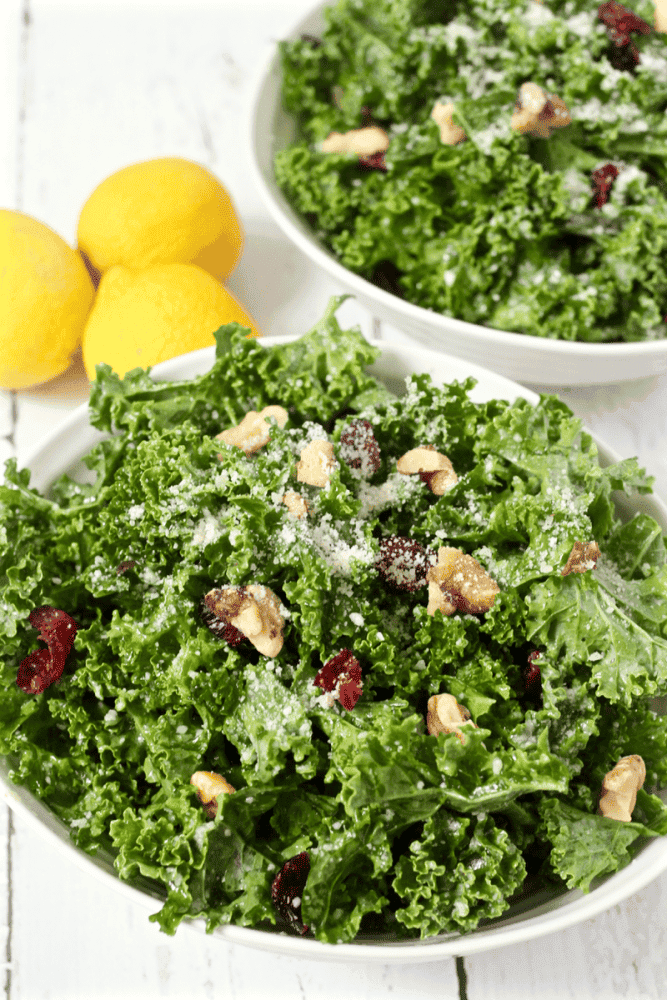 It's a serious favorite around here! My husband requests this salad often and I'm always happy to fix it for us.
It couldn't be easier, either.
You rub some chopped kale with olive oil and lemon juice and let it sit for a bit. Wonderful things start to happen.
The raw kale tenderizes. It softens. It loses any hint of bitterness and becomes milder, lighter, more vibrant.
If you think you don't like kale, you really have to try it this way. It's a whole different flavor and with the awesome add-ons I have in this salad, it's such a satisfying combo.
After the kale has had it's rest, you add some maple syrup, dried cranberries, toasted walnuts and Parmesan cheese and mix it all up together.
Kale never had it so good! 💚
It's sweet and savory and the most lovely little salad you'll ever meet. We are smitten.
(This or my super simple spinach salad happen on an almost weekly basis in our house!)
I've always got these ingredients on hand so I can whip up this easy kale salad when the urge strikes. And it strikes often. 😉
Plus, once you wash the kale and get it massaged, it just sits until you're ready. Very hands off, so you can focus on the rest of your meal.
This easy raw kale salad is also gluten-free, low-carb and can easily be made vegan. (Just swap nutritional yeast for the Parmesan cheese - or leave off the Parmesan.)
Need some ideas to round out dinner?
Perhaps some easy spice-rubbed pork chops or chicken breasts with jalapeno cheese sauce and my 10-minute microwave baked potatoes? Or roast up some Parmesan chicken, slice it and put it on top of this salad for a compete, and low-carb, dinner.
Welcome to your new favorite salad!
Enjoy!
XO,
Kathryn
Yield: 4 servings
Citrus kale salad
This fresh kale salad is light and lemony with a hint of sweetness!
Ingredients
1 large bunch kale, stems removed, leaves washed and chopped (see notes)
2 tablespoons extra-virgin olive oil
2 tablespoons fresh lemon juice
2 tablespoons maple syrup
¼ cup walnuts, toasted and chopped
¼ cup dried cranberries (dried cherries or raisins would work, too)
¼ cup shredded Parmesan cheese, plus extra for serving
salt and black pepper, to taste
Instructions
Prep the kale and place in a large bowl. Drizzle with olive oil and lemon juice and use your hands to massage all of the leaves, getting them nice and coated.
Let sit for 20-30 minutes to tenderize the kale.
Add the remaining ingredients and mix well. Taste and adjust seasonings.
Serve with extra Parmesan cheese, if desired.
Notes
I usually just tear my kale into small pieces as I'm washing it and call it a day (ie, no chopping). That's the easy (read: lazy) way to do it.
Adapted from CSMonitor.com.