These creamy white beans are made quick and easy using canned beans and a simple gravy, with no heavy cream needed. The tender beans are a delicious side dish and ready in just 30 minutes.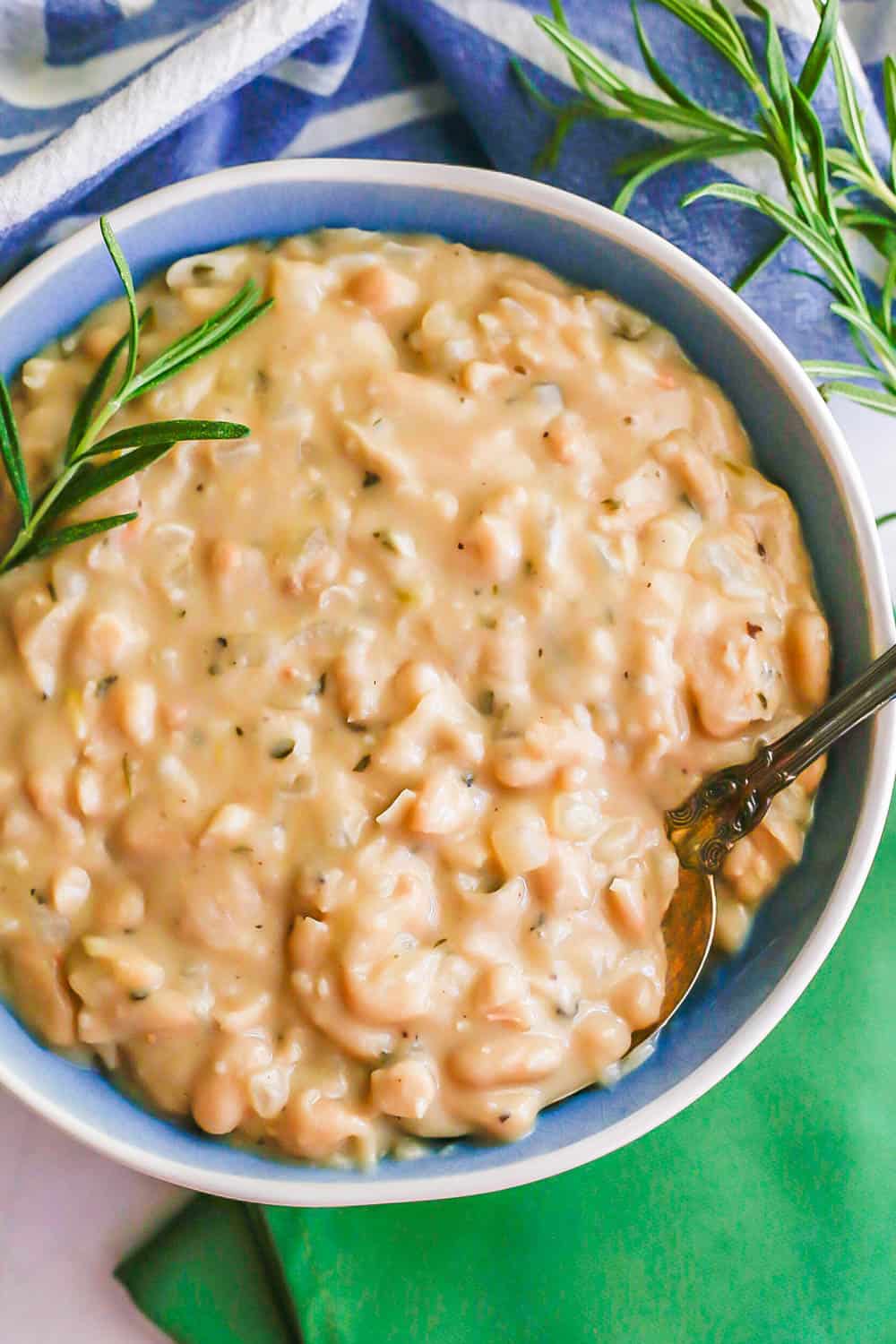 My group of girl friends and I do a monthly dinner. It's a standing date and whoever can show up that month goes.
Sometimes we are 2 or 3 people, sometimes 8 or 9 of us can make it.
Regardless, it's a highlight of my week and such a fun mid-week break!
Recently, we were checking out a new(ish) restaurant in town and several of us were gushing over the delicious sides they had. It was hard to choose!
One that I was considering was the creamy white beans. However, when I asked, the server told me that yes, they do use heavy cream.
Ugh. Heavy cream and I aren't usually very good friends. So I tried a bite of my friend's when she got hers and happily dug into the rest of my meal.
But those beans stayed on my mind…
And I decided to make my own homemade version of creamy white beans without any heavy cream.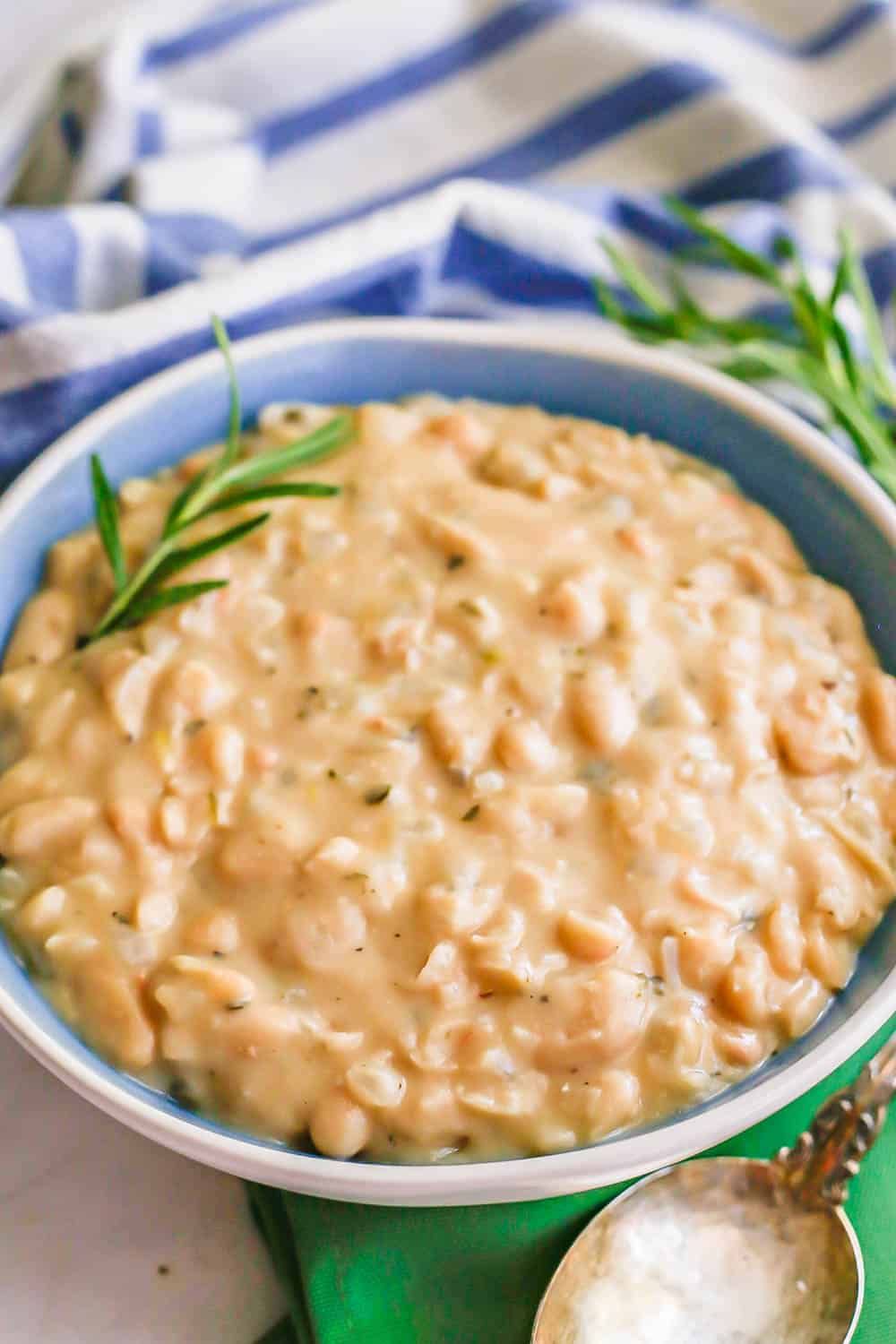 Oh my goodness, we hit the jackpot here, folks.
These beans are creamy and buttery and just so luxurious.
They are tender and just have the perfect seasonings and flavor.
Also, we are using canned beans, not dried ones, so this side dish comes together in just 30 minutes.
And yet, you wouldn't know they weren't slow cooked for hours. They are that tender and creamy and delicious! And just downright cozy.
My trick, or one of them for this recipe, is to use a simple gravy. (Don't worry, it's really very simple and it uses on hand ingredients.)
The gravy gives these beans extra oomph and flavor and depth, while also helping to thicken them – and quickly.
You are going to be craving these on the regular once you try them!
OK, let's get cooking.
Now, I've got some notes and tips coming up below on how to make creamy white beans. Just tryin' to be helpful.
If you want to jump on down to the recipe, simply scroll right on through the rest of the text. The recipe card is near the bottom of the page, above the comments section.
Notes on making creamy white beans:
Beans: We are using 2 cans of cannellini beans. You'll rinse and drain one of the cans but the other one goes in, liquid and all. This helps up the creamy factor.
Garlic: We're just using this for a bit of flavor. If you want really garlicky beans, double the amount.
Rosemary: I love the flavor of rosemary and white beans, but you could also substitute thyme for the herb if you prefer. Fresh is definitely needed.
Gravy: The gravy is what gives these beans their consistency. It is simple to make with on-hand ingredients and takes just a few minutes.
Mashing: I recommend partly mashing some of the cannellini beans to break them down. It adds great texture, and a more creamy consistency overall, to have some of the beans partly mashed and some whole.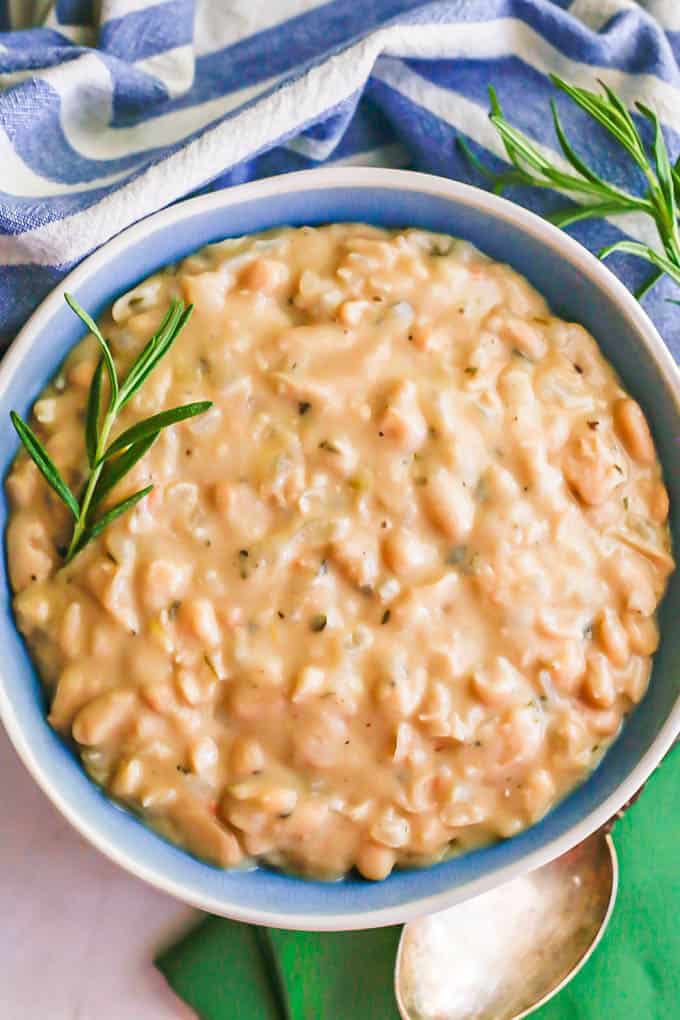 Now, as I mentioned, the gravy helps thicken the beans and give them an extra boost of creaminess and flavor.
However, if you need this recipe to be gluten-free or vegan, you can skip the gravy.
Add a little extra broth to the beans and simmer them for a while longer to help them soften and thicken. I'd also recommend mashing a good bit of them to help thicken them for consistency.
Now, let's talk about serving.
These beans make a fantastic dinner side dish and go great with meats of all kinds – steak, pork, chicken, etc.
They'd be delicious with easy baked chicken thighs or baked lemon chicken, as well as with Air Fryer pork chops, crunchy baked pork chops or balsamic pork tenderloin.
I tend to use these beans as the starch component of the meal, pairing them with our main meat/protein and then adding a vegetable side dish to round out the meal.
Garlicky broccolini would be fantastic, but any steamed vegetable would do.
Last thing, what to do with the leftovers.
Leftover creamy white beans, once cooled, will keep in a covered container in the refrigerator for up to 5 days.
Reheat stovetop or in the microwave, stirring well to ensure they heat through evenly. You can also add some extra broth if needed, for consistency. (The beans will thicken up as they sit so you might need to thin them out a little.)
I hope you give these a try next time you're craving some creamy white beans and want a healthier, easier, at-home version.
Enjoy!
XO,
Kathryn
Yield: 6 servings
Creamy White Beans
These creamy white beans are made quick and easy using canned beans and a simple gravy, with no heavy cream needed. The tender beans are a delicious side dish and ready in just 30 minutes.

Prep Time 5 minutes

Cook Time 25 minutes

Total Time 30 minutes
Ingredients
For the beans:
2 teaspoons extra-virgin olive oil
1 small onion, chopped small
2 cloves garlic, minced
1 teaspoon chopped fresh rosemary
2 (15 oz.) cans cannellini beans, 1 rinsed and drained, 1 not drained
1/4 cup low-sodium chicken broth (plus another 1/4 cup if needed)
Salt and black pepper
For the gravy:
2 tablespoons unsalted butter
2 tablespoons all-purpose flour
3/4 cup low-sodium chicken broth
1 tablespoon plain Greek yogurt
Salt and black pepper
Instructions
Heat the oil in a large pot over medium heat. Add the onion and sauté for 4-5 minutes, until tender. Add the garlic and sauté for another 30 seconds, until fragrant.
Add the beans and the liquid from the one can. Add 1/4 cup of the chicken broth and season lightly with salt and black pepper. Bring to a simmer and simmer the beans for 5-10 minutes.
Remove the beans and onions from the pan and set aside.
Make the gravy. In the same pan, melt the butter over medium heat. Add the flour and whisk well, stirring for about a minute. Pour in the chicken broth and whisk until smooth. Let the gravy simmer for 2-3 minutes, until slightly thickened. Stir in the Greek yogurt and season lightly with salt and black pepper.
Return the beans and onions to the pan and stir well to combine with the gravy. Cook 3-5 more minutes, until everything is warmed through and well combined. Add an additional 1/4 cup of chicken broth, if needed, for consistency. Season to taste with salt and pepper and serve hot.
Notes
Beans: We are using 2 cans of cannellini beans. You'll rinse and drain one of the cans but the other one goes in, liquid and all. This helps up the creamy factor.

Garlic: We're just using this for a bit of flavor. If you want really garlicky beans, double the amount.

Rosemary: I love the flavor of rosemary and white beans, but you could also substitute thyme for the herb if you prefer. Fresh is definitely needed.

Mashing: I recommend partly mashing some of the cannellini beans to break them down. It adds great texture, and a more creamy consistency overall, to have some of the beans partly mashed and some whole.

Leftovers: Leftover creamy white beans, once cooled, will keep in a covered container in the refrigerator for up to 5 days. Reheat stovetop or in the microwave, stirring well to ensure they heat through evenly. You can also add some extra broth if needed, for consistency. (The beans will thicken up as they sit so you might need to thin them out a little.)
Nutrition Information:
Yield:
6
Serving Size:
1
Amount Per Serving: Calories: 114Total Fat: 6gSaturated Fat: 3gTrans Fat: 0gUnsaturated Fat: 3gCholesterol: 10mgSodium: 210mgCarbohydrates: 12gFiber: 2gSugar: 1gProtein: 5g