Mississippi caviar is an easy, versatile black eyed pea salsa appetizer that's perfect for parties or snacking! Serve with chips or crackers and dip away!
Mississippi caviar is the working man's solution to a fancy, tasty appetizer.
I've honestly never had real caviar and I'm even a little reluctant to try it. But this black-eyed pea dip? This I know.
This is Southern food, y'all, and it's as yummy as it is easy and budget-friendly. 🙌
So no, I'm not from Mississippi, but people throughout the South make this and everyone has their own spin.
Some people use corn, some use pickled jalapeño peppers, some add tomatoes or avocado.
You can certainly tailor it to your needs, but it's basically a bean dip-salsa hybrid.
The recipe comes from my aunt, who has also shared her hot artichoke dip with me, if you'd like a hot app to go with this.
Or if you are a black-eyed pea fan, check out this baked black-eyed pea dip for a cheesy hot appetizer. Or this black-eyed pea salad for a delicious marinated side salad.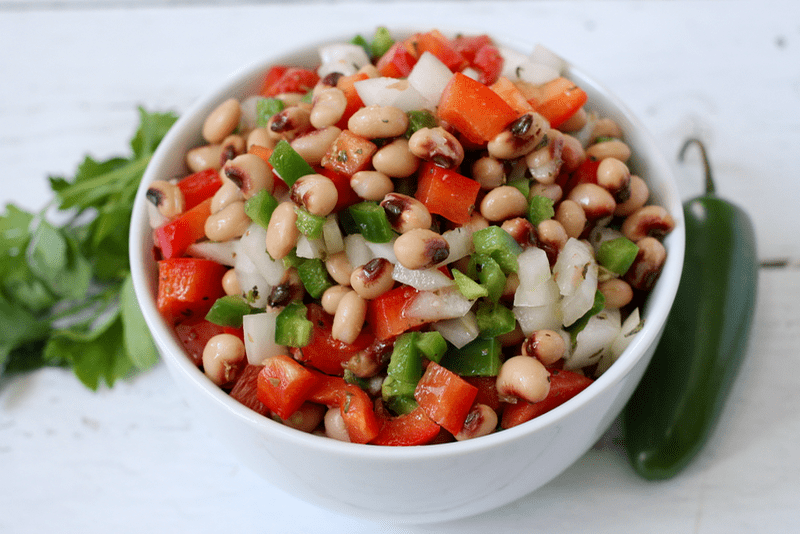 It's so easy and fast, which I love in my appetizers. Just see my black bean and mango salad or my cheese and herb spread - great quick fixes!
This one, too, and you can use it in so many ways!
Uses for Mississippi caviar:
Pair with tortilla chips for an appetizer -- great for parties, tailgating, cookouts and more. It travels, well, too.
Use it to jazz up some grilled chicken, burgers or pork chops - just top and devour!
It can even be folded into wraps, tacos or used with nachos.
Plus it's so fast - just mix everything together, refrigerate and you're ready to go. The perfect make-ahead party dip. So you can enjoy yourself, too!
My family's original recipe was for a triple batch — because it seriously goes with everything -- but I scaled it back in case you want a smaller portion. Feel free to double or triple this recipe if you're hosting a big crowd.
But please do wear gloves - you'll be handling lots of jalapeños. And even though you washed your hands six times during the process with lots of soap, you will go to rub your eye three hours later and find a searing hot sting. Ouch.
Learn from my laziness and put the gloves on. 👍
Mix up this Mississippi caviar for your next party, or just to have on hand for snacking.
Enjoy!
XO,
Kathryn
Yield: About 3 cups
Mississippi caviar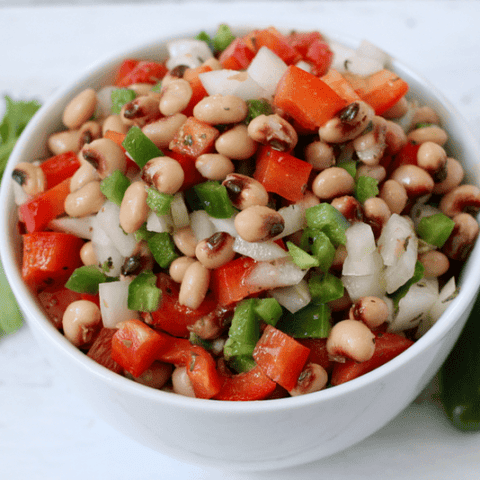 Mississippi caviar is a fast, easy and versatile bean salsa!
Ingredients
1 can black-eyed peas, drained and rinsed
½ bell pepper, diced small (red, green, yellow or orange are all fine)
1 cup onion, diced small
4 jalapeno peppers, membranes and seeds removed, finely chopped
1 2 oz. jar pimientos, drained
½ cup Italian dressing (homemade or store-bought)
Instructions
Combine all ingredients, cover and refrigerate at least 3 hours or overnight. Stir occasionally.
Serve with tortilla chips or crackers. Or use with pork chops or grilled chicken. Or on top of burgers - it seriously goes with everything!
Nutrition Information:
Amount Per Serving:
Calories:

256
Total Fat:

12gg
Saturated Fat:

2gg
Cholesterol:

26mgmg
Carbohydrates:

30gg
Fiber:

6gg
Sugar:

6gg
Protein:

8gg
** Have you ever had real caviar? Did you like it?