Sheet pan chicken dinners make it a breeze to get a well-rounded meal on the table without a lot of effort. Check out these 10 delicious sheet pan dinners for tons of different flavor ideas your family will love!
Sheet pan dinners are a life saver in my house.
They are easy to prep, they are hands off while they cook and then dinner is just ready and waiting on you.
That can be a real help on the crazy days.
Sheet pan dinners are also fuss-free — no tricky techniques — and come together so easily. Prep the food, season it and stick it on the pan. Ta da!
That takes a lot of the stress out of making dinner.
And everything is ready at the same time because it's all cooking together in the oven! No trying to coordinate different parts of the meal to finish at the same time. Cause sometimes I can't do math at the end of the day. 😉
While I considered writing a little ode to sheet pan meals, I thought I'd just give you some of the highlights instead.
(You're welcome.)
Reasons sheet pan dinners are awesome:
* Everything cooks at the same time and is ready at the same time.
* It's an all-in-one meal. You don't have 3 pans going all at once on the stove.
* Hands-off. Once it's prepped, you can often pop it in the oven and walk away for a bit. Grab some wine, read a book, do your thing.
* You can accommodate different dietary needs and preferences in the same meal. Skip the potatoes to go low-carb. Little Betty gets carrots, little Frank gets green beans. You get what I'm saying.
* Easy clean-up since everything cooks in one or two sheet pans. You can usually line your baking sheets with parchment paper as well, to make it really easy clean-up.
One thing I will warn you about. And this is something I include in all of my recipes, but just to call it as for you in case you start making your own. Or using recipes from elsewhere.
Pro tip: Use two sheet pans for sheet pan chicken dinners.
It really, really helps to keep your chicken separate from your roasting vegetables.
The chicken often will give off juices as it bakes, and those can make the veggies steam, not roast. So they end up sitting in water instead of getting browned and delicious.
So one sheet pan for the chicken, a separate one for the veggies, potatoes, etc. (Or you can use aluminum foil and crimp up the edges to make a separate area for the chicken. I do that too sometimes.)
And sometimes I even use 3 sheet pans - or two big ones and a smaller baking dish - if I've really got a ton of veggies or want to separate some more things.
Another tip: You can also almost always swap out the veggies in a sheet pan recipe to suit your tastes. If you don't like asparagus, use green beans. Or pick broccoli instead of zucchini.
Just be sure to adjust the cooking times, if needed.
Lastly, you know I don't mind a shortcut. If you don't feel like roasting potatoes, get some frozen potato wedges or fries or tater tots.
We're all about keeping it simple. You're still getting dinner on the table, after all. And if you want even more ideas and recipes, check out these easy weeknight dinners for mixing things up.
OK, without further ado, let's check out these delicious recipes! And I've updated it with a bonus 11th added in.
(Many of the recipes below are from my site, but I've also included recipes from others.)
Delicious Sheet Pan Chicken Dinners
Sheet pan chicken fajitas with bell peppers and onions are just 5 ingredients and ready in about 30 minutes. These baked fajitas are great for a hands-off dinner the whole family will love!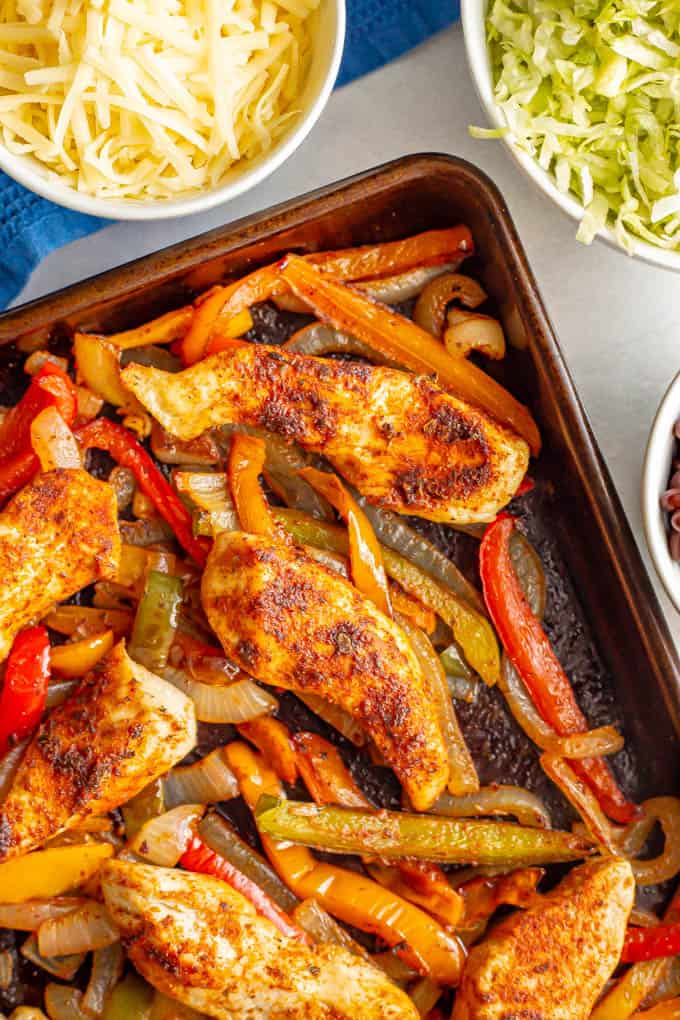 Sheet Pan Honey Mustard Chicken with Potatoes and Broccoli
Sheet pan honey mustard chicken with potatoes and broccoli is an easy all-in-one family friendly dinner with great seasoning and flavor. Just 10 minutes to prep and uses on-hand ingredients.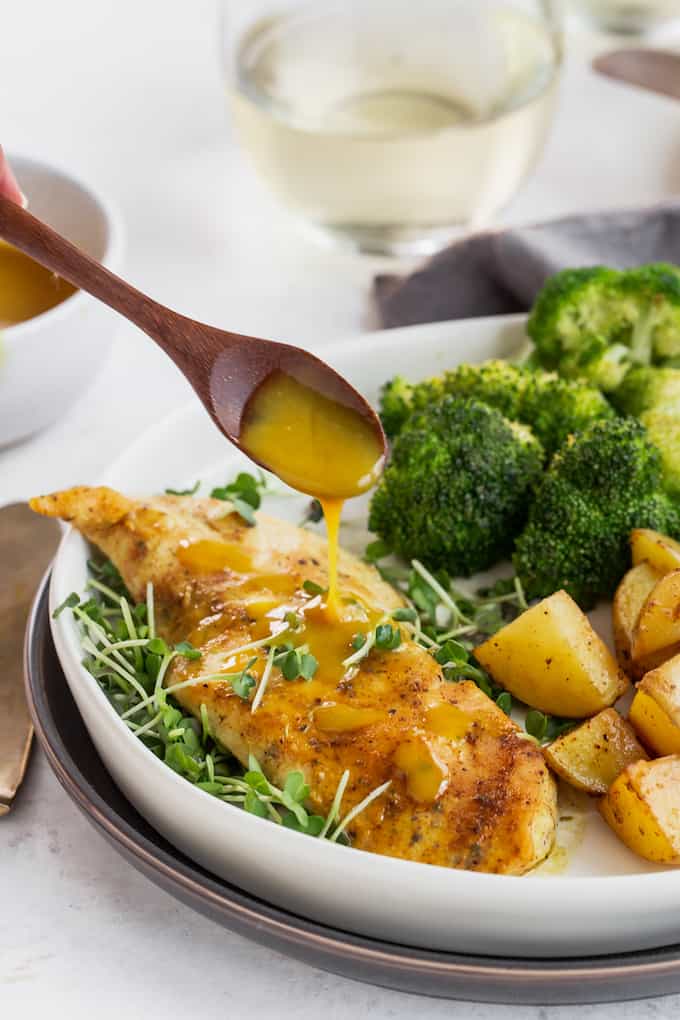 Sheet Pan Mediterranean Chicken & Veggies
Sheet pan Mediterranean chicken and veggies are seasoned with a yummy spice mixture and roasted together for an easy, healthy, hands-off dinner.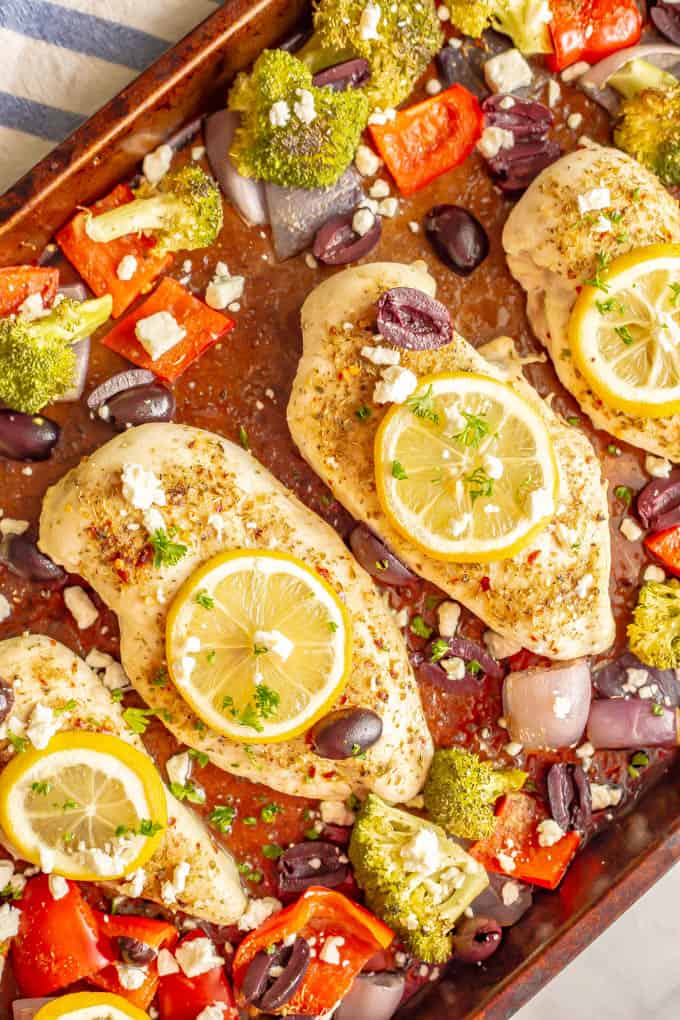 Sheet Pan Harvest Chicken and Vegetables
Sheet pan harvest chicken and vegetables is loaded with tender, juicy chicken breasts, sweet potatoes, Brussels sprouts, bacon and more for a warm, delicious, easy dinner!
Sheet Pan Honey Balsamic Chicken
Tender marinated chicken and flavorful crisp vegetables combined and roasted in the oven on a sheet pan. Serve honey balsamic chicken and vegetables over a bed of steaming rice for an easy and delicious entrée.
Sheet Pan Southwest Chicken and Veggies
Southwest sheet pan chicken and veggies is a flavorful, easy, hands-off dinner the whole family will enjoy. Add your favorite toppings, serve with rice or tortillas, and dig in!
Sheet Pan Indian Chicken and Veggies
Sheet pan Indian chicken and veggies features a bold, warm spice blend that coats the chicken, potatoes and vegetables, which are roasted until cooked, tender and browned. This easy, flavorful dinner is great any night of the week!
This Sheet Pan Pesto Chicken is loaded with veggies and packed with delicious flavor! This one pan dinner is prepped in less than 10 minutes and a complete meal! A time saver for any meal.
Sheet Pan Chicken and Apples with Potatoes
Sheet pan chicken and apples with potatoes is seasoned with fresh rosemary and finished with creamy goat cheese for a delicious and easy fall dinner.
Sheet Pan Chicken with Broccoli & Bell Peppers
Sheet pan chicken and broccoli with bell peppers and Parmesan cheese makes for an easy, hands-off healthy dinner! Serve alone for a low-carb meal or pair with steamed rice or a baked potato.
Flavor-packed chicken breasts with tomatoes and vegetables. Everything cooks on one pan for an easy, healthy dinner with no clean up!
So many delicious recipes to choose from. Lots of different flavors and combinations that you can choose from to make it work for your family.
Or maybe try a new one each week and find your favorites to add to your regular dinner time rotation.
(Oh, and if you have another favorite sheet pan chicken dinner, please leave a comment below and share! We can all use more ideas!)
Here's to solving the dinner time dilemma and making it a breeze to get dinner on your table.
Happy cooking!
XO,
Kathryn