These easy weeknight dinners, with ideas and recipes, include fun, quick, family-friendly meals you can throw together any night of the week with no fuss or stress.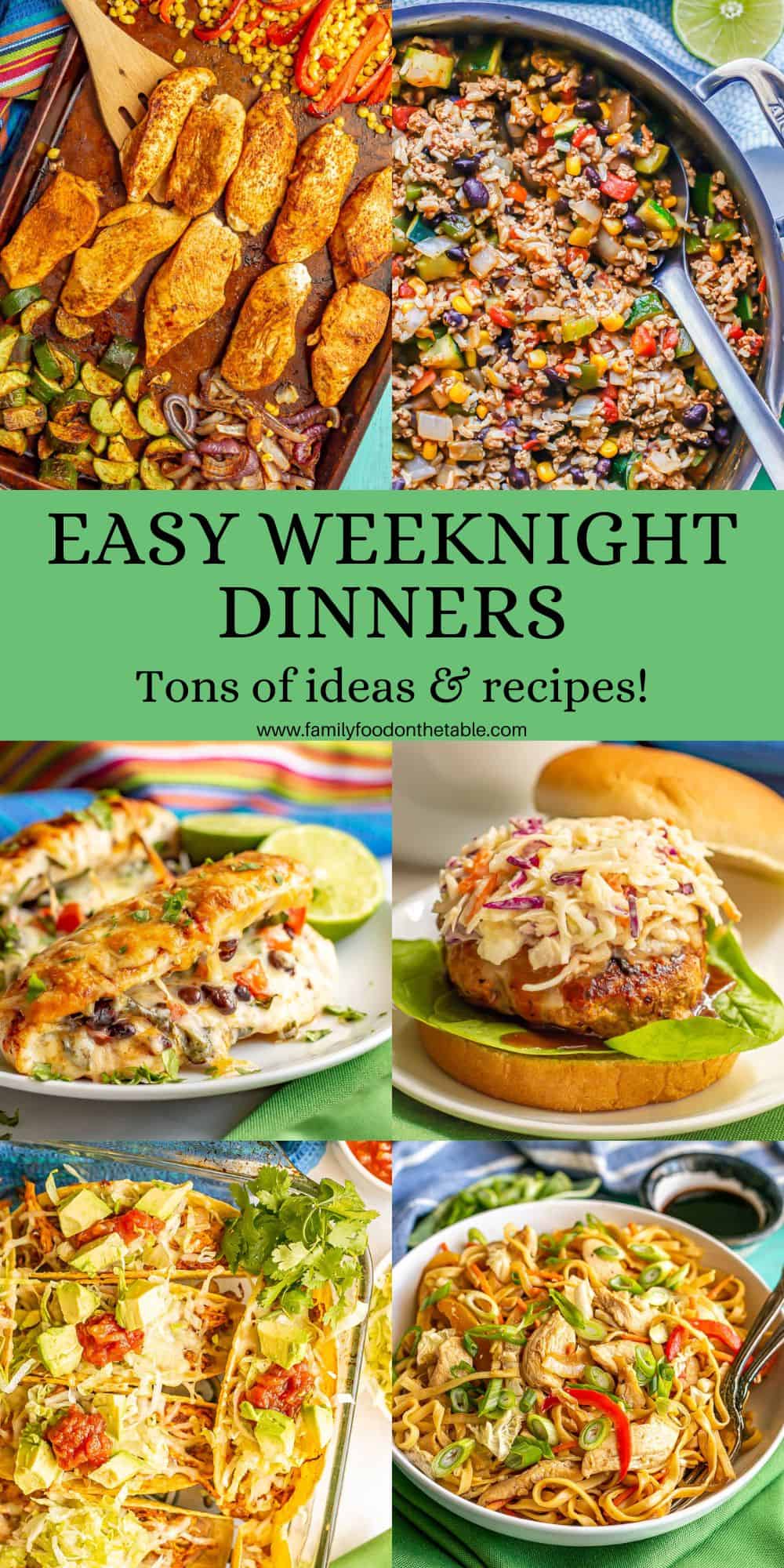 I love me some dinner planning and meal planning and scheduling. It's just in my nature.
Previously, I have shared a full month of easy healthy family dinner ideas, and you guys loved it.
So I went a little more crazy and shared a full year of month-by-month meal plans for delicious family dinners.
But even I sometimes get stumped. Or maybe I'm just not feeling it.
Or maybe I was feeling ambitious when I planned the dinner idea and then a day happened (you know the kind) and now it's dinnertime and I just can't.
Whatever you're up against, we've all had the daily dinner struggle.
But no more!
We're gonna tackle some super fun ideas and some really yummy recipes to get you back on track. At least temporarily. 😉
So let's dive straight into a list of delicious, do-able easy weeknight dinners you can whip up without any fuss or stress.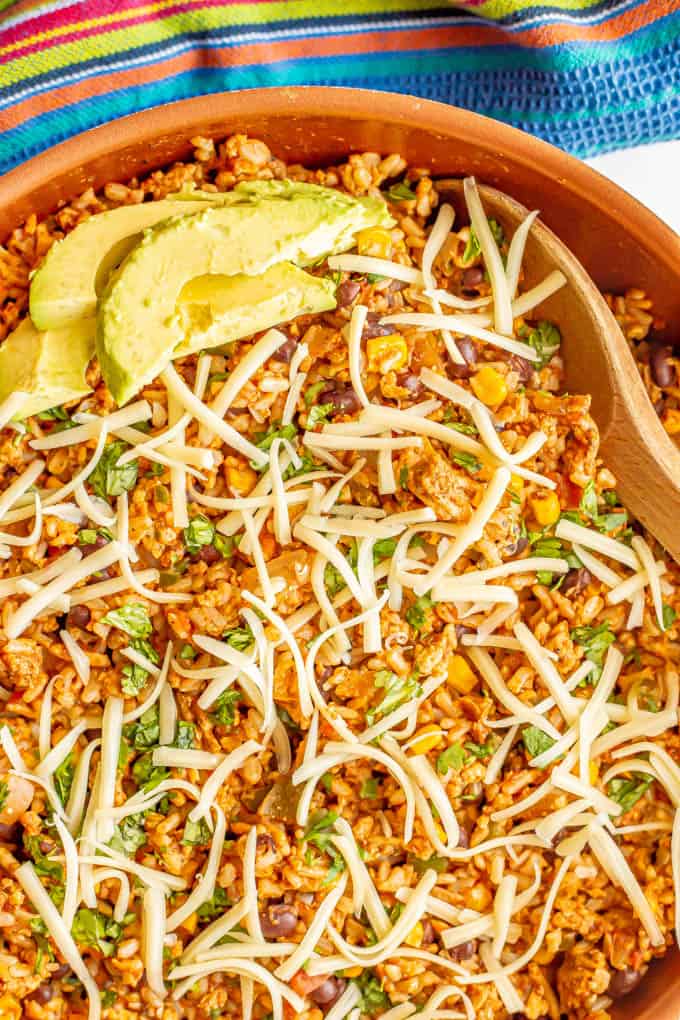 (Keep scrolling down below this list for tons of recipes to browse and try.)
Easy Weeknight Dinners - 22 Ideas
Spaghetti with salad and bread
Pork chops with mac and cheese and green beans
Sheet pan dinner
One pot pasta
Soup and sandwich
Stir fry or fried rice (chicken, pork, shrimp, etc.)
Tacos
Fajitas
Nachos
Enchiladas
Burgers with tater tots or oven fries and salad or coleslaw
Grilled chicken with pasta/quinoa salad
Breakfast for dinner
Fish with rice and veggies
Meatloaf with potatoes and broccoli
Chicken casserole with side salad
Takeout fakeout (chicken chow mein, lo mein, etc)
Chicken skillet (chicken, beans and greens)
Ground turkey or beef skillet
Stuffed chicken breasts with mashed potatoes and peas
Comfort food favorite (lasagna, pot pie, etc.)
French bread pizzas
Also, to note, you can definitely use some shortcuts here.
Maybe your salad is a bagged salad kit from the store. I love those things.
Maybe your veggies start out frozen. Nothing wrong with that.
Or maybe you have the quick cook rice or the frozen oven fries or you're buying pre-made burgers. No shame in any of that. It's called making it work.
Now coming up, I've got tons of quick and easy weeknight dinners for you to browse for specific recipes.
Or you can use these as a launching off point and go find a similar specific recipe to use from Pinterest, a cookbook, a Google search, a family recipe cut-out collection, whatever you use.
Easy Weeknight Dinners - 60+ Recipes
Check out the various sections below to find recipes for some quick weeknight dinners to fit your needs.
Sheet Pan Dinners
Sheet pan dinners are a life saver in my house. They are easy to prep, they are hands off while they cook and then dinner is just ready and waiting on you.
Sheet Pan Mediterranean Chicken & Veggies
Sheet pan Mediterranean chicken and veggies are seasoned with a yummy spice mixture and roasted together for an easy, healthy, hands-off dinner.
Sheet Pan Southwest Chicken and Veggies
Southwest sheet pan chicken and veggies is a flavorful, easy, hands-off dinner the whole family will enjoy. Add your favorite toppings, serve with rice or tortillas, and dig in!
Sheet Pan Honey Mustard Chicken with Potatoes and Broccoli
Sheet pan honey mustard chicken with potatoes and broccoli is an easy all-in-one family friendly dinner with great seasoning and flavor. Just 10 minutes to prep and uses on-hand ingredients.
Sheet Pan Harvest Chicken and Vegetables
Sheet pan harvest chicken and vegetables is loaded with tender, juicy chicken breasts, sweet potatoes, Brussels sprouts, bacon and more for a warm, delicious, easy dinner!
Sheet Pan Indian Chicken and Veggies
Sheet pan Indian chicken and veggies features a bold, warm spice blend that coats the chicken, potatoes and vegetables, which are roasted until cooked, tender and browned. This easy, flavorful dinner is great any night of the week!
Sheet Pan Salmon and Potatoes with Green Beans
One-pan salmon and potatoes with green beans is an easy sheet pan dinner with wild-caught salmon, baby red potatoes and green beans, all roasted and topped with feta cheese and a lemony vinaigrette.
Or browse this collection of 10 delicious sheet pan chicken dinners for more ideas.
One Pot Pastas
One-pot pastas are so convenient to make and endlessly versatile with the proteins and vegetables you use.
Plus, it's nice that everything cooks together in one pot - easy clean-up!
And the pasta gets so super creamy from cooking with the broth and other ingredients. Really infuses all the flavor.
One Pot Creamy Chicken & Mushroom Pasta with Peas
Creamy chicken and mushroom pasta with peas is an easy, cheesy, one-pot pasta dinner that's ready in about 30 minutes!
One-Pot Pasta with Chicken Sausage, Spinach and Peas
One pot pasta with chicken sausage, spinach and peas is a creamy, tender all-in-one pasta dinner with big flavor that's ready in just 25 minutes.
Vegetarian spaghetti with mushrooms and spinach makes an easy, healthy one-pot pasta dinner that's ready in 25 minutes! Great for a meatless Monday meal!
Stir Fry or Fried Rice
Stir fries and fried rice are also dishes that are endlessly versatile and a great way to use up veggies you have on hand in the fridge or freezer. Use chicken, pork, turkey, beef, seafood or a vegetarian option like tofu for yours.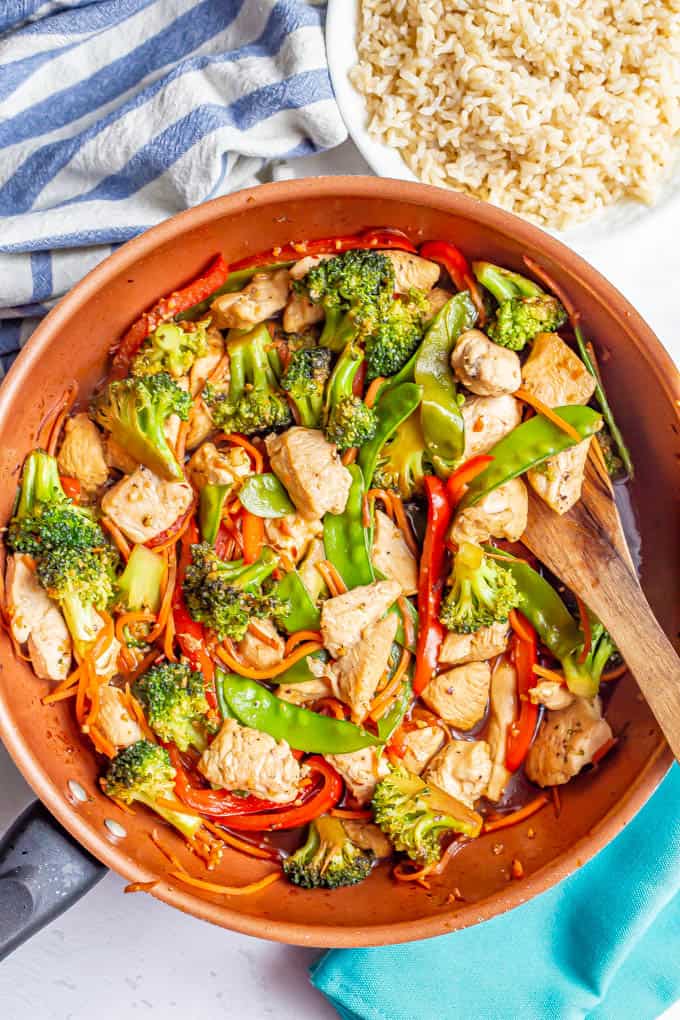 This quick and easy chicken stir fry with veggies uses just a few ingredients and is perfect for a busy weeknight. No more takeout needed!
Honey garlic chicken stir fry is an easy, healthy family dinner that's loaded with veggies, coated in a delicious sauce and ready in about 25 minutes!
Pork and Broccoli Slaw Stir Fry
This veggie-packed pork stir fry with broccoli slaw is ready in just 25 minutes for a fast, healthy, delicious dinner! It's low-carb and gluten-free too.
Spicy pork fried rice is an easy recipe that's loaded with ground pork, fluffy brown rice and plenty of veggies. It's ready in just 25 minutes and you can adjust the level of spice to your liking. Perfect for a really flavorful weeknight dinner!
Quick and Easy Cauliflower Fried Rice with Chicken
Quick and easy cauliflower fried rice with chicken is a delicious, colorful and flavorful low-carb dinner that comes together in just 20 minutes!
Mexican fried rice is a fun twist on fried rice and a delicious all-in-one dinner with ground turkey, onions and peppers, black beans and corn, salsa and rice.
Tacos, Fajitas, Enchiladas, oh my!
Who doesn't love a taco night? And fajitas, enchiladas and nachos never failed to please, either. You can adapt any of these recipes to suit your needs and use the meat or vegetables you'd like.
Just don't forget the toppings! It's all about the toppings with these dishes!
Ground turkey tacos with homemade taco seasoning are quick and easy to make and a healthier, lighter take on taco night.
These vegetarian tacos feature black beans and just a handful of other ingredients for a delicious and easy meatless meal that's ready in 15 minutes!
Baked shredded chicken tacos are crispy, melty and seriously delicious. They're ready in less than 30 minutes and perfect for a dinner the whole family will love.
Easy chicken fajitas with bell peppers and onions are just 5 ingredients and ready in about 20 minutes. These skillet fajitas are great for a quick weeknight dinner the whole family will love!
Sheet pan chicken fajitas with bell peppers and onions are just 5 ingredients and ready in about 30 minutes. These baked fajitas are great for a hands-off dinner the whole family will love!
Loaded chicken nachos with black beans and plenty of cheese are made in a double layer to ensure tons of good stuff on every chip. Add ALL your favorite toppings and dig in!
Chicken enchiladas are full of a perfectly seasoned chicken mixture, topped with enchilada sauce and cheese, and baked until bubbly for a delicious and hearty dinner the whole family will love.
Sweet Potato & Black Bean Enchiladas
Sweet potato black bean enchiladas are seasoned to perfection, topped with enchilada sauce and cheese, and baked until bubbly for a delicious and hearty vegetarian meal.
Also, don't forget about quesadillas and burritos for some more easy weeknight dinners that are sure to please!
Burgers
Who doesn't love a burger night? You can make beef burgers, chicken burgers, turkey burgers, veggie burgers, and even pork or seafood burgers. So many choices, so little time.
Pair your burgers with fries or tator tots (frozen versions sure are convenient!) and a side salad or coleslaw to round out the meal.
These BBQ chicken burgers require just a few basic ingredients and come out so juicy and flavorful! Serve with coleslaw for a delicious summer meal!
Easy chickpea burgers come together quickly, are sturdy while cooking and have delicious flavor! Add your favorite toppings and use these vegetarian burgers for burgers, wraps, on salads or in grain bowls, at lunch or dinner.
Fiesta turkey burgers have just 4 basic ingredients but create a little flavor explosion in your mouth! Add your favorite taco toppings and dig into these juicy, fun and delicious burgers!
Greek Turkey Burgers with Tzatziki Sauce
Greek turkey burgers with tzatziki sauce are loaded with spinach, red onion and feta cheese for a delicious but easy taste of Greece!
Spicy Pork Burgers with Mango Salsa
These easy spicy pork burgers have a hint of heat and a cool, refreshing mango salsa to pile up on top. These flavorful burgers are great summer fare for dinner or cookouts!
Southwest Salmon Burgers with Lime Cilantro Slaw
Southwest salmon burgers are full of fun mix-ins and tasty seasonings plus have lots of topping options, including an easy lime cilantro slaw! They are great for a delicious, healthy burger at lunch or dinner.
Grilled Chicken
Grilled chicken is a summer staple at my house! And honestly, I love having it year-round, no matter the season.
And no way does it need to be boring. No, no. Check out the recipes below for easy ways to liven up your regular rotation and find some new, flavorful grilled chicken recipes.
Cheesy fiesta grilled chicken is quick and easy to make with just 3 ingredients, comes out so juicy and flavorful, and can be dressed up with fun toppings!

Coconut Lime Grilled Chicken Marinade
Coconut lime grilled chicken marinade is an easy way to infuse delicious flavor into your regular grilled chicken routine!
Grilled lemon chicken is marinated in just 5 simple ingredients but comes out incredibly flavorful! Serve as is or use for wraps, grain bowls and salads.
Balsamic Herb Grilled Chicken Marinade
Balsamic herb grilled chicken marinade is tangy, herby and bright and perfect for a quick and easy marinade to give delicious flavor to your grilled chicken rotation.
Or check out these 10 easy grilled chicken recipes for more inspiration.
Chicken Casseroles
Chicken casseroles are not only comforting and scrumptious, they're also often really easy to throw together. They're a great option, too, when you need to prep your meal ahead of time. 👍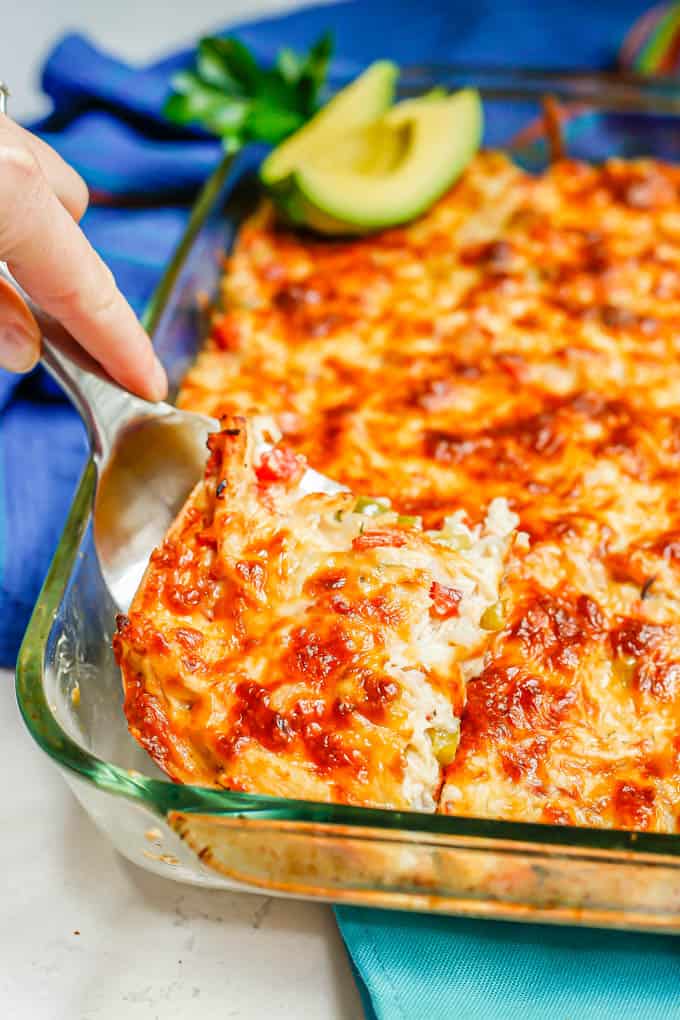 King Ranch chicken casserole is creamy, cheesy, hearty and seriously delicious. This family-friendly Tex-Mex dinner can be prepped ahead and is sure to please.
Chicken divan is a classic chicken casserole that's creamy, cheesy, full of chicken pieces and broccoli florets, and is perfect served with some steamed rice for a cozy family dinner.
Cheesy Mexican Chicken Quinoa Casserole
Cheesy Mexican chicken quinoa casserole is loaded with black beans, tomatoes, corn and peppers, plus plenty of cheese, for a delicious and healthy family dinner! (It's also gluten-free and easy to make ahead!)
This baked chicken and rice casserole is creamy, cheesy, hearty and totally cozy. It's great for an easy dinner the whole family will love.
Takeout Fakeout Dinners
Stay in and cook a delicious dinner even faster than you can get take-out! These at-home version of your favorite take-away dinners are way healthier, too.
Plus, they use basic on-hand ingredients, not speciality ones. You'll feel like a chef in your own kitchen!
Easy chicken pad Thai is a delicious, simple at-home version of the restaurant favorite that's ready in just 30 minutes and uses on-hand ingredients.
Chicken lo mein has tasty, sauce-soaked noodles, tender veggies and thin strips of chicken scattered throughout the dish, and it's ready in just 20 minutes. This delicious dinner tastes restaurant-worthy but is easy to make at home.
Chicken chow mein is full of tender chicken, wilted cabbage, matchstick carrots and crunchy chow mein noodles. This restaurant fave is easy to make at home in just 20 minutes!
Cashew chicken is a 20-minute recipe with tender chicken pieces tossed in a garlicky light brown sauce with crunchy cashews and green onions.
Moo shu chicken is a quick and easy recipe to make at home in just 20 minutes! This version uses on-hand ingredients and is incredibly flavorful.
Chicken Skillets
Chicken skillets are a great one-pan solution to dinnertime dilemmas. (And they are super fast to make if you are using cooked or rotisserie chicken!)
Check out the variations below and feel free to improvise and create your own dishes.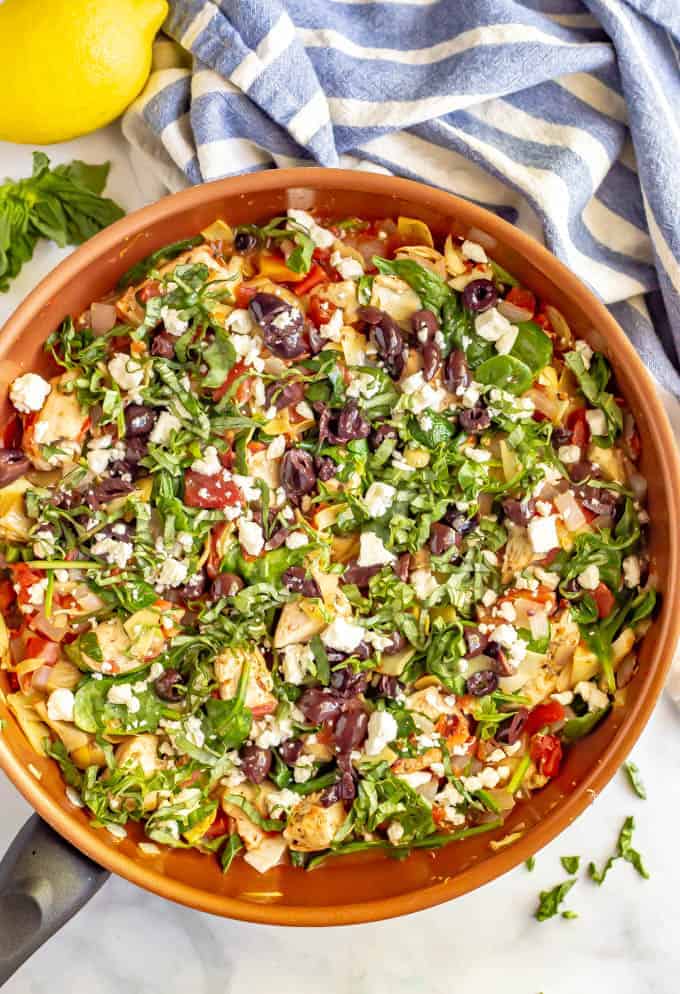 Chicken with Beans and Spinach
This easy 5-ingredient recipe is ready in just 15 minutes and you can dress it up with toppings if you like. This is my family's original "one pot wonder" and my dad's go-to meal if he has to cook for himself. You can make endless combinations by changing up the seasonings, the type of beans and the type of greens (or other veggies) you use.
Quick and Easy Mediterranean Chicken
Quick and easy Mediterranean chicken is a one-skillet meal with great colors and flavors and the perfect blend of spices. Ready in just 25 minutes, this makes a great weeknight dinner!
Southwest Chicken Skillet Dinner
This quick and easy southwest chicken skillet dinner uses rotisserie chicken, fresh veggies, canned beans and simple spices for a delicious meal that's ready in just 15 minutes!
One Pot Easy Harvest Chicken Skillet
One-pot easy harvest chicken skillet with sweet potatoes and Brussels sprouts is a beautiful and delicious recipe that's perfect for a fall dinner!
Healthy Chicken and Zucchini Skillet with Corn
Chicken and zucchini skillet with corn is a one-pot wonder full of southwestern flavors, colorful veggies and juicy chicken. It's a gluten-free and low-carb recipe that's perfect for meal prepping.
Ground Turkey Skillets
Ground turkey is a staple in my fridge and can be used in so many ways. When I don't have a specific plan for how to make it, I fall back on one of these ground turkey skillets.
Everything comes together in one pan for a flavorful, quick and easy weeknight dinner for the family.
Ground Turkey Skillet with Rice and Veggies
Ground turkey, rice and veggie skillet with beans, corn, tomatoes, zucchini and bell peppers is an all-in-one dinner with tons of flavor that's ready in just 30 minutes. It's easy to make and customize and sure to be a family favorite!
Curry Ground Turkey with Rice and Peas
Curry ground turkey with rice and peas is full of warm, rich flavors but is super quick and easy to make! This 20-minute recipe is great for a weeknight dinner!
Italian ground turkey skillet with white beans, diced tomatoes and spinach is an easy, flavorful all-in-one-pan dinner that's ready in just 25 minutes!
Stuffed Chicken Breasts
I love stuffing some chicken breasts and making that part of a fun family dinner. They bake in the oven for a really easy, hands-off and delicious chicken dinner.
Chicken Breasts Stuffed with Prosciutto, Spinach and Mozzarella
These flavor-packed chicken breasts stuffed with prosciutto, spinach and mozzarella cheese make for an easy but elegant dinner! Topped with paprika and Parmesan cheese, this stuffed chicken is sure to be a hit!
Pizza stuffed chicken breasts with melty mozzarella cheese, pepperoni slices and marinara sauce are easy to throw together on a busy weeknight and make for a fun family dinner!
Cheesy Mexican Stuffed Chicken Breasts
Cheesy Mexican stuffed chicken breasts are filled with black beans, tomatoes and cheese and topped with taco seasoning and more cheese for an easy, fun and delicious family dinner!
Spinach stuffed chicken is loaded with melty mozzarella cheese and sautéed spinach and then roasted with a paprika and Parmesan top for an easy and irresistible chicken dinner!
Comfort Food Classics
Comfort food can sometimes be a little more involved, but these versions of the classics have shortcuts and come together easily. They'll make any family dinner night more special.
This easy chicken and dumplings recipe is a classic that's warm, hearty and oh so comforting. The flavorful chicken stew and the tender dumplings create a delicious meal the whole family will love.
Easy Chicken Pot Pie with a Biscuit Top
Easy healthy chicken pot pie with biscuit top is a comfort food favorite with a creamy, lightened up chicken + veggie mixture covered in an easy homemade gravy and finished with a homemade drop biscuit crust!
Easy healthy one-pot lasagna is made stove-top and a great way to get a homemade lasagna served up without all the fuss! It's perfect for a delicious family dinner!
---------------------------------------------------------------------------------------
There you have it. Tons of ideas and recipes to make easy weeknight dinners a reality in your kitchen.
I hope you find some new favorites and some new ideas to try come dinner time.
You got this.
Oh, and if you have other favorites, please leave a comment and share below - we can all use more ideas! And if you make one of these, please leave a comment on the recipe or tag me on Instagram. I love hearing from you!
Cheers and happy cooking!
XO,
Kathryn
P.S. Stay in touch and keep getting tons more easy dinners!
You can sign up for my free e-newsletter to get all of my new recipes delivered straight to your inbox so you never miss a thing. I'll even send you my free e-cookbook, Healthy Weeknight Dinners, as a thank you!