These 10 easy grilled chicken recipes include five with seasonings or rubs that don't require any marinade time and five more that do use a marinade mixture. Grilling tips, topping ideas and dipping sauces included, too!
Grilled chicken is on our regular rotation throughout the spring, summer and fall.
The kids love it, we love it, it's so easy and it goes with everything. So yeah, we make it a lot.
For me, a big part of the appeal is that my husband will do the actual grilling. That leaves me to handle any side dishes and getting the table ready.
I'll take any help I can get!
Usually though, I'm still the one who has to prep the chicken.
(Please tell me I'm not alone in this. He's all like, "I'll grill the chicken, no problem," and then swoops in at the last minute to take it outside. I've already trimmed it, seasoned it, marinated it and gotten a clean plate ready for when it's finished. And he gets the credit?!)
Anyway…
Sometimes prepping it means marinading the chicken ahead of time or mixing up a spice rub. Sometimes it's just pulling out a bottle of our favorite sauce or dressing and calling it a day.
Depends on my mood. 😜
So today I wanted to share 10 of our favorite easy grilled chicken recipes that I turn to again and again!
And to be clear, I do mean easy.
Some of these aren't recipes so much as they are ideas or reminders of ways you can season your chicken in a pinch.
Also, I divided these into two groups. The first 5 recipes are just rubs or seasoning mixtures. They don't require any marinade time.
It's perfect for those nights when you need to start the chicken in 5 minutes and don't have time to bother with a marinade.
I get it. We can't always plan ahead.
The next 5 recipes though are ones that take a marinade.
As a general rule, at least 30 minutes is necessary. Two to four hours is even better if you can manage it, to infuse the flavor a little more.
Also, we normally do boneless, skinless chicken breasts. However, you could absolutely use chicken thighs, drumsticks or other chicken pieces for most of these recipes.
Just be aware that you might need to increase the cook time.
As always, I use and recommend using a digital thermometer to ensure your chicken is properly cooked through. It should get to 160 before you remove it from the grill and then it will continue to cook as it rests.
No grill? No problem. You can make chicken inside on a grill pan or in a regular sauté pan in a pinch. Again, just check the temp to make sure it's cooked through.
Or if you need more ideas and recipes to mix things up, check out this collection of easy weeknight dinners for inspiration.
OK, let's get moving on to the best grill recipes.
First up, the no-marinade ones for those of us who can't always plan ahead.
Seasonings and rubs for grilled chicken:
Cheesy fiesta grilled chicken - season your chicken with taco seasoning, add some shredded cheese to melt down over top when you flip it and then serve with all your favorite taco toppings!
Adobo grilled chicken - just 2 ingredients and no marinade time needed, but this chicken has really deep, smoky flavor.
BBQ chicken - Whether you make your own BBQ sauce or have a favorite store-bought brand, brushing some BBQ sauce on your chicken on the grill is about as easy as it gets. Serve with extra, clean BBQ sauce (that's not contaminated) for dipping your grilled chicken into.
Fajita seasoning or Southwest seasoning - These take minutes to mix together with on-hand ingredients and add great flavor.
Spice rub for meat - The spice rub in this recipe, which is technically for pork chops, is a super flavorful mix that's great on all meats, including chicken. A must try!
While many of those above are homemade, you can certainly substitute store-bought seasoning mixes for any of them if you want to keep it extra easy.
You know I don't judge.
Other favorite seasonings in our house are Trader Joe's chili lime seasoning and Everything but the Bagel seasoning and a dry rub from a local BBQ joint.
McCormick and Weber also make some good grill seasoning mixes you can find in your spice aisle.
Oh, and many of these same seasonings and rubs would work great on grilled pork, steak or fish, too. 👍
OK, now for those days when you are on top of things, know you have some grilled chicken in your future and just generally have a few hours of advance notice to get your chicken prepped, let's marinade it!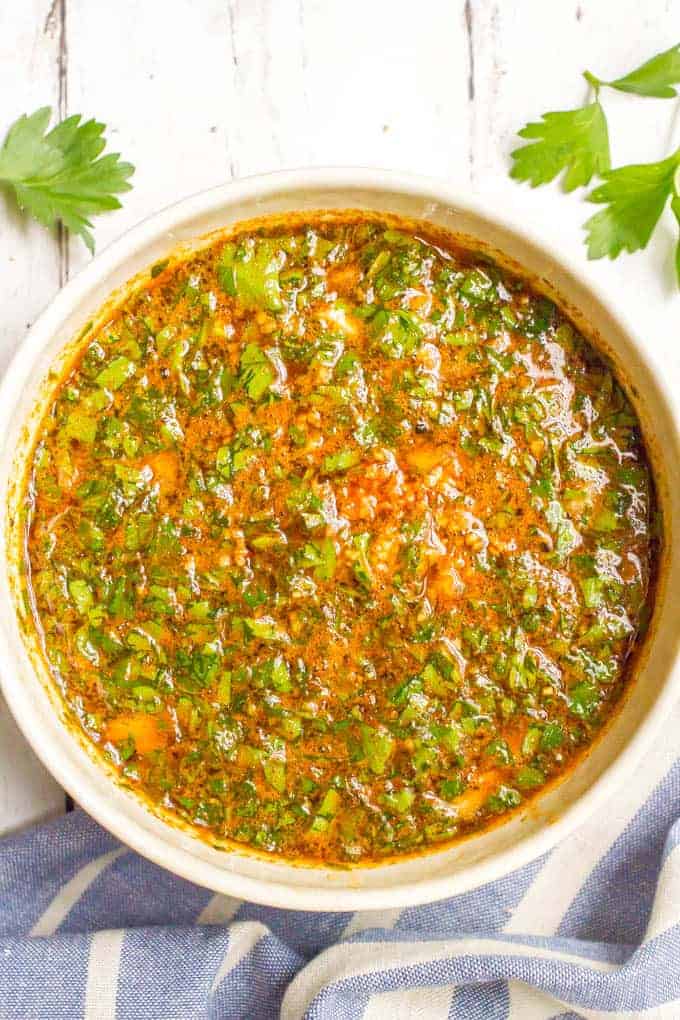 Marinating helps to infuse flavor evenly throughout the chicken and helps keep it nice and juicy while grilling.
As mentioned, a minimum of 30 minutes marinade time is needed, but really, it's better if you can let it marinate for 2-4 hours.
You can use a container with a lid or a ziptop plastic bag to marinade your chicken. Just be sure to dispose of any extra marinade, as it will be contaminated by the raw chicken.
(Tip: If you want some of the marinade sauce to drizzle on to the finished chicken, be sure to separate it and reserve it before you get the raw chicken in there.)
Marinade recipes for grilled chicken:
Spicy beer marinade - A few pantry staples and spices and makes a super flavorful marinade for grilling.
Coconut lime grilled chicken - This marinade with coconut milk, fresh lime juice and red curry paste is an easy way to infuse flavor.
Grilled lemon chicken - Just 5 simple ingredients and bright, fresh flavor.
Balsamic herb grilled chicken marinade - Tangy, herby and bright, this is perfect for a quick and easy marinade to give delicious flavor to your grilled chicken.
Homemade Italian dressing - Just measure out the ingredients and shake it all up! Great for herby flavor.
Are you getting hungry? Me too.
But before we eat, let's talk about some pointers for ensuring juicy, delicious grilled chicken every time.

Tips for grilling chicken:
- Choose smaller, evenly sized chicken breasts to ensure even cooking. If yours are large, you can pound them out to an even thickness. Or butterfly chicken breasts to make them smaller.
- Preheat the grill to medium to medium-high heat. If you are using charcoal, it's best to grill chicken over medium, indirect heat.
- Use a clean, well-maintained grill for even cooking.
- Make sure your chicken has oil rubbed on it or oil in the marinade to prevent sticking and tearing. You can also use a grill spray (similar to a regular cooking spray but made for grills) to prevent sticking or rub oil onto the grates before adding your chicken.
- Season the chicken well! It should be well-seasoned prior to cooking to add plenty of flavor.
- You generally only need to flip the chicken once, halfway through the cook time.
- If basting your chicken, wait until near the end of the cook time. This will prevent flare-ups and burning. Baste several times so it gets layered on while cooking. This is the exception where you can go ahead and turn the chicken several times.
- Close your grill while the chicken is on so the heat circulates around it and cooks it more evenly - and quickly. Basically, make your grill like an oven.
- Let the chicken rest for at least 5-10 minutes before you cut into it, so the juices don't run out.
As for timing, it of course will vary depending on your cut and thickness.
Boneless, skinless chicken breasts generally take about 12 minutes on the grill, give or take, for reference.
OK, let's get ready to eat!
Now, you know I love to give you some toppings, always. That is certainly the case here.
What you choose will depend on the flavors you used in your seasoning mix or marinade, but toppings are always fun.
Topping ideas for grilled chicken:
Shredded cheese (cheddar, Monterey Jack, Parmesan, a blend, etc.)
Salsa or pico de gallo
Avocado or guacamole
Cooked, chopped bacon
Chopped fresh herbs (such as parsley or cilantro)
Greek yogurt or sour cream
Hot sauce or sriracha
Pickled red onions
Pickled or fresh jalapeños
Squeeze of fresh lemon or lime juice
I'm sure there are plenty more you can think of to boost the flavor and fun.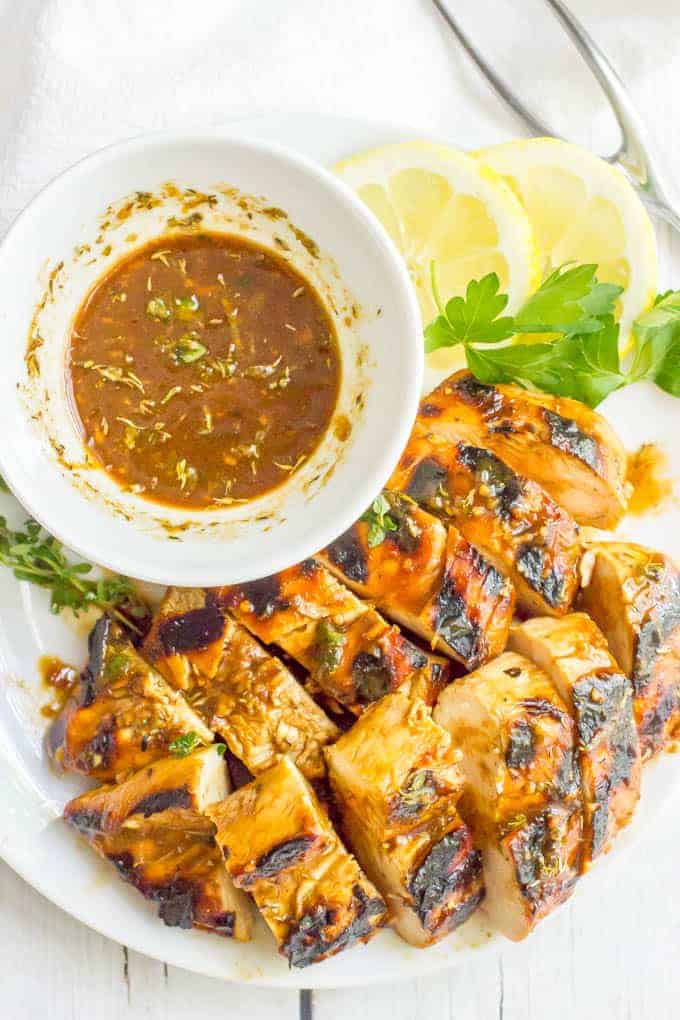 Other ways to dress up grilled chicken include serving it with a dipping sauce.
Again, pick one that matches well with your flavors. (Though my 10-year-old daughter will tell you BBQ sauce goes with everything always. 🤷‍♀️)
Dipping sauces for grilled chicken:
BBQ sauce
Ketchup
Honey mustard
Ranch dressing
Caesar dressing
Pesto
Fry sauce
Creamy salsa dip
Marinara sauce
Green goddess dressing
So many options!
Finally, don't toss those leftovers.
Leftover grilled chicken is fabulous to keep on hand for the week and can be used in so many ways.
Ways to use grilled chicken:
- Sandwiches, wraps, paninis, quesadillas, grain bowls, salads, etc
- Or mix with pasta and veggies for a new meal
Leftover grilled chicken will keep, refrigerated, for up to 5 days. You can slice and use it cold or reheat it in the microwave to warm it up again.
If you love grilled chicken as much as we do, I hope you give these a try for some easy, delicious flavor.
Happy grilling!
XO,
Kathryn