Stuffed chicken is easy to make, fun and tasty and there are so many ways to change up the flavor. Find a new favorite dinner with these 11 delicious recipes!
We had a rainy, low-key weekend at home, and it was pretty lovely.
I did some painting and crafting with my daughter, some building and games with my son, and we all cuddled up for some movie nights. My kind of way to recharge!
But let's get right into the food.
I love stuffing some chicken breasts and making that part of a fun family dinner.
They add so much flavor to regular chicken breasts (that, yes, can sometimes get a little boring) and there are endless ways to change them up.
And often times, they are baked and that makes for a really hands-off meal once you get it prepped.
That's my kind of weeknight dinner plan. 👍
Also, because they seem a little fancy, stuffed chicken can be a great meal to make for friends and family.
Basically, there's something for everyone here!
One quick tip to help you get started…
Of course, follow the recipe and see what it says, but many stuffed chicken recipes call for butterflying the chicken first, to prepare it for stuffing.
If you need some help with prepping your chicken, check out this post on how to butterfly chicken breasts.
It has step by step photos. And once you've done it a few times, you'll be a master.
OK, let's dive right into these delicious recipes.
(Also to note: Many of the recipes below are from my site, but I've also included recipes from others.)
Stuffed Chicken Recipes
Spinach stuffed chicken is loaded with melty mozzarella cheese and sautéed spinach and then roasted with a paprika and Parmesan top for an easy and irresistible chicken dinner!
Cheesy Mexican Stuffed Chicken Breasts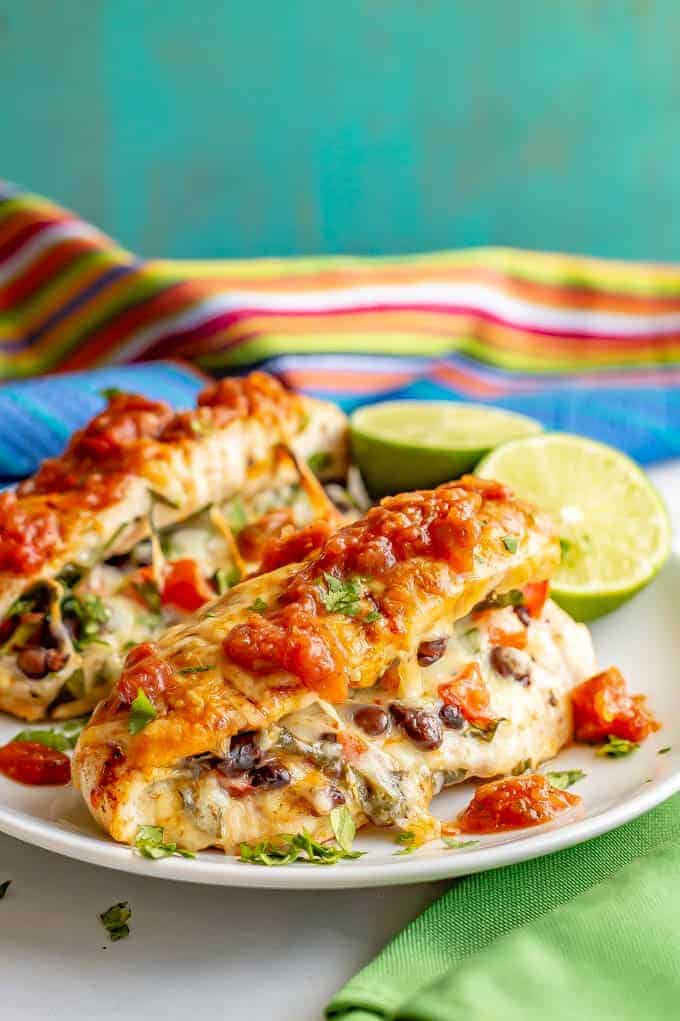 Cheesy Mexican stuffed chicken breasts are filled with black beans, tomatoes and cheese and topped with taco seasoning and more cheese for an easy, fun and delicious family dinner!
Chicken Breasts Stuffed with Prosciutto, Spinach and Mozzarella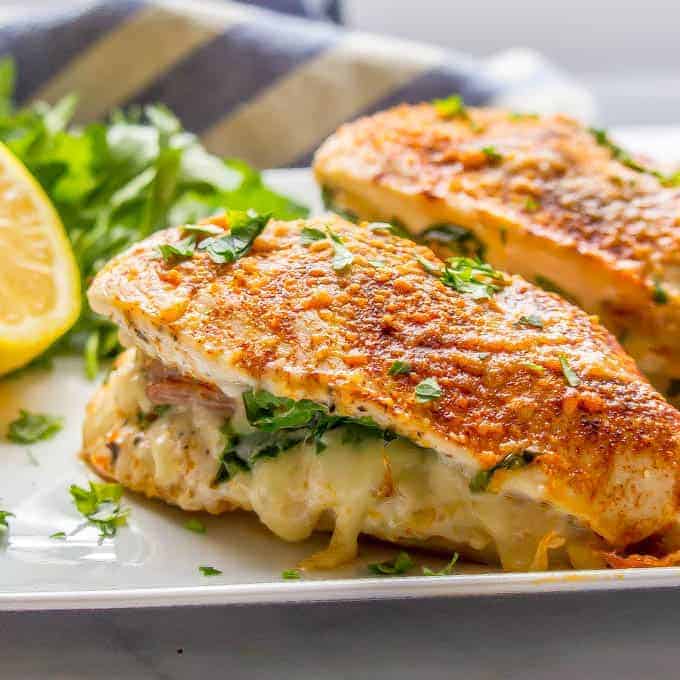 These flavor-packed chicken breasts stuffed with prosciutto, spinach and mozzarella cheese make for an easy but elegant dinner! Topped with paprika and Parmesan cheese, this stuffed chicken is sure to be a hit!
Chicken Kiev is a classic dish that's both simple and delicious! Made with boneless, skinless chicken breast, fresh minced herbs, garlic, butter, and crispy breadcrumbs… it's the perfect dish for holidays, date nights, or family dinners!
Pizza stuffed chicken breasts with melty mozzarella cheese, pepperoni slices and marinara sauce are easy to throw together on a busy weeknight and make for a fun family dinner!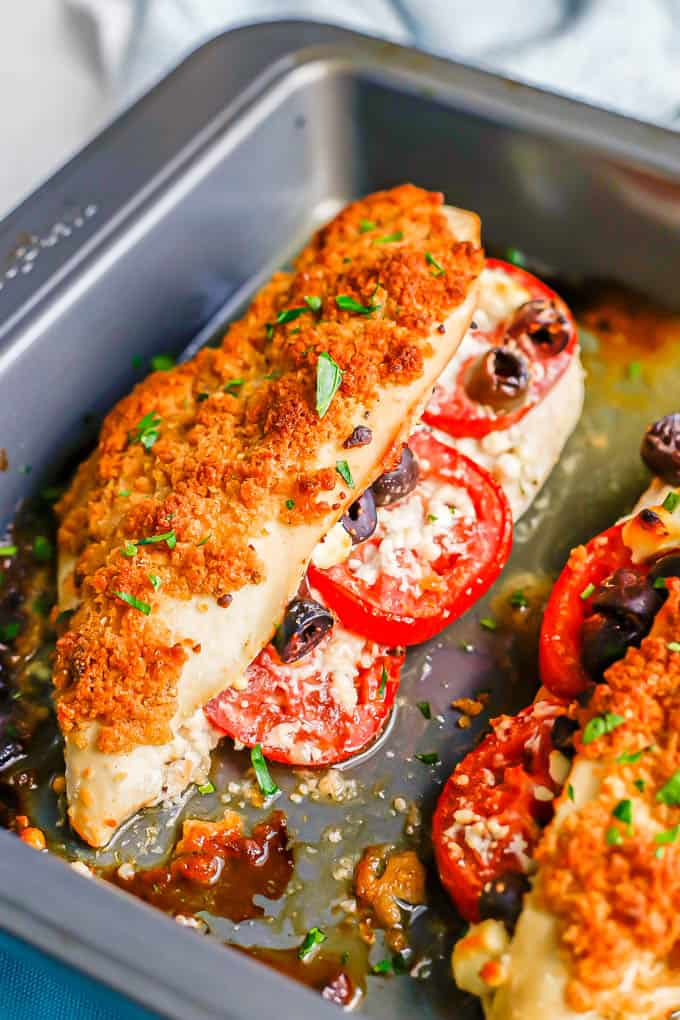 Greek stuffed chicken breasts with tomatoes, olives and feta cheese are topped with a buttery breadcrumb mixture that gets crunchy and golden brown in the oven. This chicken dish is easy to put together and so flavorful!
Baked Chicken Cordon Bleu is rolled up with prosciutto and mozzarella, coated in breadcrumbs and baked until golden brown, melty and delicious. It's perfect for a dinner that's sure to impress!
Apple and Brie Stuffed Chicken
Apple and brie stuffed chicken is an easy skillet chicken recipe with melty, soft brie cheese and tart green apples, plus a delicious pan sauce made from the juices. This easy family-friendly dish is perfect for a yummy fall dinner!
Grilled Caprese Stuffed Chicken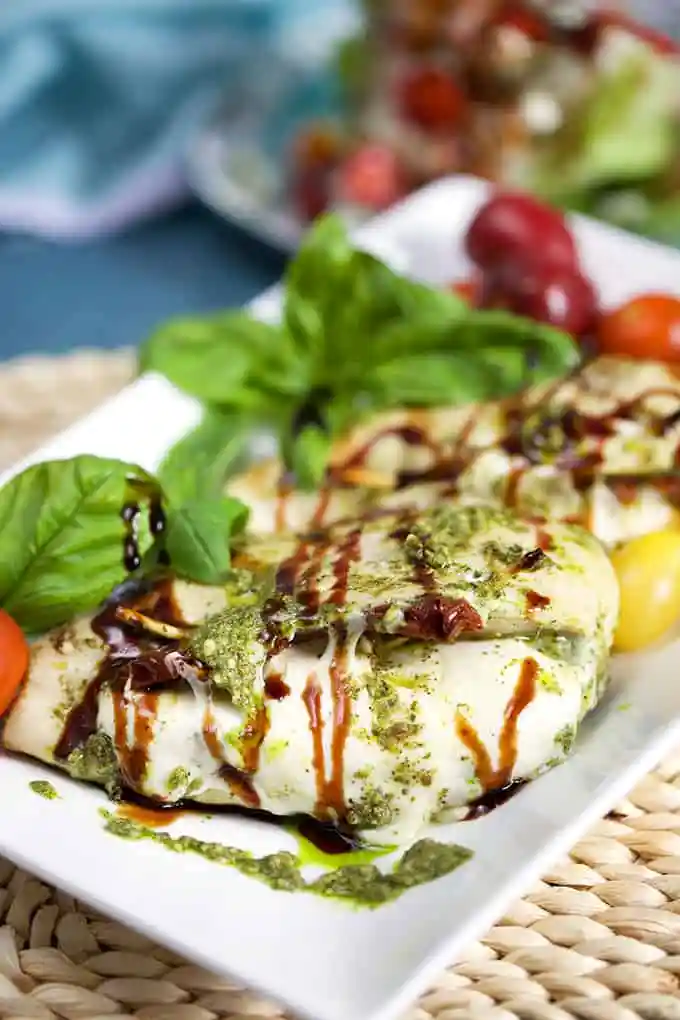 Fire up the grill, this easy Grilled Stuffed Caprese Chicken is a cheesy summer masterpiece! Fresh mozzarella, basil pesto, and sun-dried tomatoes become the best melty filling in grilled chicken breasts. Drizzled with a sweet balsamic glaze, this is one recipe you'll have on repeat all summer long.
Try fajita stuffed chicken, with peppers, onions, and cheese stuffed inside tender chicken breasts, breaded with a crispy coating of crushed tortilla chips.
Jalapeño Popper Stuffed Chicken Breasts
All the flavor of jalapeño poppers stuffed into grilled chicken breast. This is a family favorite way to enjoy chicken at dinner!
There you have it! Flavors to fit whatever mood you're in.
Oh, and here's a bonus for you with one of my favorite flavor combos: broccoli cheese stuffed chicken. Just 6 ingredients and 10 minutes to prep!
Hopefully, you'll find some new favorites to love in these stuffed chicken recipes - or maybe you'll be inspired to create your own masterpiece!
(If so, please leave a comment and share below!)
Looking for more easy chicken dinners? Me too, always.
Check out these 10 sheet pan chicken dinners or 60+ healthy chicken dinners for more inspiration.
Happy cooking!
XO,
Kathryn