These healthy soup recipes are warm, cozy and hearty but on the lighter side. Perfect for enjoying as a delicious dinner on a chilly evening!
Soup season just feels so warm and cozy and I get excited to indulge in all the soups as soon as the weather starts cooling down.
We have some family favorites that I make again and again, and I also love trying new soups.
Something about a warm bowl of soup for dinner - or even lunch - just feels good.
So today I thought I'd share some of our favorite healthy soup recipes to inspire you this season.
Maybe some will become your go-to soups to make every year!
And keep reading below for some ideas for pairings and handling leftovers.
Soups on!
Healthy Soup Recipes
Easy Chicken Noodle Soup uses simple ingredients, is just 10 minutes to prep, and comes out so flavorful, brothy and comforting. Perfect for a cold day - or a day when you're coming down with a cold.
Easy Chicken Tortilla Soup is light but hearty, colorful, flavorful and served with crispy tortilla strips for a great crunch.
Turkey White Bean Soup with Kale is full of ground turkey, creamy white beans, tomatoes and wilted, tender kale for a simple but hearty and delicious soup.
Italian Wedding Soup is super flavorful, filled with mini meatballs, spinach and pasta, and makes a great, hearty soup for a chilly night.
This quick and easy Chicken and Black Bean Soup has a great depth of flavor but is ready in about 15 minutes! It's great for a cozy, healthy dinner that'll warm you right up!
Healthy Creamy Chicken and Wild Rice Soup is filled with veggies and it's deliciously creamy while still being very light. Plus the recipe is ready in just 30 minutes!
Vegetarian Soup Recipes
Instant Pot Lentil Soup is a really hearty, flavorful soup that is prepped and cooked entirely in the Instant Pot. This gluten-free, vegan lentil soup is perfect for an easy dinner on a chilly night. One of my absolute faves!
Slow Cooker Black Bean Soup is a delicious, hands-off vegetarian soup that's hearty and filling for a chilly day. Add your favorite toppings and grab a spoon!
Homemade Creamy Tomato Soup is simple to make, incredibly smooth and flavorful, and ready in just 30 minutes. And the extras freeze great for another day!
Roasted Butternut Squash Apple Soup is perfect for a cozy fall dinner! This soup is thick and filling and has a perfect background of sweetness and warm spices!
Easy Tomato Gazpacho Soup is a summer must! This refreshing, cold summer soup recipe is loaded with fresh veggies and there are lots of topping and serving ideas!
Healthy Chili Recipes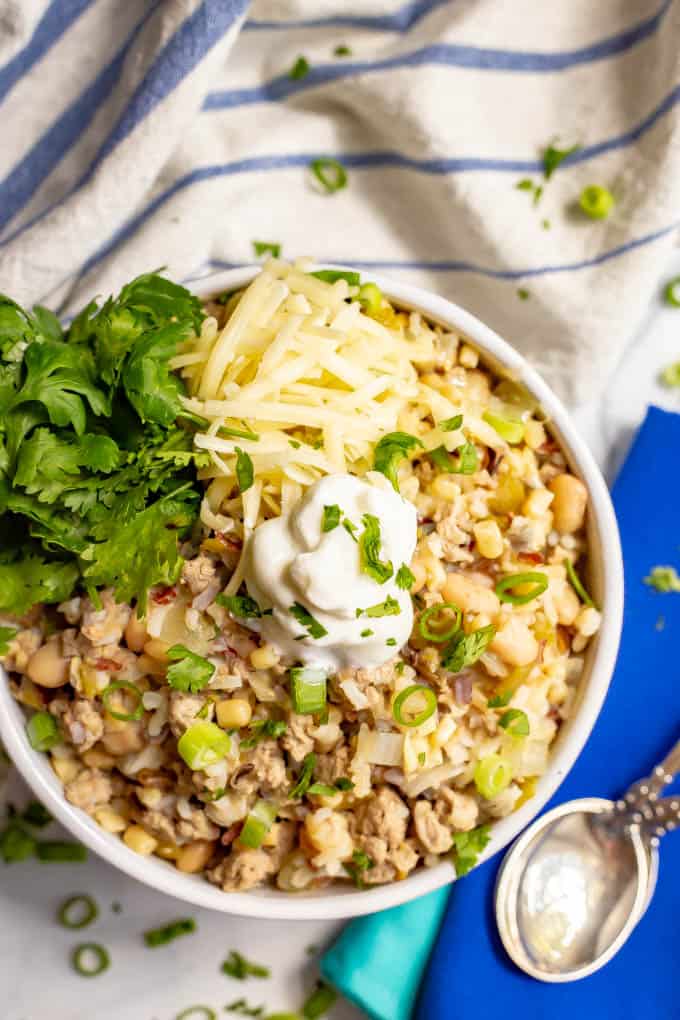 This easy, Healthy White Turkey Chili comes together in about 30 minutes with some simple pantry ingredients. It's full of hearty ground turkey pieces, white beans, wild rice, corn and green chilies. Add your favorite chili toppings and dive in!
This 30-minute Healthy Southwest Turkey Chili with corn and black beans makes a great, easy dinner for a chilly night. Add your favorite toppings and get ready to dig in!
Healthy Slow Cooker Chicken Chili is easy to prep and loaded with peppers, beans, tender chunks of chicken and plenty of delicious spices. Add your favorite toppings, grab a spoon and dig into a warm bowl of this chili!
Sweet Potato and Black Bean Chili is an easy, cozy, hearty vegetarian chili with deep flavor that's perfect for a healthy, meatless meal!
This hearty Vegetarian Quinoa Chili has such deep color and flavor that it'll be a hit with meat eaters and vegetarians alike! Just 30 minutes to make and no need to pre-cook the quinoa!
You can also browse my entire category of soups.
So much soup, so little time.
Maybe we can go full in on soup season and just commit to having soup a couple of times a week. I'd be so in for that.
And if you need anything to round out your soup meal, I've got you covered.
Pairings for Soups:
Crusty bakery bread
Biscuits
Drop biscuits
Cornbread
Oyster crackers
Corn chips (especially for chili)
And as far as particular recipes go, these cheddar garlic drop biscuits are a long-time favorite of mine.
And these are the best ever fluffy homemade biscuits that are just as good at dinner time as they are at breakfast time.
Or make some easy homemade dinner rolls; this is the least intimidating recipe I've seen for making rolls!
And you can't beat some classic cornbread to go with your soup or chili.
Last thing, let's talk about leftovers.
-Most soups, once cooled, can be stored in a covered container in the refrigerator for up to 5 days.
-Many soups also freeze really well. Let cool, then pack up in a freezer-safe container. Label and date it and freeze for up to 4-6 months. Let thaw overnight in the refrigerator.
-Reheat soup in a small pot on the stove over medium low until warmed through. Add extra broth, if needed, to get it to the right consistency.
There you have it!
I hope you celebrate all things soups to make your fall and winter as cozy as possible.
And if you have other favorites, please share below! We can all use some more soup love in our lives!
Enjoy!
XO,
Kathryn