Homemade baby food is a great way to provide wholesome, tasty, quality first foods for your baby. Check out the resources below, batch cooking ideas for beginner baby food basics, and our favorite combinations and recipes!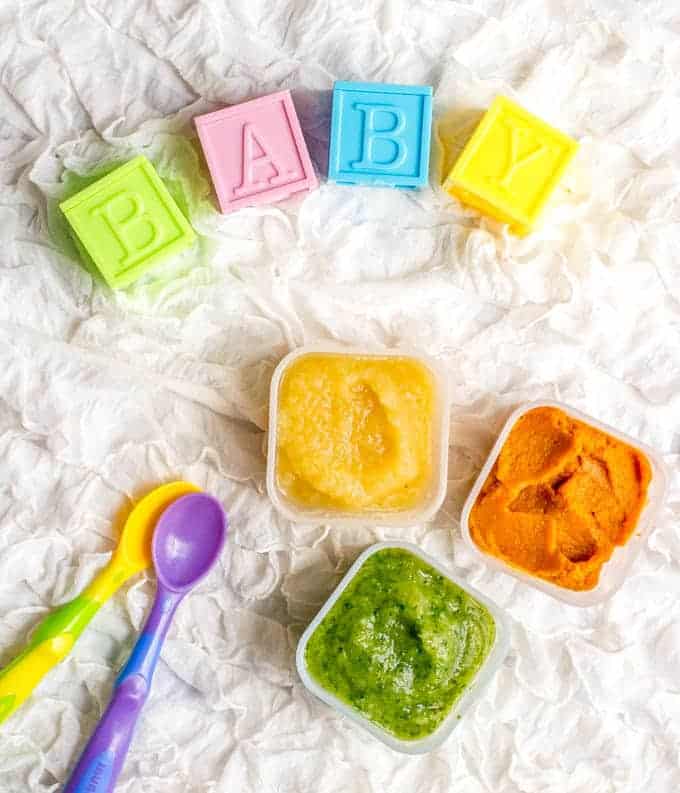 Making your own baby food at home is really very easy.
I pinky promise! It's also much less expensive and less wasteful than store-bought versions. And honestly, it's more convenient. No, really.
Yes, you have to take the time to make the food, but once you have a routine down, you'll always have plenty of food options on hand in your fridge and freezer and you won't ever need to run to the store (with a hungry baby in tow - no fun!) to buy your weight in jars. 😳
I've got tons of information here on the blog - resources and recipes - but if you want everything in one place and in a beautiful book, check out my new cookbook. It's called Healthy, Quick and Easy Baby Food and it's got ALL the info you need to get started plus 100 recipes ranging from single purees to combinations to finger foods and toddler foods. It's everything you'll need for this journey. Oh, and it makes a great gift, too!
But you can also dive in here and get tons of information. Read on below for more info or click on one of these category buttons to get started:
My story: I made ALL of the baby food for both of my kids - not a store-bought jar or squeezie pouch in sight. Maybe it's because I'm a control freak, but I wanted to know what they were getting. I didn't want any salt or sugar added to their first foods and I wanted to be a little more hands-on with their first experience with food. It's a milestone after all!
But I also know that making your own baby food is just one more thing to do... and when you're short on time and on sleep, one more thing can feel overwhelming. I totally get it.
So that's why I want to bring you all of these homemade baby food resources in one place so you could see how easy it can be! (In fact, you can scroll to the bottom of this page to watch the short video to see it in action!)
And that's why I have SIX rounds of batch cooking for baby food basics for you, five of which involve making 5 different baby foods in just 20 minutes. (Find them all under the Beginner Homemade Baby Foods category).
This way you can cook up a bunch of different foods at one time, pack them all up and be done for the week - or several weeks!
Let's dive into it a bit more and talk about some commonly asked questions and concerns.
FAQs about homemade baby food:
When do I start introducing solids?
Currently, the recommendation is to introduce solids to a baby somewhere between 4 and 6 months old, depending on the child's readiness. Signs include a baby who can sit up well without support, who has head control, a baby who can use its tongue to push food to the back of its throat to swallow (instead of just pushing it back out of its mouth), and a baby who reaches for food or acts curious about food. Talk to your pediatrician about when to introduce solids for your baby.
What homemade baby food should I start with?
Pediatricians and experts are now open to a variety of first baby foods, from the typical rice puree to sweet potatoes to peas or oatmeal. Make sure your puree is very thin for a baby just starting solids and you can add new foods from there. Here's my sample introducing homemade baby food schedule for which foods are best at different baby ages.
What consistency should homemade baby food be?
Homemade baby food should be very thin and completely pureed and smooth (no solid pieces) for a baby that's just starting solids. As a baby gets older and is accustomed to eating and swallowing, you can begin adding small amounts of texture to the baby food, as they are ready, gradually working up to a more chunky consistency to prepare them to transition to finger foods.
What do you need to make homemade baby food?
You don't need any special baby food equipment to make homemade baby food. A simple blender or food processor will do to make almost every puree. A few other kitchen tools will make the job a little easier and more convenient, but they aren't necessary. Get my full run-down of homemade baby food equipment recommendations.
How do I store homemade baby food?
It's best to store homemade baby food in small containers with a tight seal. This allows you to portion out just a bit at a time to avoid wasting food. If freezing, you can use ice cube trays to make small cubes. Once they are frozen, transfer the cubes to a labeled freezer-safe bag. Get more info on our favorite baby food containers with my homemade baby food equipment recommendations.
How long does homemade baby food last?
You can refrigerate homemade baby food for up to 3-5 days and freeze baby food for up to 4-6 months. Just be sure to label everything and keep it tightly covered!
(Baby food that has been opened and eaten is considered contaminated. The baby's saliva and germs have gotten on the food from the spoon and can potentially grow other bacteria. It's best to throw away baby food that's been partially eaten. And it's a good reason to only portion out a small amount at a time!)
What homemade baby food can I freeze?
All of it! Fruit purees, vegetable purees, grain purees, bean and meat purees all can be kept in the freezer for up to 4-6 months. Make sure it is labeled and well covered. Defrost homemade baby food safely in the refrigerator overnight. Also, be sure to check the consistency once thawed to be sure the food, especially any grain or starch, isn't too thick or gummy for your baby.
What can I add to homemade baby food?
Baby purees can be combined in a lot of different ways! Grains and starches go great with most fruits and vegetables, you can add any fruit to yogurt or applesauce, you can add fruits to meat purees, veggies to bean purees and so much more. Check out this post for lots of beginner and advanced homemade baby food combinations.
What do I do with leftover homemade baby food?
Leftover baby food can be used in so many ways! Stir leftover fruit purees into oatmeal or yogurt or use as a spread for toast. Add leftover vegetable purees to pasta sauces, mashed potatoes, meatballs or burgers. Use leftover bean or meat purees as a spread in quesadillas. Use combinations of leftover favorites to make homemade baby food squeeze pouches. I've got tons more information, ideas and recipes (plus a free printable!) on ways to use leftover baby food here.
---
Finally, I created a guide all about how to make homemade baby food purees to walk you through it step-by-step. It also includes the how-to on 10 popular beginner purees to get you started on your journey.
Whether you want to make all of your foods or you just want to supplement some store-bought basics, I hope you find these resources useful!
And I'm here if you run into trouble or have questions or need help. Or just need someone to say thank you, because that sweet baby won't. I will. I'll say thank you.
(You can sign up for my free e-newsletter to stay connected and so you never miss a new post or recipe! Bonus: You'll get my free e-cookbook with 10 healthy weeknight dinners 👍)
Tag me on Instagram with pictures of your baby food, of your little one eating it (or smearing it or throwing it or just staring intently at it), of you making it happen. I will celebrate you!
Oh, and here's that video:
Check out my
baby food resources
,
beginner baby foods
, and
baby food combinations and recipes
categories for more ideas. Happy cooking!
XO,
Kathryn
P.S. Pin this page to come back to for reference 👇