Homemade baby food doesn't require a ton of specialized tools, just a few kitchen basics and a few containers. I've outlined my favorite equipment recommendations and tools, as well as shared some tips and tricks for making the most of your time in the kitchen!
I've got some good news for you today. ✨
You don't have to have special or expensive equipment to make your own homemade baby food. Promise. In fact, you've probably got most of what you need already.
I've outlined below everything I've used to make and store homemade baby food. And I made ALL of the food for both of my kids. We never bought a jar or squeeze pouch. They are big eaters, too, so I've had plenty of practice and experience and still didn't need any of those so-called baby food making machines.
Whether you plan to make all your own food, or just want to supplement some store-bought items with some homemade foods, you will be well covered with the equipment below.
Some of these are certainly optional, as well. You don't need both sizes of food processors and you can use whatever containers or small bowls you already have instead of buying baby-specific ones.
However, many are helpful if you're going to stick with it and I wanted to include all of our favorites.
Start slow and add on, after you see what you need and how things are working for you.
You can check out my complete list of homemade baby food resources for other ideas, tips and information on getting started. (And here's my homemade baby food introducing solid schedule so you know what to introduce at what age/stage. It has a free printable too!)
Homemade Baby Food Equipment Basics:
Food processors - I have and use both a small mini food processor and a regular full size one. I use both of them a lot but you could certainly get by with just the bigger one.
Mini food processor: It's small and handy for whipping up something quick (I make my 5-minute, 5-ingredient hummus and other dips in here all the time). And it's so easy to clean.
Large food processor (11-cup): It's useful for making big batches of baby food and for larger family recipes.
Immersion blender (aka hand blender): This is so fast and so easy, you will use it all.the.time. ❤️
Steamer basket: Place this in a pot with some water and steam, steam, steam away. It's a healthier way to prepare veggies than putting them in boiling water, which leaches out a lot more of the nutrients.
Baby Food Containers and Extras:
You can certainly use what you already happen to have on hand for most of these, but I've been happy to have the baby-specific products over the years.
They are smaller, which is great for holding small portions of baby food so you don't waste any. (You're not supposed to save leftovers from a container that a baby has eaten from, since it's contaminated with their bacteria and could be unsafe.)
Also, I always try to get BPA-free containers.

You'll need plenty of small containers. Here's what we love:
Bowls with lids: Pretty basic bowls to store and serve food and they will be useful for years to come.
Green Sprouts storage cubes: These are tiny and perfect when you first start introducing foods. They also are nice to have for serving a variety of baby foods in smaller quantities. And later, we use them for small servings of food (beans, grapes, raisins, trail mix, etc.) to send to day care and school.
OXO tot storage and freezer containers: These are great for small quantities of purees and later for snacks and small servings (cereal, sliced fruit, dips, etc.)
Ice cube trays: You can use the ones you already have in your freezer or look for something like these silicon freezer trays (which are also easy to clean).
Spoons, cups and plates – pick your favorites! Here are some of ours:
The only specific homemade baby food equipment I've bought and found to be WELL worth it was the Infantino squeezie station to make my own squeeze pouches for the kids. I've used this for years, so it was definitely a good investment. You'll also need squeezie refill bags. It's a 50-count but you will use them!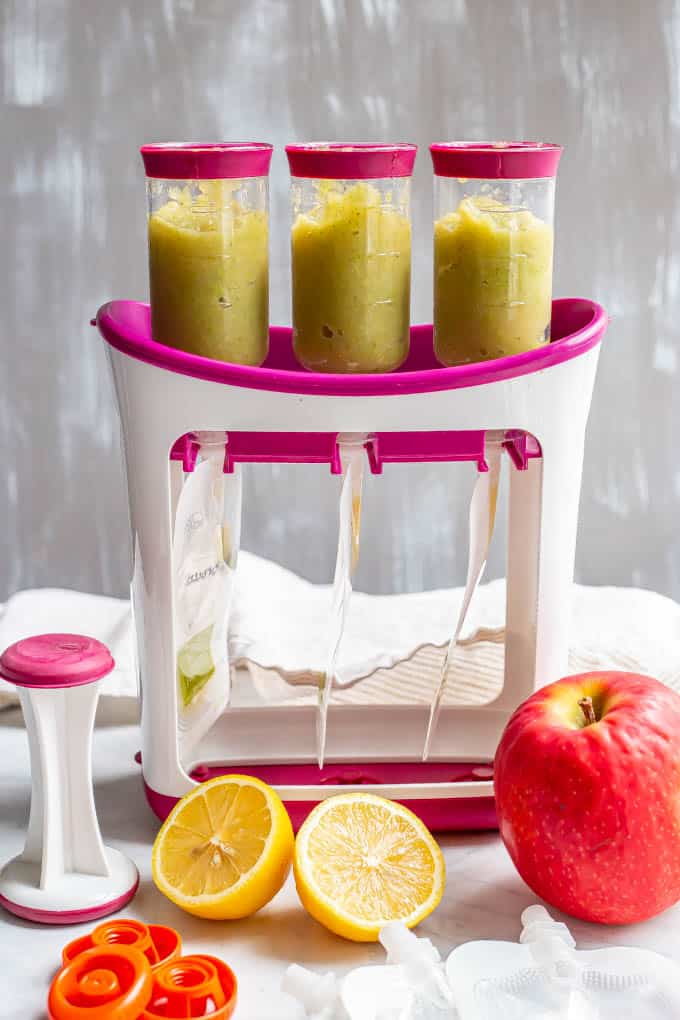 Check out my homemade baby food pouches how-to (with step-by-step pictures) as well as 5 recipes and tons of other ideas.
Want to check out most of these homemade baby food equipment products ALL in one place? Visit my Amazon baby & kid favorites product page.
I hope this is helpful and I'm happy to try and answer any questions you may have.
Enjoy the fun world of homemade baby food making!
XO,
Kathryn