Tons of ideas for easy homemade baby food combinations -- both the basics for beginners and more interesting combinations for older babies and adventurous eaters!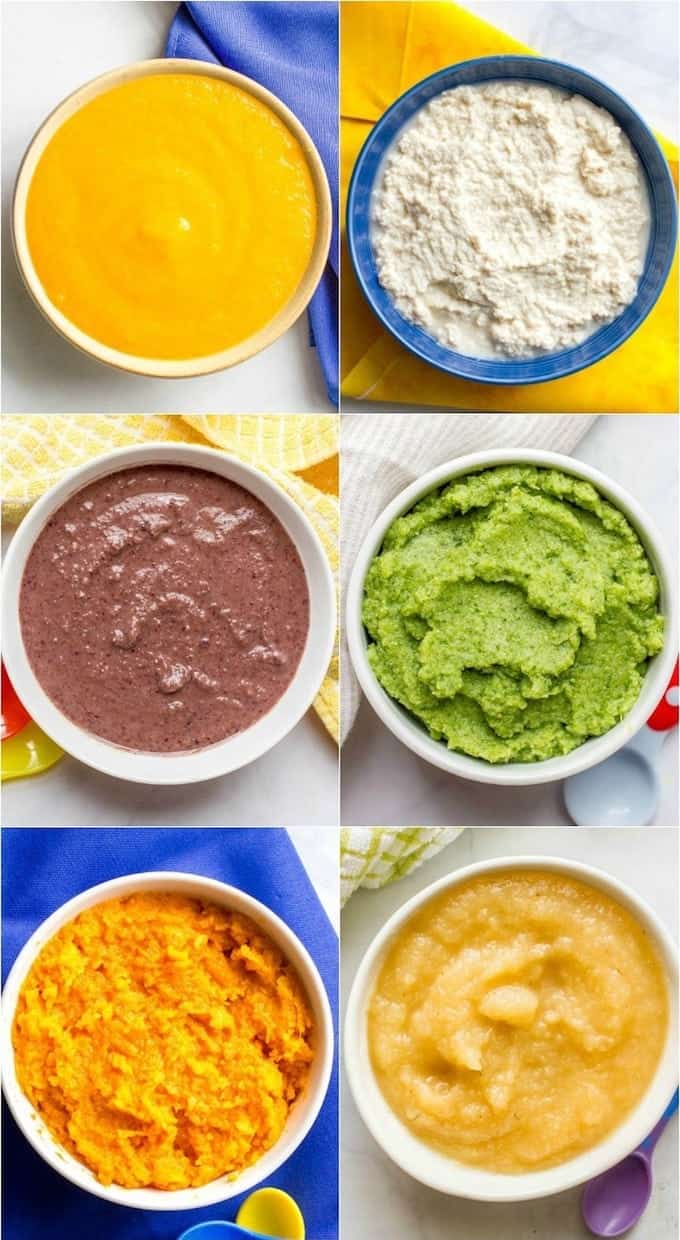 Hi and welcome!
Whether you're a first time visitor or you've already made your way through all of my beginner baby foods and quick + easy batch cooking recipes, I'm glad you are checking out these homemade baby food combinations!
(And if you do need some help on getting started, here's my guide on how to make homemade baby food purees. It can seem intimidating and overwhelming, but I promise it's really easy. This resource is my way of holding your hand to walk you through it step by step. 😊)
If you really want everything all in one place though, be sure to check out my new cookbook! Healthy, Quick & Easy Baby Food has all the resources and info you need to get started making homemade baby food, plus 100 recipes on everything from single purees to combinations to finger foods to toddler meals. It'll take you through the whole journey and give you everything you need for success. (Oh, and it makes a great gift, too!)
I think combining purees and foods for my kids was my favorite part of making homemade baby food. I loved trying different combos and figuring out what my little ones liked best.
I started slow and pretty basic but then I got more and more creative as I went, guided both by my own ideas, those I picked up from others and mostly by what each of my two kids would eat. Or not. Cause not everything will be a hit and that's OK. Exploration is the name of the game.
(Patience is the other name of the game. As is BIG messes and lots of clean up. I highly suggest you invest in a dog. 😂)
I kept tons of notes when I made my kids' baby food (and I made ALL of it — not a store-bought jar or squeeze pouch to be had) and I'm so glad I did because now I can share it all with you!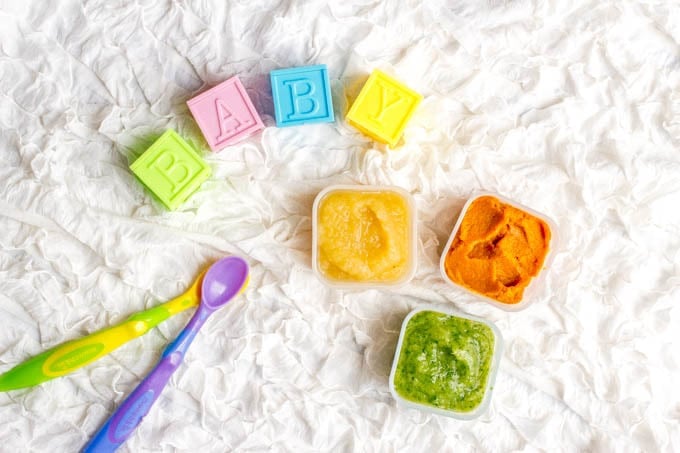 Some of these homemade baby food combinations sound scrumptious, some sound strange, and some may even seem a little icky. Just being honest. 😉
But all have been thoroughly taste tested and approved by little mouths at one stage or another.
Before we get to the lists though, a few overview notes for you.
Tips on making homemade baby food combinations:
Most pediatricians and experts recommend introducing new foods one at a time, waiting a few days between new foods, to ensure there's no allergy or reaction. (I've got a sample introducing baby food schedule if you want something for reference.) After you've got a few first foods under your belt, you can begin to combine those. And every new food you introduce can be added to the combination possibilities.
In general, baby food grain or starch purees — such as oatmeal, brown rice, quinoa, barley and couscous — are good in combination with pretty much any fruit or any vegetable.
Grains and starches are also useful if you have a puree that's very watery — such as green beans, zucchini or pears) and you need to thicken it up a bit so you can get it on a spoon. Mix and match textures as well as flavors.
All of these combinations can be made into homemade baby food pouches - just follow my directions in the post and make sure you puree everything well. It's a great way to start to transition your baby to finger foods!
The list of ideas below is far from exhaustive. Use your imagination, try foods you pair together, try foods you would never pair together, browse the baby food aisle for inspiration and just play with it!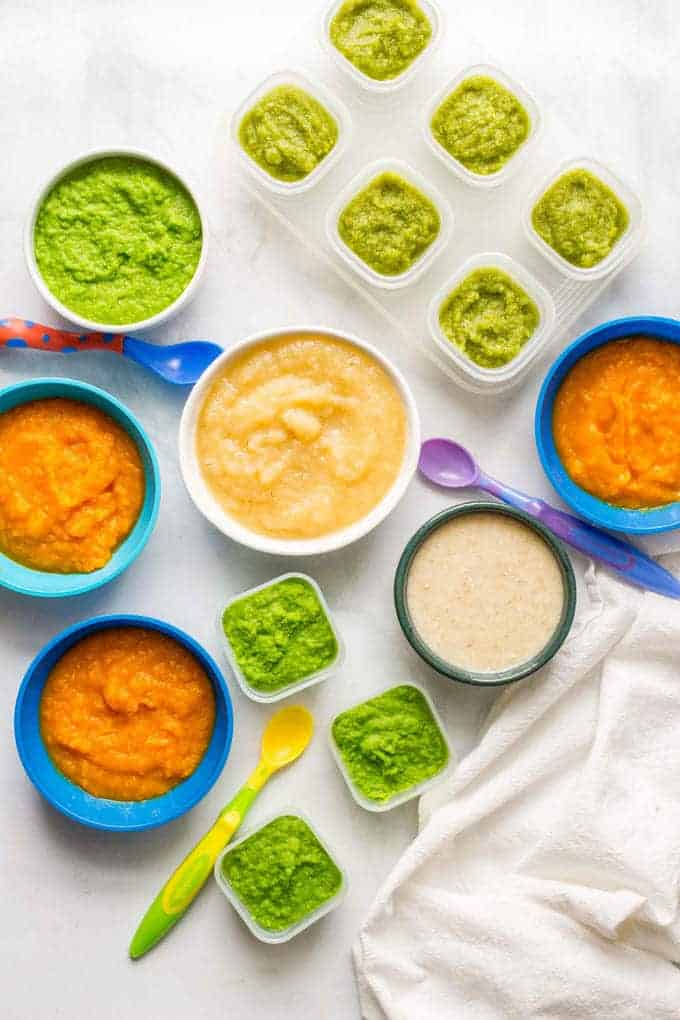 One final thing: Does your baby have an absolute favorite food? Something they always gobble up without fail? Use it to your advantage!
For my daughter it was pureed black beans and for my son it was mashed up banana. Anytime there was some homemade baby food they weren't keen on, I would mix it with their favorite and it was gone in a flash! It's a great way to ensure there's no waste!
So without further ado, here are some ideas for beginner homemade baby food combinations as well as some more interesting baby food combinations for older or adventurous eaters.
Beginner baby food puree combinations:
Peaches and pears
Broccoli and pineapple
Spinach and banana
Avocado and banana
Peas and carrots
Peas, pears and spinach
Green beans and barley
Broccoli, cauliflower and carrots
Prunes with pears, banana or pumpkin
Butternut squash with quinoa
Sweet potato, apple and barley
Oatmeal with applesauce
Chicken and pears or peaches
Chicken, brown rice and zucchini
Black or pinto beans and rice or quinoa
Black beans and sweet potato
Black beans and broccoli or zucchini
Pumpkin with cinnamon
Roasted banana and pear
Potatoes, peas and corn
Applesauce with fruit mix-ins
Yogurt with fruit mix-ins (I also add spinach or kale to my fruit mixes for yogurt - basically a thick smoothie!)
Cottage cheese with peaches or pears or berry applesauce or fruit mix
Oatmeal with peanut butter and banana
Easy homemade hummus (leave out the salt for baby)
Roasted sweet potato and parsnips
Roasted zucchini and peppers
Chicken with broccoli and cream cheese
Sauteed zucchini and squash with onion and thyme
Advanced baby food puree combinations:
Okra couscous
Beet hummus
Spinach-artichoke hummus
Avocado hummus
Edamame hummus
Pea and parsley hummus
Guacamole (no salt added)
Tilapia with sweet potato and carrots
Salmon with butternut squash and parsnips
Chicken and roasted veggies (broccoli, yellow or butternut squash and/or carrots)
Chicken with sweet potato, broccoli and soy milk
Chicken or turkey with cream cheese and oatmeal or barley and broccoli
Pork, sweet potatoes and peas
Pork and applesauce
Ground beef with potatoes and peas
So there you are - tons of ideas to keep you sane and keep your baby happy and well fed. 👩🙌👶
I'd love to hear from you with your baby's favorite foods and combinations! Comment below, shoot me an email or tag me on Instagram. 😊
(And head back to my homemade baby food landing page to explore tons more ideas, resources and recipes. I've also got you covered if you need ideas for using leftover baby food!)
Happy cooking!
XO,
Kathryn
Note: This post has been updated with new photographs and revised text. It was originally published in April 2015.