An introduction to homemade baby food, including what you need to get started and resources and recipes to make it really simple.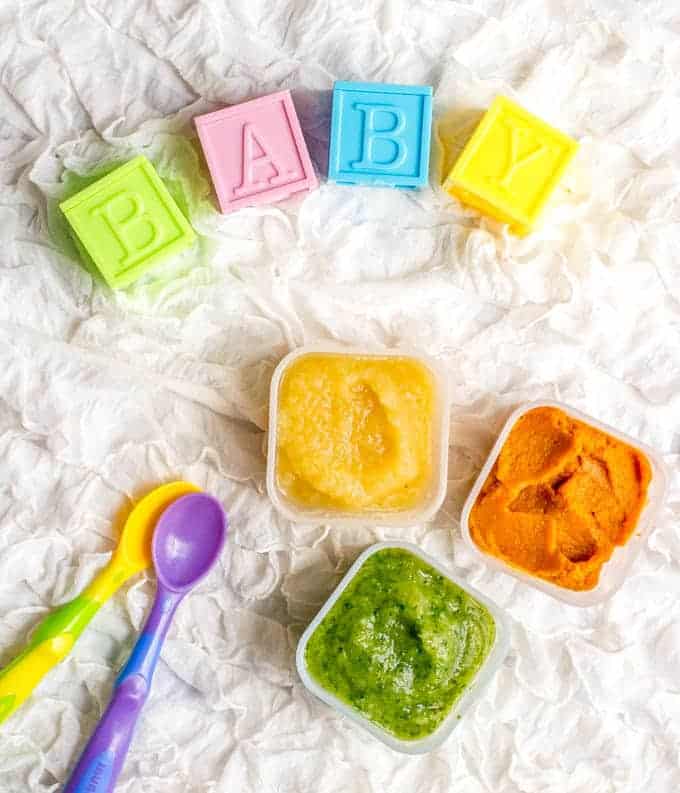 It is so unbelievably easy to make your own baby food. Easy, easy, easy.
I promise. I never bought a single jar of prepared baby food for either of my little ones, so I know it's possible. It takes a teensy tiny bit of planning but I've got all the resources and info you need to make it happen. And you'll be so happy you did.
Better yet, your children will reap the benefits. They'll be getting delicious real foods, no additives, and that will train their taste buds and their bellies. It sets the stage for a lifetime of healthier habits.
But where oh where to start? I wanted to offer this introduction to homemade baby food to give you a few tips and a little direction in how to begin.
First of all, decide what your goals are.
Do you want to make all of your own baby food, 100%, no exceptions? (I went this route and never looked back, but it's not for everyone. No judgments here.) Do you want to just try your hand at a few of the basics and supplement the rest? It's up to you how far you can and want to take this. And if you don't know, that's OK too. Try it out and see what's gonna work for you.
Next, take an inventory of your equipment.
You do not, I repeat, do not, need to go buy any product that says it makes baby food. You can absolutely do everything you need to do with a steamer basket, immersion blender and food processor. (OK, I'm assuming you have regular pots, pans, bowls and a microwave.)
That doesn't mean there aren't a few things out there to make your life simpler. If you're invested in this, I'd recommend getting these. If you're just trying your hand at homemade baby food and don't know if you'll stick with it, skip these for now.
Check out my baby food equipment recommendations.
And you'll want to have some basic freezer, fridge and pantry stapes on hand, to make it easy to whip up food in no time.
Lastly, you'll need to decide on some sort of list/schedule of what foods you want to introduce to your baby first, next, and on and on after that.
Sound a bit overwhelming? No worries, I got you covered on that.
Check out my sample baby food introduction schedule. I recorded this schedule as I introduced foods to M when she was a baby and used the same schedule, more or less, for J when he came along. You can add, subtract, switch things around, skip over things or mix in your own favorites. But it'll help you get going in the early days and give you ideas for new things to try once you're a few months in.
A few last notes on this introduction to homemade baby food:
Please always check with your pediatric health care provider before introducing solids and if you have any questions about your child and their nutrition.
I introduced solids to both of my children right at the 6-month-old mark. It's recommended to begin introducing solids between 4 and 6 months, depending on your child's readiness. Again, talk to your health care provider if you need guidance.
Remember the mantra: foods before 1 are just for fun! Your baby should still be getting all the nutrients and calories he or she needs from breast milk or formula. Introducing purees and finger foods is simply a way to exposure your child to the flavors and textures of foods to get them ready for when they will transition over to food.
Keep it fun! Don't worry if they don't gobble up everything you offer. Just let them explore and enjoy watching how they react to new foods, finding out their favorites and experimenting with new flavors and combinations.
Now you're on your way! Check out my homemade baby food page for links to all of my other posts, resources and recipes, including my rounds of batch cooking for beginner baby foods to make this super efficient. 👍
I hope this introduction to homemade baby food was helpful. Please let me know if you have any questions - I'm happy to help!
Happy cooking!
XO,
Kathryn
Note: This post has been updated with new photographs and revised text. It was originally published in March 2015.