Homemade baby food introducing solids schedule is a guide on what foods to introduce to your baby at different stages. A great way for making sure they get plenty of variety!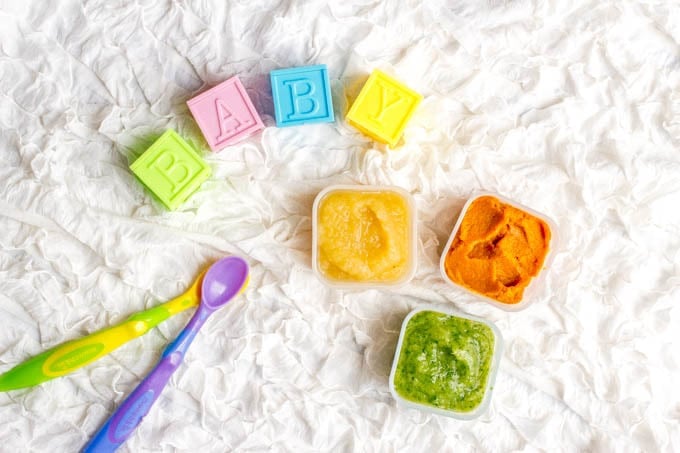 Introducing solids to your little one -- which just means supplementing the breast milk or formula they are getting with baby food purees -- is an exciting and somewhat scary time.
It can be intimidating to know what to do, when and how.
I've put together a lot of homemade baby food resources on this blog to help you through the process of making your own baby food.
Cause if that's something you're interested (and totally fine if not!), I just want you to know that it's so, so easy. I promise!
I've even written a cookbook all about making healthy, easy baby food! The Healthy, Quick & Easy Baby Food cookbook is available on Amazon and in many booksellers.
It's got all the info and resources you need to get started, plus 100 recipes ranging from single purees to combinations to finger foods and toddler meals. You'll have everything you need in one place! (Also, it makes a great gift!)
Today though, I've created a homemade baby food introducing solids schedule for you to use as a guide to beginning this journey.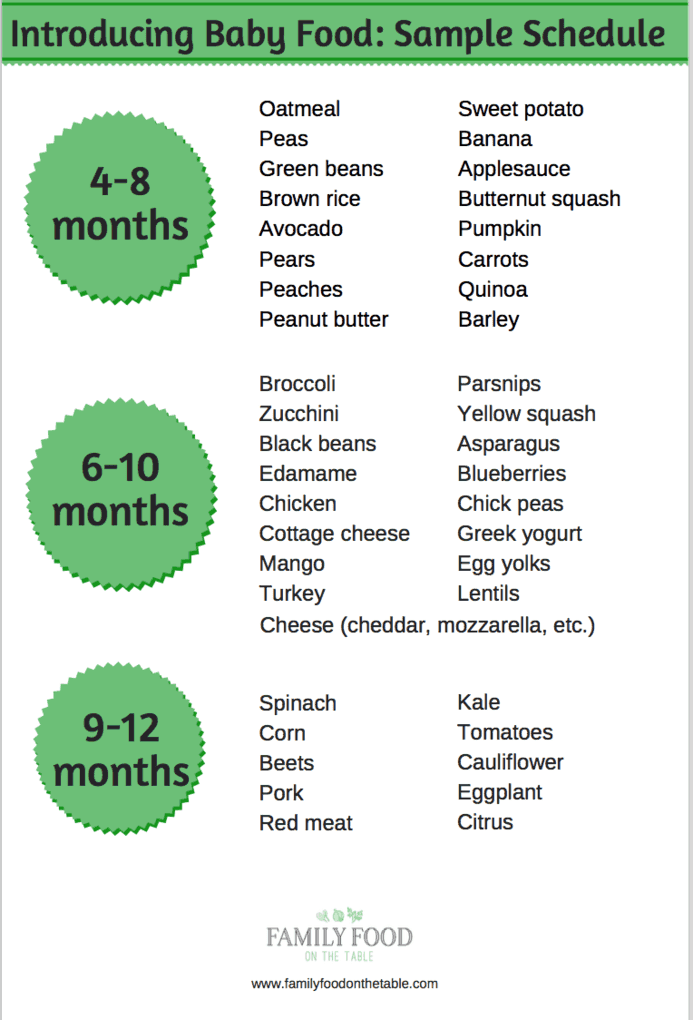 This list is what I researched and used when introducing baby food to M and I mostly stuck to the same thing with J. My kiddos loved purees and were not big on baby-led weaning, so this is the route I took.
(And if you want to save that schedule above, I made a free printable PDF for you!)
General Guidelines on Introducing Solids:
Currently, the recommendation is to introduce solids to a baby somewhere between 4 and 6 months old, depending on the child's readiness. Talk to your pediatrician about when to introduce solids for your baby.
Wait 3-5 days between introducing new foods, to monitor for an allergic reaction.
Speaking of allergies, current research says it's OK to introduce peanut products as early as 4-6 months old. (This is new since my kids were babies.) If you are concerned about a possible peanut allergy, please check with your health care provider before offering any type of peanut product to your baby.
You can refrigerate homemade baby food for up to 3-5 days and freeze baby food for up to 6 months. Just be sure to label everything!
Got extra? I've got tons of ideas and recipes (and a video and free printable, too) for ways to use leftover baby food.
Check out my master list of homemade baby food resources for more info.
Also, if you are new to this journey, check out my guide on how to make homemade baby food purees. I walk you through ALL the ins and outs of making purees at home, including step-by-step instructions for 10 favorite beginner purees.
I hope this homemade baby food introducing solids schedule is helpful for you to get started!
Oh, and if you have a fussy teething baby that's 8 months or older, definitely check out these homemade baby teething biscuits.
And if you want to be super efficient in making baby purees, it's all about the batch cooking.
Here are my collections of beginner homemade baby food batch cooking -- lots of beginner baby food basics grouped together to make the most out of your precious time. You can knock out 5 foods in as little as 20 minutes!
These batch cooking guides will also give you step-by-step details on how exactly to prepare various foods for your baby.
Homemade baby food round 1: peas, green beans, applesauce, butternut squash, oatmeal
Homemade baby food round 2: sweet potato, brown rice, chicken, pears, banana
Homemade baby food round 3: quinoa, peaches, avocado, pumpkin, cottage cheese
Homemade baby food round 4: broccoli, zucchini, yellow squash, black beans, Greek yogurt
Homemade baby food round 5: asparagus, barley, edamame, blueberries, mango
Homemade baby food round 6: apricots, prunes, egg yolks, chick peas, blackberries
Lastly, have fun with it! It's exciting to see your baby discover the joys of different food and flavors!
Enjoy and let me know if you have questions! I am more than happy to try and help 😊
XO,
Kathryn
P.S. Here's the FREE PRINTABLE again if you want to print this schedule out to save.