Homemade baby food apricots, prunes, egg yolks, chickpeas and blackberries are 5 easy, healthy baby foods that can all be made in just 30 minutes! Great for a way to stock up on baby food purees.
We are back with another round of making a batch of five different baby food purees in no time at all.
Previously we've had homemade baby food broccoli, zucchini, squash, black beans and yogurt, as well as my homemade baby food peas, green beans, applesauce, butternut squash and oatmeal and my homemade baby food quinoa, peaches, avocado, pumpkin and cottage cheese. Homemade baby food barley, asparagus, edamame, blueberries and mango was the final of the first five.
Here is the menu for today: Homemade baby food apricots, prunes, egg yolks, chickpeas and blackberries. And it's oh so easy!
I'll walk you through below how to get all of these foods knocked out in about 30 minutes. Cause it's all about making the most of your very limited time and being super efficient.
If you are knew to baby food or just want a refresher, be sure to check out this baby food introducing solids schedule. It's a great resource for ideas on which foods to introduce at which ages/stages for baby.
OK, let's get fixing. (Cause we're not really doing much cooking here at all. Told you it was easy!)
How to make homemade baby food apricots, prunes, egg yolks, chickpeas and blackberries:
First up, soak your apricots (if using dried) and prunes.
Baby food apricot puree: To be honest, this one stumped me. I had never bought a fresh apricot when I decided I wanted to feed this food to M. I had used plenty of dried apricots, but I was a bit at a loss with the fresh kind.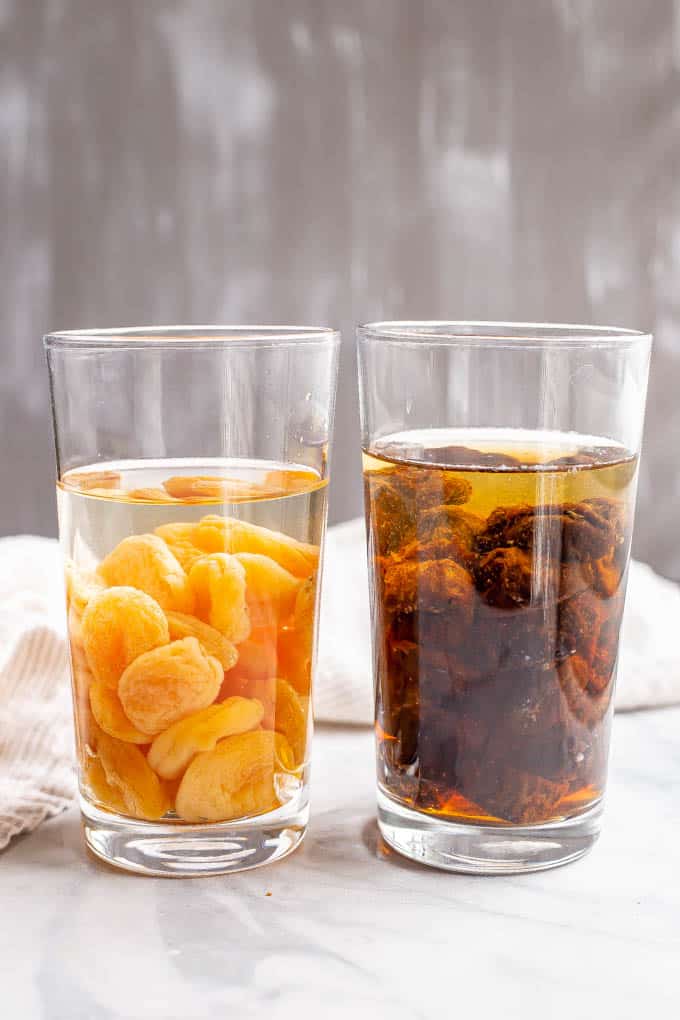 Good news: You can use either!
For fresh, just grab 4-6 apricots and peel and pit them before pureeing them. They can be a bit watery, so you may need to add a grain (such as oatmeal, brown rice, barley) or a thicker food (such as chicken or prunes) to make it more spoon-able for serving to baby.
For dried apricots, place them in a cup or bowl, cover with water and soak them for 20-30 minutes so they're softened up. Then drain, reserving the water, and puree the apricots, adding in some of the reserved water as needed to get the puree to a smooth consistency. I usually need to add most of the water.
Baby food prunes: You do the same with these as the dried apricots, which is why I put them in same round-up batch. Place them in a cup or bowl, add water to cover and soak for 20-30 minutes.
Drain the prunes, reserve the soaking water, and puree the prunes, adding in the reserved water as needed for a good smooth consistency.
Note: J had some constipation when I weaned him from breastmilk to cow's milk at age 1, so prunes were a mainstay to help keep things moving.
He loved them plain, mixed with apricots, mixed with pumpkin, mixed with pears and mixed with banana. Mixing banana and prunes was actually the only way I would serve him banana for those few transitional weeks, since it can cause constipation.
Moving right along. While the apricots and prunes are soaking, boil up some eggs.
Baby food egg yolks: They used to say that you should introduce egg yolks before egg whites and/or whole eggs. It was an allergy thing. That's not really true anymore, but talk to your pediatrician if you're concerned.
Either way, it's really easy to make a batch of hard-boiled eggs (place 3-4 eggs in a small pot, cover with water, bring to a boil, cover and turn off heat. They'll be ready in 10 minutes.) and scoop out the yolks and mash up for your baby.
You can serve the egg yolks by themselves or spread then on some whole wheat toast for a finger food. Or even mix with mayonnaise or mustard for an older baby for a mini egg-salad.
And feel free to chow down on the leftover egg whites yourself for a healthy breakfast. Just sprinkle with salt and pepper and enjoy! (Or slice and serve on toast with avocado - yum!)
Once you're ready to offer the whole egg, scramble up one or two eggs at a time and serve them as finger foods for your baby. You can even throw in some shredded cheese or chopped fresh herbs (dill, parsley, cilantro) to make it extra fancy. What a lucky baby!
Baby food chickpeas: I have some big-time hummus-loving kids in my house. I get it – hummus is downright delicious! And there are so many options available.
Mine are particularly fond of beet hummus, but we eat plenty of regular hummus and definitely mix in some spinach hummus, edamame hummus, roasted red pepper hummus, even pea and parsley hummus. Keeps it interesting. 😊
If you have a very young one, you may just want to blend up some chickpeas and water to start, and introduce the hummus combinations a bit later. Use a rinsed and well-drained can of chickpeas or a bag of homemade crock pot chickpeas. Add water as necessary to get it to your desired consistency. You'll have a hummus lover on your hands in no time!
Baby blackberry puree: I keep a bag of frozen blackberries in the freezer, which makes this easy to fix anytime. Plus, they store great and when thawed, are already soft with plenty of extra liquid for blending.
However, you can absolutely use fresh, ripe blackberries if they are in season.
Either way, puree these beautiful berries (thawed, if frozen) in a blender or hand blender and serve 'em up. That's it!
Note: Both of my kids are particularly fond of blackberries mixed in with applesauce. (In fact, Trader Joe's sells a packaged "organic applesauce with wild berries" that is apples and blackberries.)
Blackberries also work well with peaches and either spinach or kale for a yogurt fruit mix-in.
And there you go - 5 more easy foods for your baby to enjoy!
Now, what to do with all of that? Pack it up to have on hand. 👍
Storage tips on homemade baby food:
- Most homemade baby food will store for 3-5 days in the refrigerator.
- You can also store extra baby food for 4-6 months in the freezer.
- Small silicone baby ice cube trays or small containers help to portion out individual servings of baby food before you freeze it. (Once frozen, pop the small cubes out of your tray or container and place in a plastic freezer bag so you can reuse the containers.)
- There are tons more tips, tricks and info on my homemade baby food page.
You've done it, made five more healthy, wholesome homemade baby foods in no time at all!
In case you missed them, or for quick reference, you can check out all my beginner baby foods recipes and resources, including the five other rounds of batch baby food cooking like this one.
Also, here's a collection of my favorite baby food combinations, which are fun to mix and match for baby. It keeps the flavors interesting and helps get extra nutrients in by taking advantage of more foods, once baby is ready.
And if you've gone through all six of these rounds, you may be in need of ideas for baby finger foods and homemade squeeze pouches!
Good luck on this fun journey!
XO,
Kathryn
P.S. What's been your baby's favorite food so far? Anything he or she doesn't like? Leave me a comment below and let me know!
Note: This post has been updated with new photographs and revised text. It was originally published in July 2015.