A layered red, white and blue yogurt parfait made with wholesome, natural ingredients, perfect for a festive breakfast, snack or dessert!
Happy Friday, friends!
I'm super happy to be at the end of this week, coming off of our beach vacation and trying to get back into the swing of things. The kiddos are at separate preschool camps this week and next and my husband was traveling a bit so I feel like I've been running around like a crazy person.
Ready to kick back and soak up the weekend!
And for you today, I've got a layered yogurt parfait to get you ready for the July 4th holiday - because I'm already looking forward to my next day off 😂
I love making special treats for my kiddos that are fun and different and sweet and delicious but still completely wholesome.
Remember my rainbow toast? And healthy chocolate pancakes? More recently I've had mango yogurt pops and peach raspberry smoothie bowls.
My kiddos also love these Valentine's Day yogurt parfaits for a fun breakfast!
And with the Fourth of July just around the corner, I wanted some fun festive treats for them and for friends stopping by. But of course, no artificial colors or added sugars, thank you very much.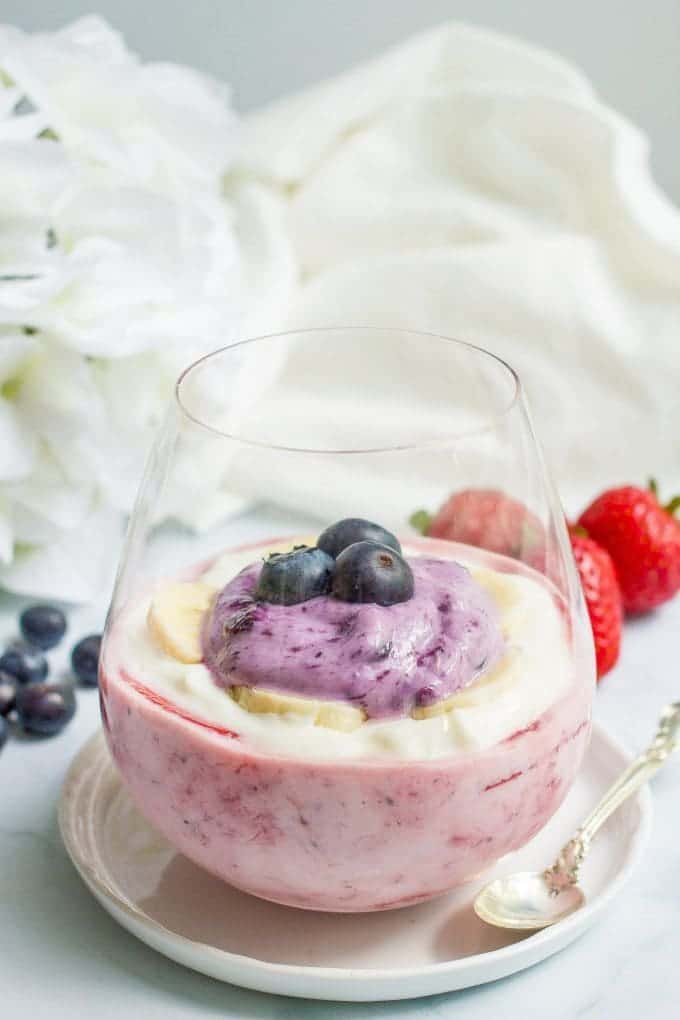 Instead, I use plain Greek yogurt and add homemade mix-ins to control the ingredients and build layers of gorgeous, fruity, sweet flavor. Sweet strawberries on the bottom, honey vanilla and bananas and a bright blueberry topping.
When I whipped up these easy yogurt parfait bowls one afternoon and M (who is 5) came wandering in the kitchen asking for snack, she spotted them immediately.
M: "Mommy, what's that?" Eyes wide and excitement in her voice, but thinking it might be an "adults only" kind of treat.
I tell her that's what's for snack today, if she wants it.
M: "Me, me, me, me, me! I want it! Me!"
"Hmm, are you sure?"
"Yes, I really want it!"
"It's OK if you don't, honey. We can find something else. Maybe some applesauce? Or cheese and crackers? You want some cheese and crackers?"
"No mommy, I want that." Pointing emphatically. "I really want it. I do! Please, can I have it?"
Of course I stopped teasing her, but I also found it amusing that she didn't even know what it was.
It looked fruity and creamy and super pretty, which would certainly be enough for me, but she didn't actually know what she was getting.
I walked her through the layers and she was bouncing up and down in her chair waiting to dig in.
I let her eat it carefully out of these stemless wine glasses but transferred it to a safer bowl for J (who's not quite 3) to have once he got up from nap. He was equally excited, but in fewer words 😉
They both loved these parfaits! Couldn't decide which layer was their favorite!
Notes on making layered yogurt parfaits:
I used a strained puree of strawberries for the bottom layer but you can absolutely just blend up some strawberries (add a touch of honey if they aren't very sweet) and stir that in to your yogurt. Or even substitute strawberry jam and swirl that in.
I used my homemade blueberry sauce to add to the yogurt for the top layer. It doesn't require much because it's super sweet - which makes this an extra special treat - and it takes just minutes to make. But you could substitute a store-bought blueberry or grape jam to keep it easy if you'd like. (Just make sure it doesn't have high-fructose corn syrup!)
We use nonfat or 2% plain Greek yogurt for these but regular yogurt would work too.
Finally, you could of course use store-bought flavored strawberry and blueberry yogurt along with a plain (or vanilla) yogurt to make red, white and blue layers. Add your fresh fruits and you are done!
To build the parfaits, carefully spoon each layer into your bowl or glass and use the back of the spoon to smooth out the top before adding the fresh fruit and the next yogurt layer.
Try using a martini glass for teens or adults for a fancy twist! Or you can use short glasses for everyday eating.
You can also try them in mason jars to make these portable for breakfast on the go or a picnic treat!
Plus, you can definitely jazz these up with some fun toppings, which I have done before too.
Topping ideas for yogurt parfaits:
- Granola adds a great crunch on top. My 5-ingredient homemade granola is what I usually use.
- Crushed cereal is an easy go to as well. Oat squares or "O" cereal are our favorites.
- Chia seeds are a fun sprinkle option and a good nutrition booster.
- Chopped nuts would be another way to add some crunch to these layers.
I hope you'll give these wholesome yogurt parfaits a try and let me know what you think!
I've got a few more fun red, white and blue foods (spoiler: it's a round-up of easy July 4th appetizers) coming up for you next week as well, so stop back by or sign up for my free weekly e-newsletter and never miss a recipe. (You'll also get my free e-cookbook, Easy Weeknight Dinners, when you sign up.)
I'd also love to connect on social media - follow me on Facebook, Instagram, Pinterest and Twitter for more recipe goodness!
Hope you have a wonderful weekend!
XO,
Kathryn
Yield: 3-4 servings, depending on your jars/glasses
Red, white and blue yogurt parfaits
This all-natural layered red, white and blue yogurt parfait is great for a fun, festive, healthy breakfast!
Ingredients
For the strawberry layer:
1 cup plain nonfat Greek yogurt
⅓ cup strawberry puree (see notes)
4-5 strawberries, thinly sliced
For the honey and banana layer:
¾ cup plain nonfat Greek yogurt
1-2 teaspoons honey
½ teaspoon pure vanilla extract
1 small banana, thinly sliced
For the blueberry layer:
½ cup plain nonfat Greek yogurt
3 tablespoons blueberry sauce or substitute blueberry or grape jam
⅓ cup fresh blueberries
Additional (optional) topping ideas:
Granola, crushed cereal, chia seeds, chopped nuts
Instructions
Make the bottom layer: Combine the Greek yogurt and strawberry puree in a small bowl and mix well. Divide evenly among your jars or glasses and smooth the top. Place sliced strawberries on top of the yogurt layer.

Make the middle layer: Combine the Greek yogurt, honey and vanilla in a small bowl. Add on top of the sliced strawberries in your jars or glasses. Top with the sliced bananas.

Make the top layer: Combine the Greek yogurt and blueberry syrup (or jam) in a small bowl. Add on top of the sliced bananas in your jars or glasses. Top with fresh blueberries.

Top with any additional toppings as desired and serve!

Extras may be kept, covered, in the refrigerator for up to 2 days.
Notes
I used non-fat or 2% plain Greek yogurt for this recipe. Regular yogurt would be fine too.
You can also, of course, use store-bought flavored strawberry and blueberry yogurt here, as well as plain or vanilla yogurt for the layers.
To make the strawberry puree, simply blend ½ cup of ripe strawberries in a blender or food processor or immersion blender. Add a teaspoon of honey if the strawberries aren't very sweet. You can make it as chunky or as thin as you like. (If your mixture is too thick and not blending well, add the yogurt for that layer and blend them together.)
Nutrition Information:
Yield:
4
Serving Size:
1
Amount Per Serving:
Calories:

296
Trans Fat:

0g
Protein:

19g