Easy ways to use less meat, including how to help extend your meat in recipes and how to incorporate more plant-based meals that are simple, convenient, family-friendly and delicious!
Using less meat - or stretching your meat - is a great way to save money and eat healthier.
But for those of us accustomed to having a main dish meat entree every night at dinner, it can seem intimidating.
Today, I wanted to share some easy, painless ways to use less meat in your cooking.
We're not talking soy textured protein or a bunch of ideas for tofu. Nothing wrong with those, but that's not as convenient and family-friendly as I'm going for today.
Instead, we're looking at ways to use less meat in our meals and ways to incorporate more meals that are primarily plant-based.
And I promise, it's super duper easy and also really yummy!
Now, this is intended for the here and now, when we are facing meat shortages and having to get creative in the kitchen while we stay at home amid the COVID-19 pandemic.
(Similar to the "cooking for victory" movement during World War I and II. Learn more and check out some of the recipes.)
However, this could also serve as a resource if you are trying to move to a more plant-based diet or are slowly transitioning to a flexitarian or vegetarian diet. It can also spark some ideas for families who have both vegetarian and non-vegetarians at the table.
First off, let's talk about smart ways to use the meat you have.
You can make the most of your meat by making it an accent to, rather than the main event, of the meal.
This makes me think of my Southern ancestors, who knew how to use meat scraps to flavor pots of beans, soups or veggies. The meat was there, but not center stage.
Or, extend your meat.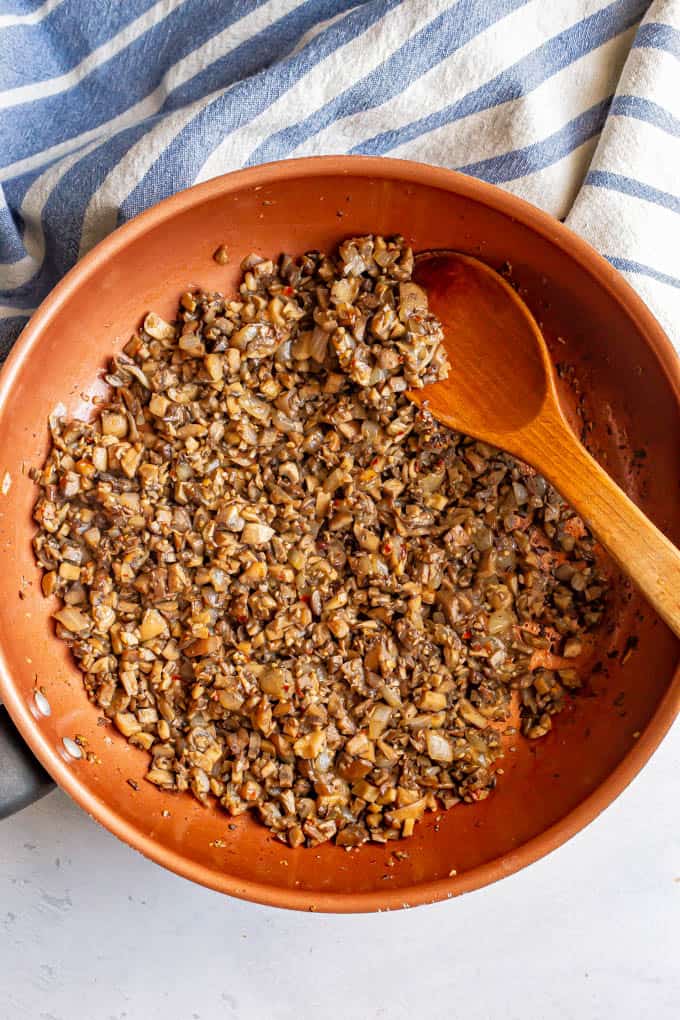 Meat extenders (which, if you ask me, is a terrible name) are things that you can add to your dish so you use less meat.
Here are a couple of examples:
* Use a half pound of ground beef or turkey (instead of a full pound) and after it's cooked and crumbled in the pan, stir in a can of black beans. Then mix it all together, season with taco seasoning and use for tacos. Same amount of the end product for stuffing tacos, but half as much meat used.
* For spaghetti night, halve the amount of ground meat you would normally use and replace it with finely chopped mushrooms. Cook them all together and serve. The mushrooms have a great meaty quality and will make the meat go further in the recipe.
See how that works?
OK, here are a few easy, on-hand ideas to use for meat extenders.
Meat extenders
Beans — cooked or canned beans can be added to meat to help stretch it. As mentioned, think about using half as much ground meat and adding a can of black or pinto beans to your taco meat. Or use beans for nachos or in fajitas to help make up for less meat.
Mashed beans can also be used and are easily disguised when added to meat if you don't want to know they are really there. Mashed black or pinto beans will combine well with ground beef or turkey, while mashed white beans, such as cannellini beans or great Northern beans, go great with ground chicken and ground turkey.
Mushrooms — roughly chop raw mushrooms (or pulse in a food processor) until it resembles raw ground meat; add along with the meat to cook for your recipe.
Lentils — Cooked brown lentils have a similar appearance — both color and texture wise — as cooked ground meat and can be added to help increase the servings of a smaller quantity of meat.
Walnuts — Pulsed walnuts are a standing raw and vegan substitute for taco meat and make a really rich, flavorful meat swap. They're also great for nachos and burgers or in pasta dishes.
Whole grains like quinoa or oats — The crumby texture of quinoa and bulgur makes these perfect to help add volume and nutrients to meat. (Bonus: Quinoa is a complete protein!) Add about a cup of cooked grains per pound of meat.
Oats, or even chia seeds, can also be used as a binder for meats, such as in burgers or meatloaf.
Vegetables — Adding extra vegetables to your dishes can offset a lack of meat. You can add hearty vegetables like winter squash, sweet or white potatoes and mushrooms, or melt in kale, spinach, shredded zucchini or other softer vegetables to dishes. They add bulk, nutrition and flavor.
Of course, vegetarian meals are a great way to make your meat last because you're not even using it. 😂
And that's a very valid tactic and one I'll be using myself a lot more going forward.
You can check out all of my easy vegetarian recipes, which are lunch and dinner main dishes (not just baked goods and breakfasts that happen to be vegetarian).
But here's a couple of tips on going effortlessly meatless, especially for families with kids (or husbands like mine that might balk at vegetarian entrees).
Opt for familiar meals that are easily made vegetarian, such as veggie burgers and vegetarian chili (more examples below).
Skip the meat substitutes like tofu or imitation chicken that may bring objections; nothing wrong with adding these in at some point, but that may be better down the road to reduce the number of pouts and faces.
Keep it fun and interesting with toppings or serve-yourself-bars, such as for vegetarian tacos or grain bowls.
OK, so let's get down to some specifics. Here are a few general ideas for meatless meals that aren't so foreign and will have your family going back for seconds - and requesting them again!
Familiar meals made vegetarian:
Vegetarian chili
Veggie tacos, burritos and enchiladas
Vegetarian meatballs
Vegetarian lasagna
Veggie burgers
Veggie stir fry or fried rice
Vegetarian curry
Vegetarian pasta salads
Vegetarian soups and stews
Mac and cheese
Grain bowls
Stuffed squash or zucchini boats
Big salads (with fillers like beans, nuts, cheese, eggs, etc.)
(Keep scrolling down below for some specific recipes to try.)
And for many of these types of recipes, you could add in a bit of chicken or pork or other meats if you have some to use.
Also, there's nothing wrong with buying some store-bought frozen veggie meatballs or veggie burgers. Life is stressful enough right now, so don't feel like you have to tackle brand new or complicated recipes from scratch on top of everything else.
(For what it's worth, Dr. Praeger's and Gardein are two frozen brands I really like.)
I hope this has been helpful!
Feel free to comment below and share your favorite ways to stretch meat or your favorite plant-based meals. We can all use the extra ideas!
Finally, keep reading below for some of my favorite, tested, tried-and-true easy vegetarian recipes that are family-friendly and seriously delicious.
XO,
Kathryn
Easy Vegetarian Dinners
These easy vegetarian recipes are great for a delicious, hearty dinner (or lunch) and are a great way to reduce your meat consumption and move to more plant-based meals. They're simple to make, with everyday ingredients, and they are family-friendly and sure to be a hit!