Check out these healthy Valentine's Day snacks for kids of all ages that are easy to make but fun and festive! These 33 ideas will take you from breakfast all the way through to dessert!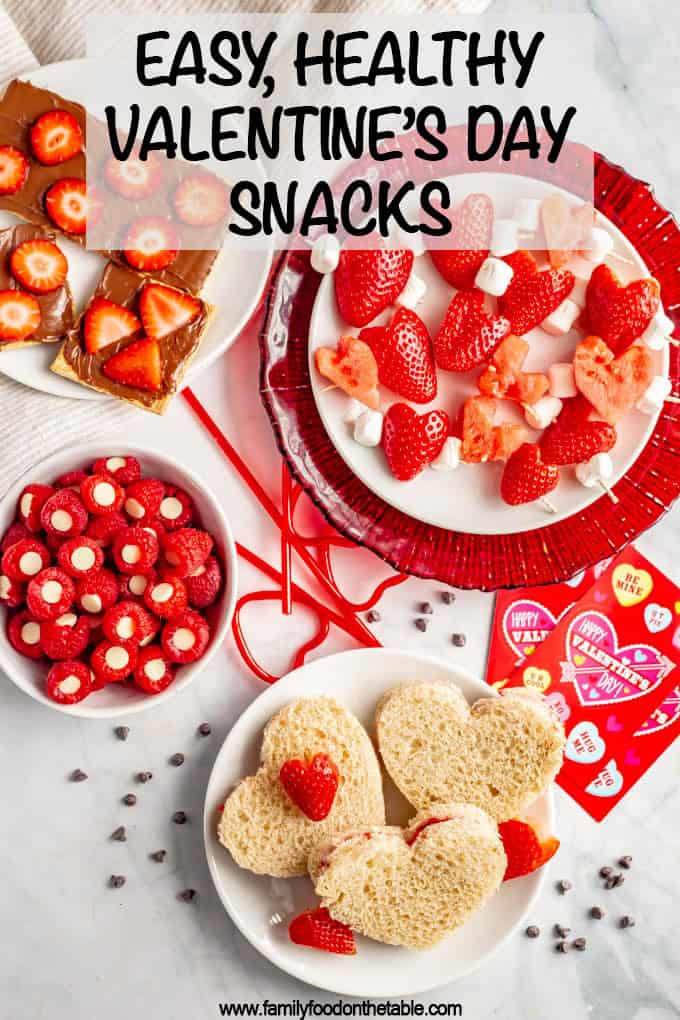 Happy Valentine's Day!
Oh, how my thoughts about this holiday have changed over the years…
As a kid, it was a fun holiday that meant heart-shaped candy, red balloons and lots of Valentine cards to share with friends.
In high school, I remember we could buy carnation flowers for friends - and for crushes! - that were delivered during class. It was a fund-raiser of some sort but so fun! I even had a pink sweater that I wore for Valentine's Day multiple years in a row.
In college, Valentine's Day become a little less important. And after college, even more so.
I met and started dating my now husband very soon after college. I remember making chocolate-covered strawberries for us to have for dessert on our first Valentine's Day together.
After that, I don't think we even bothered with cards. (And still don't.) It was just another Hallmark holiday that we didn't pay much mind to.
But since having kids - and since they are old enough to get it and to be involved - it's become a really fun holiday again!
We do Valentine cards for friends at school, we cut out hearts and decorate them, we hang garlands or float balloons around the house. I have a Valentine's bingo game that we play.
Plus, we love making tons of cute and healthy Valentine's Day snacks for kids!
You know me, I want some healthier Valentine's treats. Not just more sugar!
So today I wanted to share with you some of our favorite goodies to celebrate with and tons of other ideas for getting fun and festive on this semi-holiday.
And we're talking ALL-DAY fun here! Everything from breakfast, to snacks to dinner and dessert ideas are included.
Disclaimer: I'm not very crafty or creative, so these are going to be fairly simple ideas. More along the lines of something you can pull together in 5 minutes rather than a cutesy food project you need to slave and sweat over for an hour. (Or buy a bunch of specialty products for.)
Just putting that out there. 😉
Fun + healthy Valentine's Day breakfast ideas:
- Valentine's day yogurt parfait -- vanilla or strawberry yogurt with granola and strawberries or raspberries and maybe even mini chocolate chips for a festive layered parfait
- Make egg in a hole using a heart shaped cookie cutter for the hole in the bread 🍳
- Blend up a red or pink smoothie (such as strawberry banana, cherry chocolate, mixed berry, etc.)
- Pancake tacos - smear pancakes with a thin layer of Nutella, add chopped strawberries and bananas, then fold up to eat like a taco 🌮
- Whole wheat toast with strawberry jam and banana slices
- Strawberry overnight oats (2 ways)
- Chocolate overnight oats (3 ways)
- Pancake mini muffins - use strawberries and white or semi sweet chocolate chips to make them festive
- Healthy chocolate pancakes (great served with strawberries)
- Chocolate chip oatmeal waffles (also great with strawberries)
Easy Valentine's Day snack mixes:
* Create a snack mix with pink strawberry O cereal, yogurt covered raisins, Chex cereal or Rice Krispie cereal and dried strawberries. This is great for toddlers and younger kids.
* Make a Cupid crunch snack mix with popcorn, pretzels, Chex cereal, and pink, red and white colored chocolate candies (such as M&Ms). Great on its own or drizzle with a white chocolate coating to make it all stick together.
* Here's a Cupid's crunch recipe for specifics and here's a healthy toddler's snack mix for Valentine's Day that's perfect for younger kids.
Healthy Valentine's Day snacks and desserts:
- Strawberry and watermelon hearts kabobs (you can also add banana slices, mini marshmallows or angel food cake bites for a white)
- Cream cheese and strawberry jam sandwiches cut out with a heart cookie cutter
- Nutella and sliced strawberries on whole wheat toast or graham crackers
- Raspberries stuffed with white or semisweet chocolate chips
- Chocolate Rice Krispie treats are welcome year-round but fun for Valentine's Day, too. You could even cut them into heart shapes with cookie cutters or decorate them with red and pink sprinkles.
- 5 minute healthy chocolate pudding (top with chopped strawberries or pomegranate seeds)
- Healthy chocolate chip muffins (whole grain and naturally sweetened)
- 10 minute chocolate cookie balls (just 6 ingredients!)
- Double chocolate banana muffins
- Chocolate dipped fruit plate with strawberries, bananas, apples, oranges or mandarin oranges, etc.
- Red apple slices and graham crackers with melted white chocolate for dipping
Healthy Valentine's Day snacks and meals with vegetables:
- Beet hummus with pita chips and veggie dippers
- Berry beet smoothie with broccoli - it's a gorgeous red color
- Cherry tomatoes and mini mozzarella balls on skewers
- Red pepper strips and cauliflower florets with hummus for dipping (beet hummus even)
- Roasted red and white baby potatoes as a side dish
- Radishes on baguette slices with a cream cheese spread
- Red leaf lettuce and red cabbage salad with Ranch dressing
- Beet slices on a salad (you can cut them into heart shapes with a little cookie cutter)
- Heart shaped pizzas with sauce and cheese and any favorite veggies (you can also cut pepperoni pizza slices with a mini heart cookie cutter)
- Pasta with roasted red peppers, cherry tomatoes and mozzarella balls
There you have it!
I hope this gives you some new yummy ideas to try for some healthy Valentine's Day snacks for kids!
Have a great day! ❤️
XO,
Kathryn