This easy, 1-bowl Mexican meatloaf is made with ground turkey, cheese, chilies and salsa! It's perfect for a hands-off dinner the whole family will love!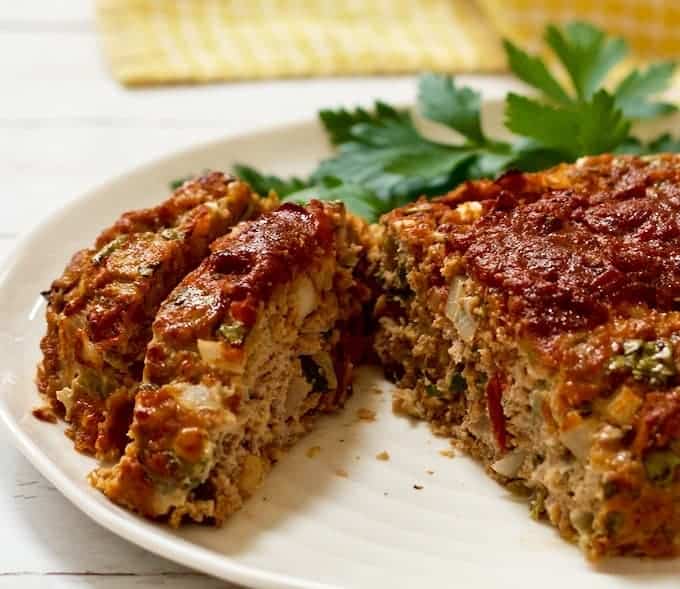 A lazy Sunday, sleeping in, reading the paper, playing with the kids, making a dinner that cooks all day so we can sit around for supper together and discuss the week to come… These are things that do not happen in my house.
I'd like to think that may be possible someday, but I'm yet to see a family where this is the norm.
For us, we're up early with the kiddos (M is 4, J is 2). On the weekends, M comes in our room and wakes us up. She climbs into bed with us and snuggles for a few minutes before announcing it's time for everyone to get up.
Sometimes she fetches my slippers and lays out my toothpaste in the bathroom. She's a sweetheart for sure, but I think she's also trying to speed me along so I will go make her breakfast.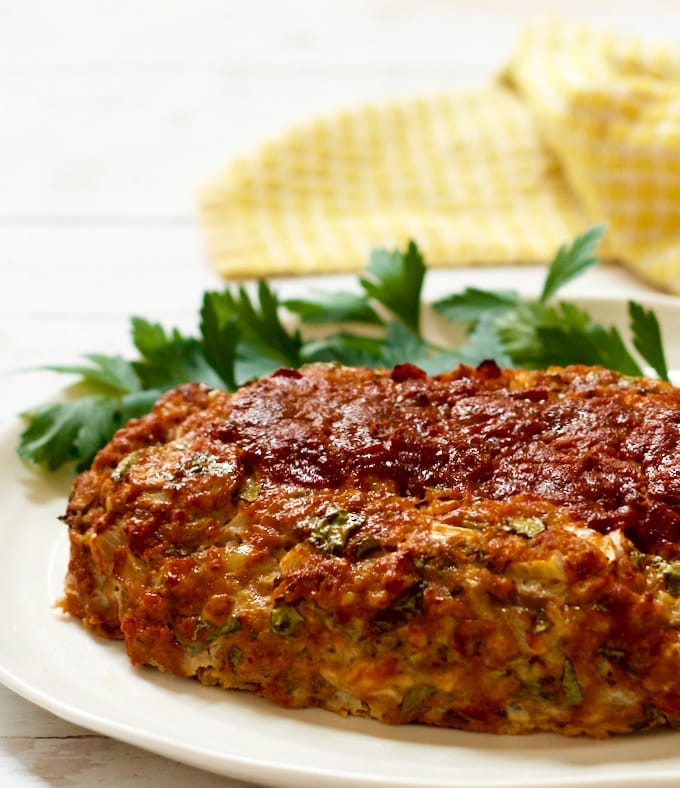 And once my feet hit the floor, we're usually going, going, going until the late afternoon. Errands, parties, going for walks, putting together puzzles, reading books, maybe going out for lunch, coloring, more books, cleaning up, cleaning up, cleaning up…
It's a bit relentless.
So for now, we don't have Sunday suppers that take hours to prepare. We have dinner that I'm lucky to squeak out and get onto the table before I collapse in a heap.
And despite the chaos, I still demand healthy, fresh and flavorful. This Mexican meatloaf seriously checks each of those boxes AND it's super, super easy. 🙌
Put all of your ingredients into a bowl (yup, just one bowl!), mix very well, shape into a loaf and bake.
Voila! You've got yourself a crowd-pleasing, cheesy, healthified (hello ground turkey and chopped fresh spinach, I'm looking at you) and flavor-packed meatloaf ready for devouring.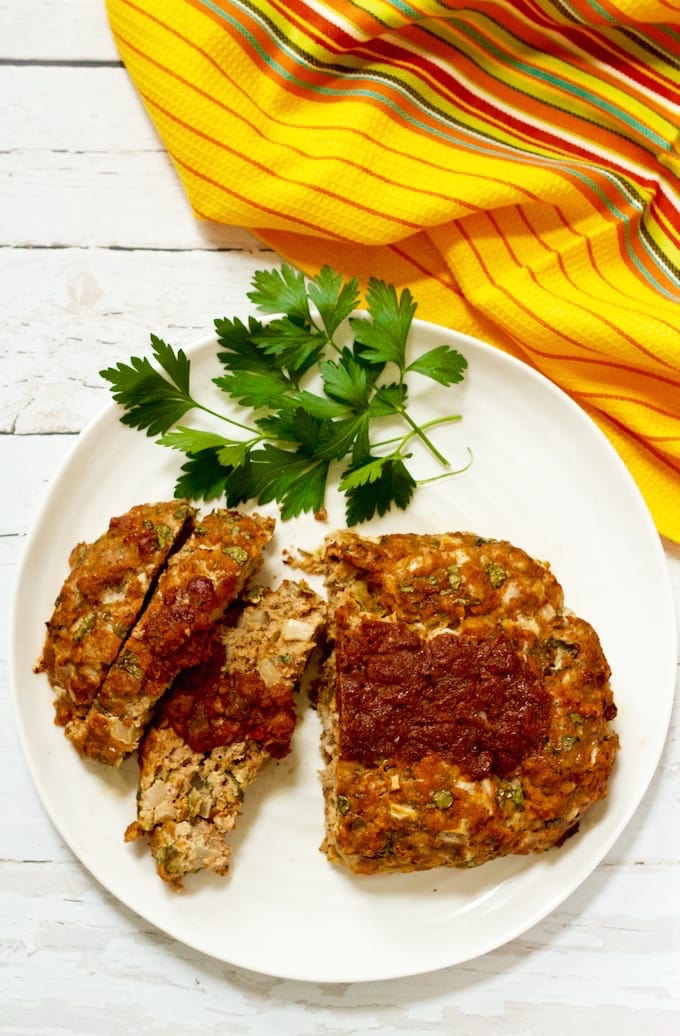 Add some brown rice or maybe some paprika potatoes (or my go-to 10-minute microwave "baked" potatoes), some steamed broccoli or a really simple spinach salad and suddenly, it's a spread.
A spread worthy of Sunday! Without the all-day fuss.
Sunday doesn't have to be an ordeal, and meatloaf definitely doesn't have to be boring. Try this Mexican version and have a mini fiesta in your mouth any night of the week.
Enjoy!
XO,
Kathryn
P.S. Are you a meatloaf lover? Me too! Check out my BBQ cheddar turkey meatloaf — another 1-bowl turkey meatloaf that packs a serious flavor punch.
Also, be sure to check out my VIDEO for this easy Mexican-style meatloaf.

Yield: 4-6 servings
Mexican meatloaf
An easy, 1-bowl ground turkey meatloaf with cheese, chilies and salsa!
Ingredients
1 ¼ pounds ground turkey (I use 7% fat)
1 small yellow onion, finely chopped (about 1 cup)
½ cup breadcrumbs (unseasoned)
1 egg, beaten
1 cup grated sharp cheddar or Monterey Jack cheese
¾ cup salsa, divided
1 cup packed spinach leaves, chopped
1 (4 oz.) can chopped green chilies
1 teaspoon chili powder
¾ teaspoon kosher salt
¼ teaspoon black pepper
extra cheese and salsa, for serving, if desired
Instructions
Preheat the oven to 400.

In a large bowl, add all of the ingredients (using just ½ cup salsa). Mix well. I start with a fork to get it going then use my hands so I don't overwork it.

Turn the meatloaf mixture out onto an ungreased baking sheet and shape into a loaf, about 8 inches long.

Top with remaining ¼ cup salsa and bake at 400 for 45 minutes.

Remove and let stand for 5-10 minutes before slicing.

Serve hot and enjoy!
Notes
You can use gluten-free breadcrumbs to make this meatloaf gluten free.
Nutrition Information:
Yield:
6
Serving Size:
1
Amount Per Serving:
Calories:

510
Total Fat:

34g
Saturated Fat:

14g
Trans Fat:

1g
Unsaturated Fat:

16g
Cholesterol:

177mg
Sodium:

1033mg
Carbohydrates:

13g
Fiber:

2g
Sugar:

3g
Protein:

39g