Smashed chickpea salad is light, lemony, creamy and crunchy, and is perfect for a delicious vegetarian lunch!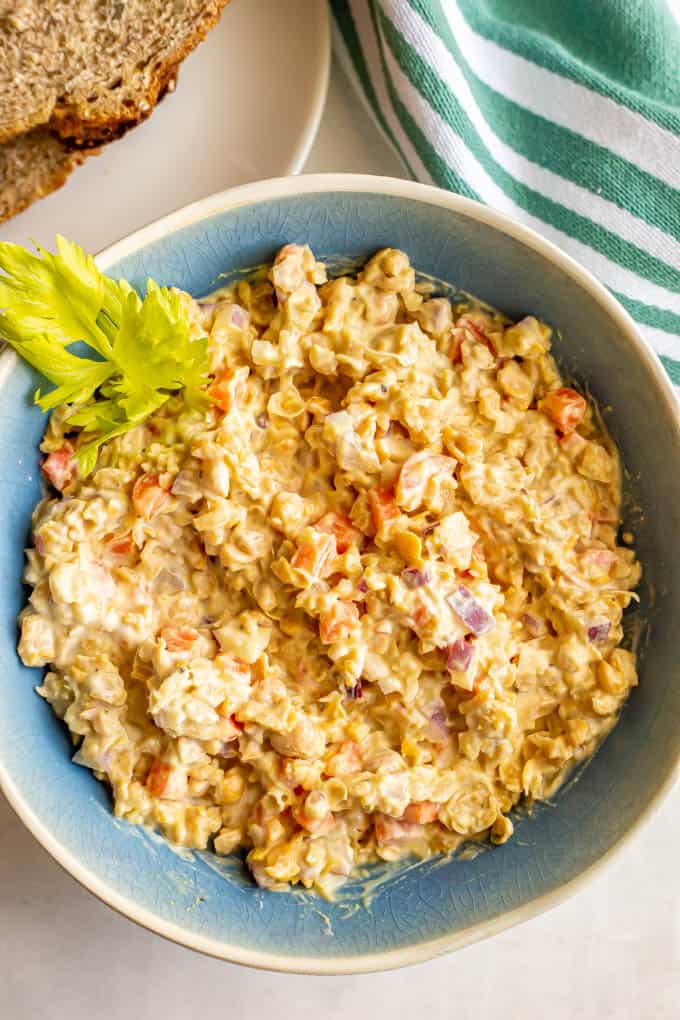 This post is sponsored by the American Dairy Association Mideast. As always, as thoughts and opinions are my own.
We love some chickpeas in my house. All the ways, all the time.
I always have at least a couple cans in the pantry, and I usually have a few bags in the freezer too since I make crock pot chickpeas from dried beans. (Super easy to do overnight and they get so soft and creamy - perfect for making hummus!)
Again, we use a lot of chickpeas!
There's easy homemade hummus (plus all the flavored varieties, like Mediterranean hummus dip), easy chickpea burgers and crunchy BBQ roasted chickpeas, which are great for snacking and as a topping on salads. There's an Air Fryer chickpeas version too for ALL the crunch.
And on the topic of salads, my Mediterranean chickpea salad is so fresh and colorful!
More chickpeas please!
Today's recipe for smashed chickpea salad has been a lunchtime favorite for years!
It's very similar to my smashed edamame salad, but with chickpeas of course.
This light, lemony salad is refreshing and crunchy and all kinds of delicious. It's a great vegetarian lunch to meal prep too.
You gotta love, also, that it's all on-hand ingredients and there's no cooking required.
Because come spring and summer here in the South, I don't need to be heating up my kitchen any more than necessary.
And having a chilled, healthy vegetarian lunch ready and waiting just makes me happy.
This is gluten-free as is, too.
Plus, this chickpea salad packs some extra protein because we're using Greek yogurt for the creamy element in this salad.
It adds richness, some tang and brings everything together.
And I'm so happy to be partnering again with the American Dairy Association Mideast to share some healthy recipes this year, especially ones like today that focus on plant-based pairings for dairy.
Cause dairy farmers love the plants as much as I do! Here are some seasonal pairings for dairy to make the most of what's fresh right now.
I really appreciate too, that dairy farmers are focused on sustainability.
The dairy community is advancing sustainable agriculture practices that reduce its environmental footprint. They are using significantly less water, less land and less manure than even 15 years ago, and their carbon footprint is 20% smaller too.
And right now, in these crazy times, the farmers are working around the clock to keep grocery stores stocked with fresh, nutritious and affordable dairy foods.
That is definitely worth celebrating! 🎉
But OK, back to the recipe at hand.
Now, I've got some notes and tips coming up below on how to make smashed chickpea salad. Just tryin' to be helpful.
If you want to jump on down to the recipe, simply scroll right on through the rest of the text. The recipe card is near the bottom of the page, above the comments section.
Notes on smashed chickpea salad:
You can make this salad as chunky as you like, depending on how much you pulse the chickpeas and how finely you chop the veggies. It's just a matter of personal preference.
Feel free to use nonfat plain Greek yogurt or a 2% or 5% fat, whatever version you enjoy. (We typically have all in my house each week, so I've made this multiple different ways!)
Start with one tablespoon of lemon juice and add more if you like. Keep in mind that the lemony flavors will mellow a bit in the fridge as this sits too.
I do highly recommend you chill the salad before you enjoy it. The flavors all meld together and it sets up better after at least a half hour in the fridge.
Finally, the hot sauce is optional but I highly recommend. Especially if you have one that's more flavorful than just pure heat, it's a great way to add a little punch of flavor. (We like Crystal brand hot sauce.)
As mentioned, this is a great meatless recipe to meal prep. It will keep, in a covered container in the refrigerator, for up to a week.
Hmm, maybe you should make a double batch!
And there's lots of ways to enjoy it so you can switch it up.
Serving ideas for smashed chickpea salad:
- Make a sandwich
- Serve on a piece of toast as an open-faced sandwich
- Add to a wrap with some fresh greens
- Serve with crackers and veggies for dipping
- Eat on its own on a pile of mixed greens
Ta da! Boring lunches are banished.
I hope you give this a try for an easy vegetarian lunch soon.
Enjoy!
XO,
Kathryn
P.S. Need some more healthy lunch ideas? Check these out:
Yield: 2-3 servings
Smashed chickpea salad
Smashed chickpea salad is light, lemony, creamy and crunchy, and is perfect for a delicious vegetarian lunch!
Additional Time
30 minutes
Ingredients
1 (15 oz.) can chickpeas, rinsed and drained
½ cup carrots, finely chopped
¼ cup red onion, finely chopped
⅓ cup plain Greek yogurt (nonfat, 2% or 5% are fine)
2 tablespoons Dijon mustard
1-2 tablespoons fresh lemon juice, to taste
dash of garlic powder
Sea salt and black pepper
few dashes of hot sauce (optional)
Instructions
Place the chickpeas in a food processor and pulse until mostly broken down. It's fine to have some chunky pieces or to make them really small - just depends on the texture you prefer.
Mix the chickpeas with the remaining ingredients, starting with one tablespoon of lemon juice, in a medium bowl until well combined. Season to taste with salt and pepper, and hot sauce if using. Add additional lemon juice, if desired.
Cover and chill for at least 30 minutes, to allow the flavors to combine and the salad to set up.
Serve as a side salad, as a dip for crackers and fresh veggies, or pile it on a sandwich or wrap with your favorite toppings.
Notes
Extras of the salad will keep, in a covered container in the refrigerator, for up to a week.
Recommended Products
As an Amazon Associate and member of other affiliate programs, I earn from qualifying purchases.
Nutrition Information:
Yield:
3
Serving Size:
1
Amount Per Serving:
Calories:

131
Total Fat:

2g
Saturated Fat:

0g
Trans Fat:

0g
Unsaturated Fat:

1g
Cholesterol:

1mg
Sodium:

402mg
Carbohydrates:

21g
Fiber:

6g
Sugar:

6g
Protein:

8g