These 12 ways to use cooked, shredded chicken will give you new, fun, delicious ideas of ways to use leftover cooked chicken. List of ideas and specific recipes included.
Today, we are showering some love on that beloved kitchen staple - cooked, shredded chicken.
We all have it (whether ALL the time like me or just on occasion) and sometimes, we need a little help on how to use it.
I know I've looked at a container of chicken in the fridge and thought, "Well yes, it's cooked and ready to use, but what on earth do I want to make with it?"
Front of the refrigerator paralysis. It's totally a thing.
So today I'm here to help.
Below I've got a list of ways to use the shredded chicken. And below that I've also included links to specific recipes, in case you need some.
And these are ideas and recipes you can use for ANY kind of cooked, shredded chicken, whether that's homemade rotisserie style roast chicken or a store-bought rotisserie.
I often make a batch of Instant Pot shredded chicken. (You can also make crockpot shredded chicken if you have a slow cooker but not a pressure cooker.)
You can make a ton of it at once, it's super easy and affordable, and it stores great.
I almost always have at least a couple of bags of leftover shredded chicken in my freezer. It's so easy to pull out for meals. And it's super helpful on crazy weeks to have some protein cooked and ready to go.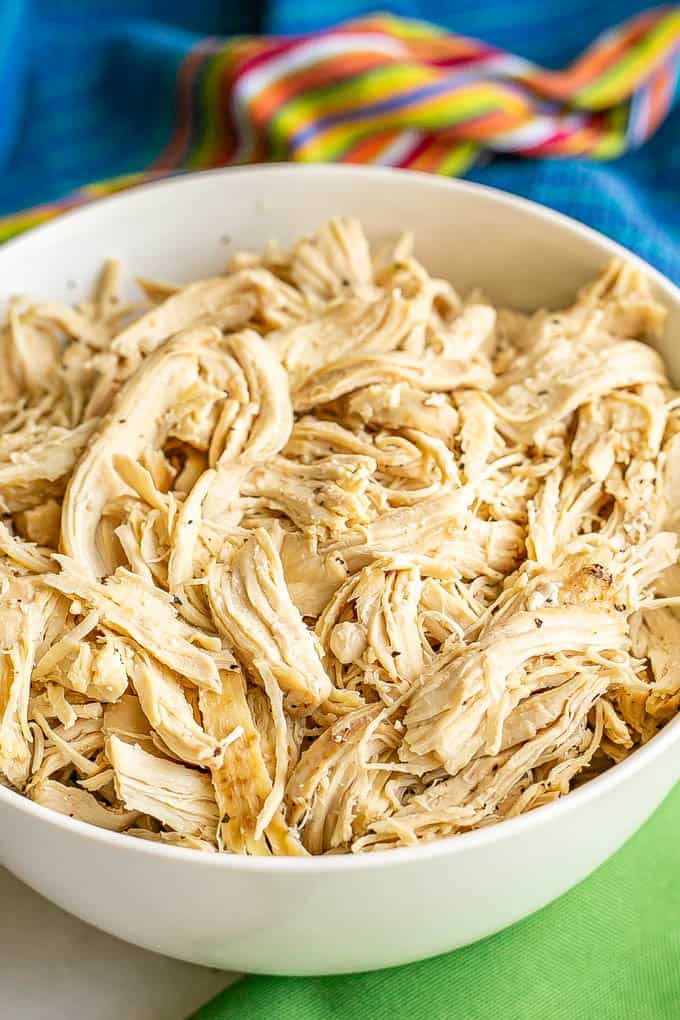 But I also love the convenience of picking up a rotisserie chicken at the grocery store.
(And it's a must when I go to Costco. I usually get two of theirs - they are so good!)
So, yeah, we have a lot of cooked, shredded chicken on hand at my house.
Which means I've got TONS of ideas of ways you can use it and tons of recipes, too.
This is a list I actually started a decade before I even had this blog. I have a binder of resources like this that I refer to when I need some inspiration.
Cause we all get stuck in a rut sometimes, right?
Anyway, I came across that old list recently, pulled it out and updated it, and I'm so excited to share it with you all, too!
So without further ado, let's get to it.
Here are my top 12 ways to use leftover chicken, but keep reading below for specific recipes you might want to check out as well.
Ways to use cooked, shredded chicken:
Make chicken enchiladas, nachos, tacos, quesadillas, burritos, etc.
Mix with BBQ sauce for BBQ chicken sandwiches, sliders, wraps or salads
Use for a quick chicken skillet with veggies and seasonings (such as a southwest chicken skillet or chicken hash)
Make a casserole, like King Ranch chicken casserole, chicken and rice casserole, chicken divan, chicken pot pie or another favorite
Use as the protein for grain bowls
Mix with a dressing and add to a salad or use to layer into a mason jar salad
Combine with your favorite pasta salad or quinoa salad to make it a main dish
Use in soups, stews or chili, such as chicken noodle soup, chicken tortilla soup or white chicken chili
Use for chicken fried rice or a quick chicken curry
Add to pizza for a protein boost
Use for stuffed pitas with some hummus or tzatziki
Make chicken salad for sandwiches, wraps, etc.
Hopefully that gave you some new fun ideas to try, in addition to any go-to ways you already have to use your leftover chicken.
And in case you are need of some specific recipes, I've got you covered.
Check out these recipes below for inspiration. They are roughly in the order of the ideas listed above, and I've broken them up into smaller sections with labels, to make it easier to find what you're looking for.
(Cause yes, there are a lot!)
Some of them call for chopped cooked chicken, but it's fine to substitute shredded. (Or if you haven't cut it up yet, feel free to chop it instead.)
Cooked, shredded chicken recipes
Tacos, enchiladas, skillets and potatoes:
Casseroles with shredded chicken: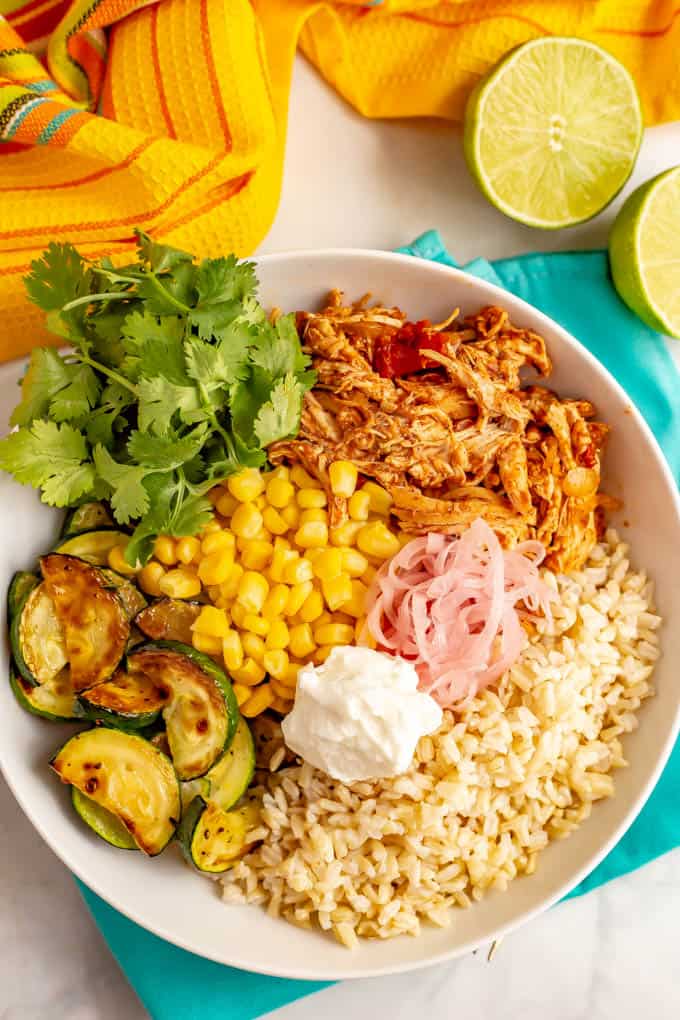 Grain bowls and salads:
Pastas and soups:
Fried rice, curry, pizza and the others:
Yeah, I think we're safe to continue making ALL the shredded chicken at home or getting a weekly rotisserie chicken at the store now that we've got so many ways to use it.
Or do both like me - make it and buy it! Hmm, I'm starting to see why I have so many recipes for shredded chicken…
And I've got no plans to stop anytime soon!
If you want to follow along so you never miss a thing, you can sign up for my free e-newsletter to get all of my new recipes delivered straight to your inbox. I'll even send you my free e-cookbook, Healthy Weeknight Dinners, as a thank you!
I hope you've found some new fun ways to use your leftover chicken. There are definitely plenty of ways to keep it from being boring.
And if you've got other ideas or recipes you want to share, please leave a comment below! We'd all love to hear from you!
Or if you share something on Instagram, tag me there. I love to see your creations!
Happy cooking!
XO,
Kathryn