These 12 easy camping dinners will make your next camping trip delicious and stress-free! Get ideas and recipes plus camping food prep and packing tips and hacks.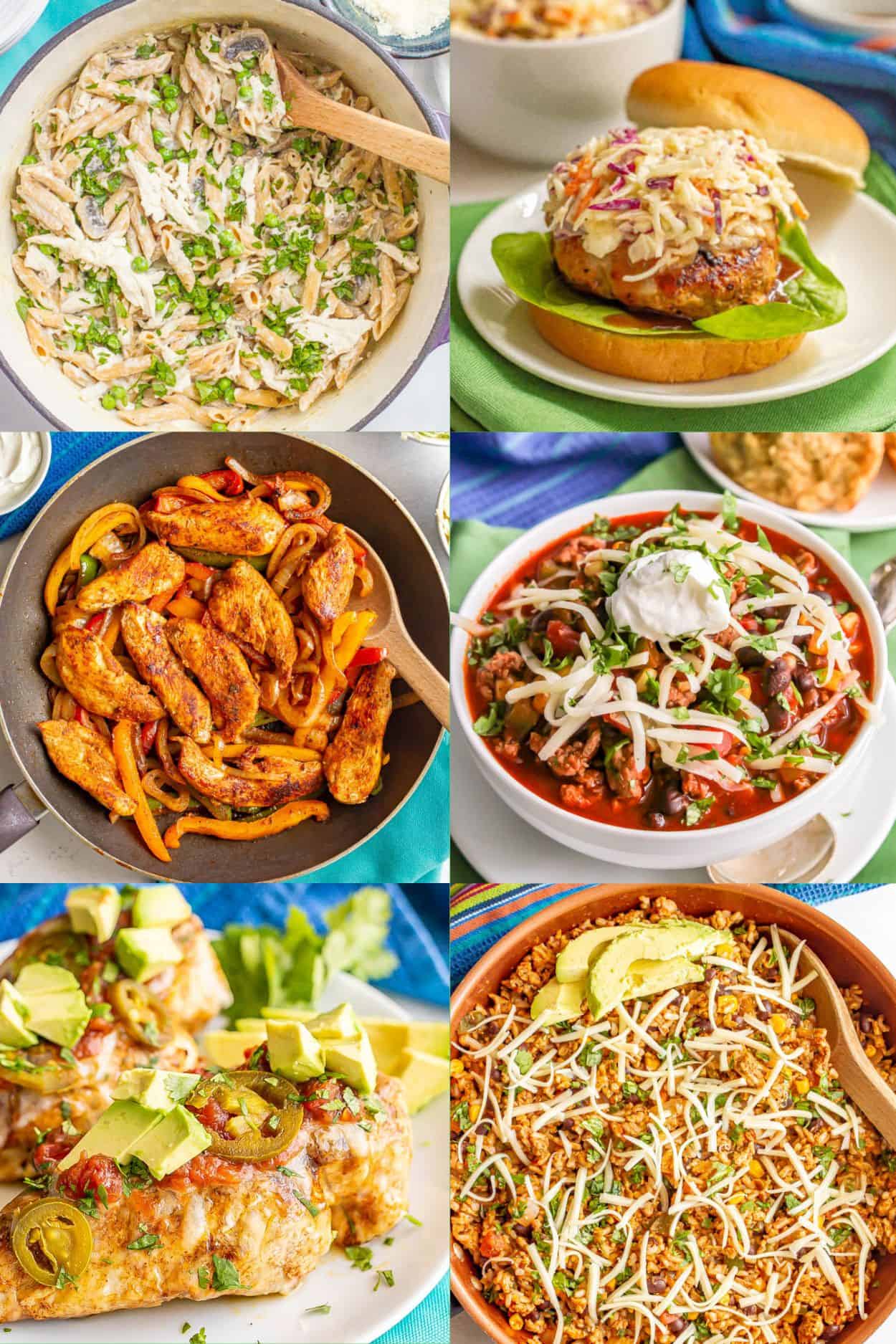 Camping has become one of my favorite family get-aways.
We've taken the kids camping every spring and fall here in N.C. since they were out of diapers.
Something about making your own little home in the woods, living outside for a couple of days, being free of all the usual tech time-sucks, it's just so relaxing and freeing.
Breathing that fresh air, sleeping in nature, it just does my soul good.
However, it's also a lot of work!
I spend almost a full day planning and prepping and packing to get ready to go for just 2 nights of camping.
And that's now that I have the system down! Though I know plenty of people make it work and are a bit more spontaneous and adventurous and just throw things in the car and go.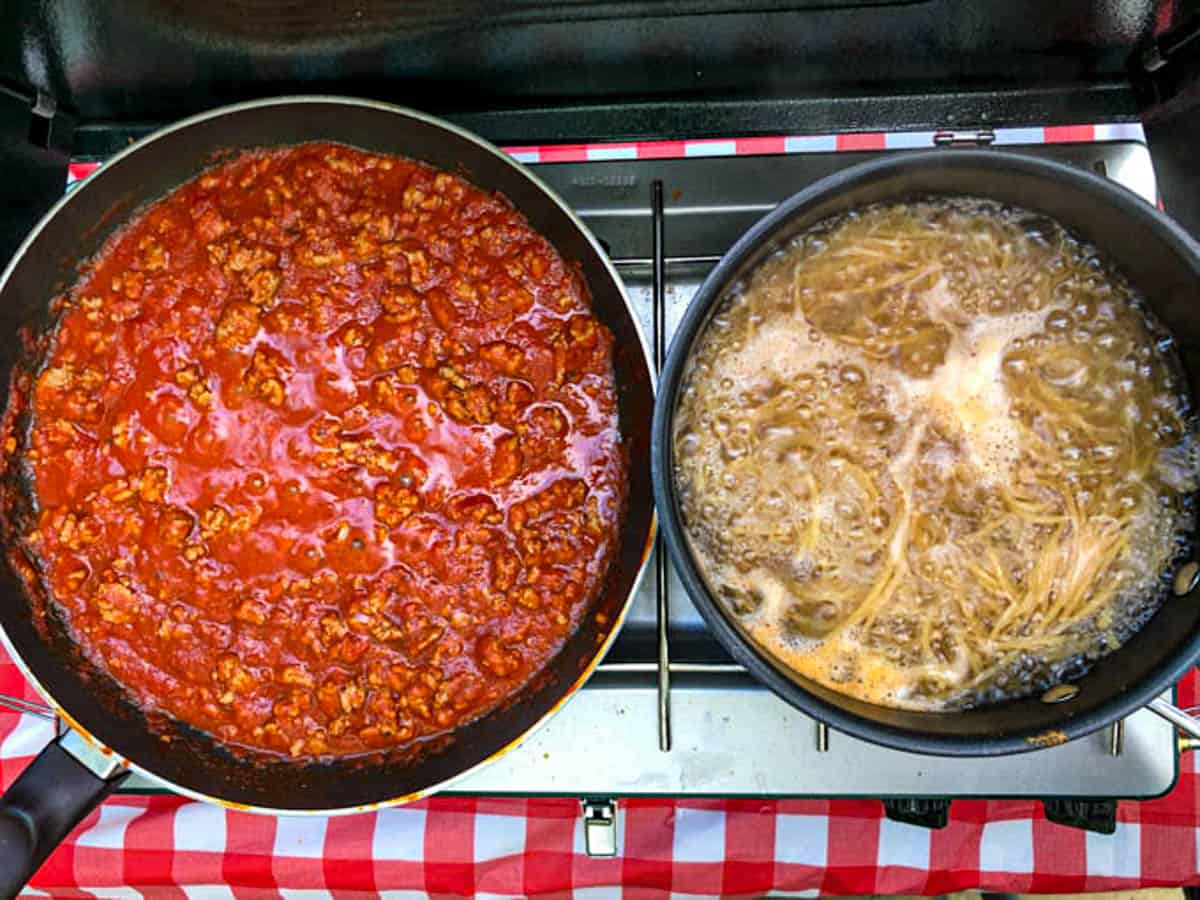 Still, because of all the planning and experimenting and trial and a few errors, I have figured out quite a bit about family camping weekends.
So today I thought I'd share some tips and tricks with you!
Camping food doesn't have to be difficult. And it can definitely be delicious! And even healthy. I know, I know, that all seems like too much to ask for, but it's true.
(You know I've figured out how to hack the easy, healthy angle - that's my thing!)
So I wanted to share 12 easy camping dinner recipes to take the stress out of cooking at a campsite. Plus a few bonus ones.
But don't stop there. I've got some great food prep and packing tips and hacks for you as well as some specific recipes if you need them.
So let's dive right in!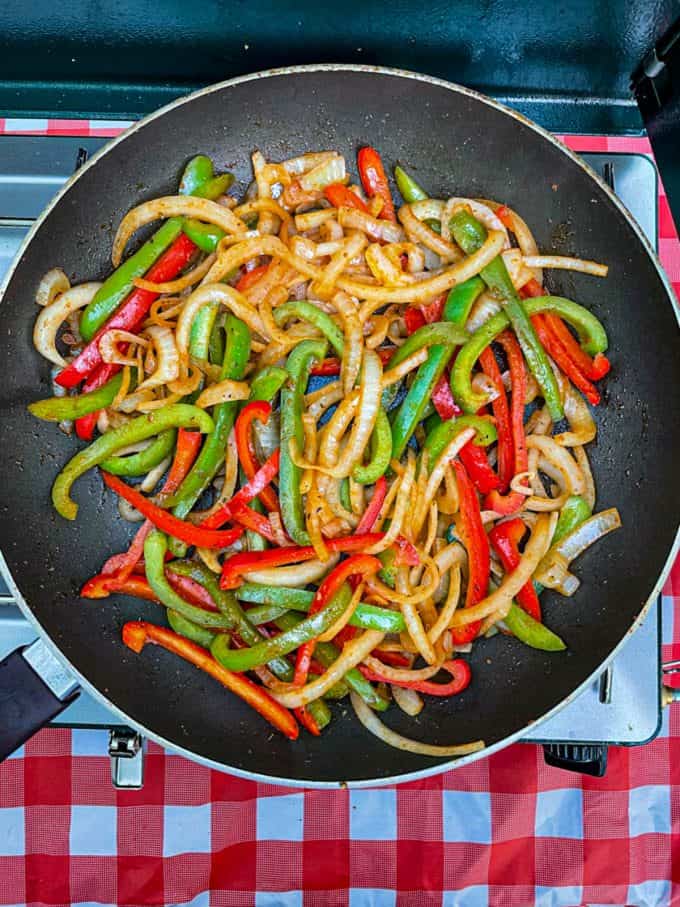 12 easy camping dinners:
One pot pastas - turkey, chicken, sausage or veggie
Chili - beef, turkey, chicken, bean or veggie
Stir fry - chicken, beef or veggie
Fried rice - chicken or veggie
Fajitas - beef or chicken
Quesadillas - pick your favorite fillings
Foil packets - wrap it all up and let the fire do the work; steak or sausage and potatoes is a great combo
One-pot wonder - rotisserie chicken, beans and spinach, plus cheese - lots of variations you could do here
Burgers or hot dogs (or both) - plus all the fixings and toppings
Grilled chicken or kabobs - add whatever you want
One-pot soups or stews - throw it all together and let it simmer
Chicken skillets - go southwest, Mediterranean, etc. with your spices and what veggies you add
And because I keep coming up with ideas, here's a few bonus ones:
13. Curry - chicken, veggie, pork, etc. (a store-bought curry sauce or packet would make this easy without having to haul a ton of ingredients)
14. Stovetop mac and cheese - add in some cooked, diced chicken and peas or spinach to make it a whole meal
15. Egg scramble - add favorite veggies and a protein and mix it all up
See what I mean with how easy and do-able these all seem? And you can certainly make them as healthy as you'd like. Or not. 😉
Now, I also promised you some specific recipes for those ideas above. You can pick and choose from the below, use your go-to recipes, or find inspiration in cookbooks, magazines or on Pinterest.
(Many of the recipes below are from my site, but I've also included recipes from others.)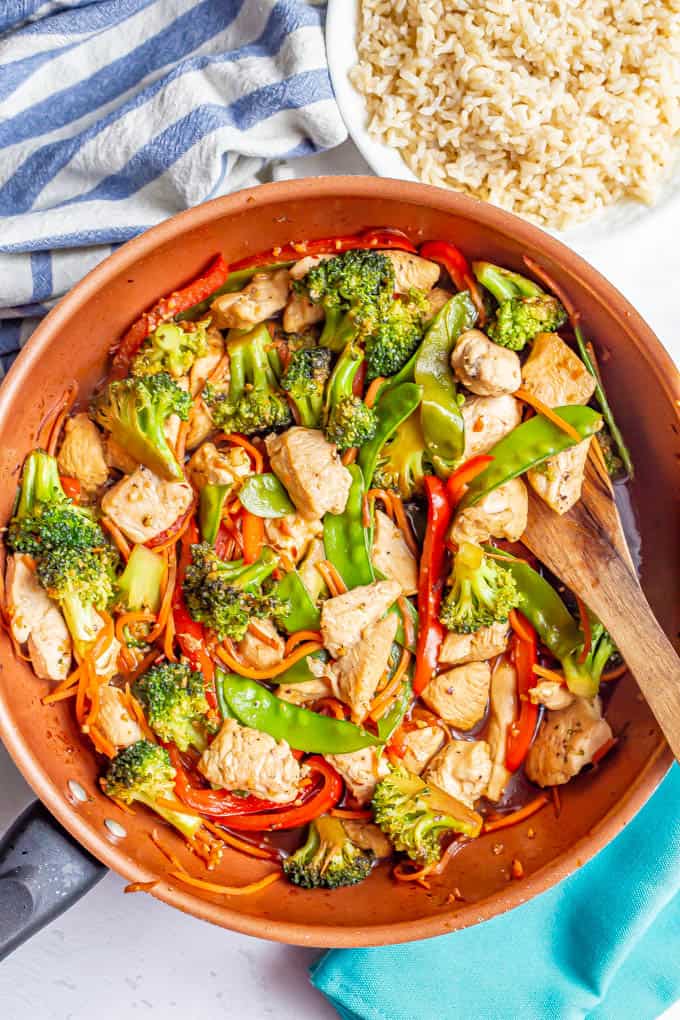 I don't, however, recommend trying a brand new recipe while camping. No one needs that stress. Maybe test it out a few weeks before you go so you're familiar with the process and are sure everyone likes it.
My number one rule when camping is to make sure no one gets hungry or hangry. (I pack enough snacks for a small army to guard against this.) And having dinners everyone likes is important after a long day of hiking and playing around the campsite.
Oh, and keep reading below this list of recipes for ALL my camping hacks and tips for making your trip as easy and stress-free as possible.
Easy camping dinner recipes: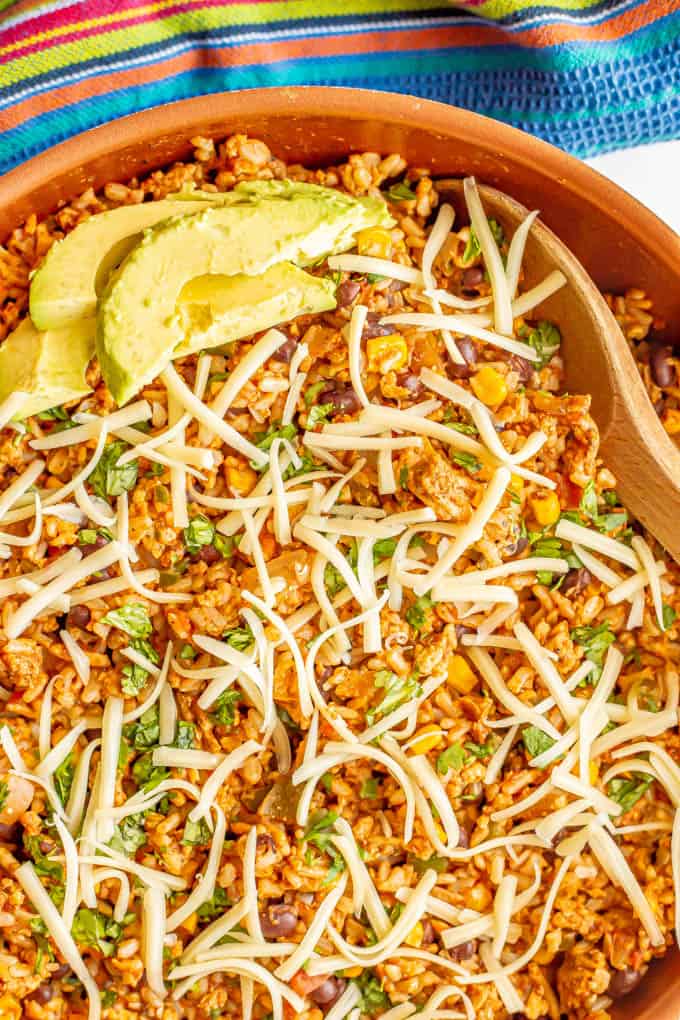 OK, let's talk equipment and considerations on how you might make these yummy dinners.
You'll need to be sure you understand what your campsite might offer.
Many campsites will have a small grill gate that's part of the campfire area set up. Others might have common area grills to use.
Those are great, but you're also pretty limited.
I use a camping stove on our trips. I love mine. It took next to no time to get adjusted to how to use it. And it's super compact.
I have a 2-burner Coleman stove, and I highly recommend it. You can fit two big pans on it at a time and you have total control over the cooking temperature.
It's my secret weapon to camping food deliciousness!
So if you think you'll be camping on repeat, I definitely recommend getting one.
The other favorite somewhat specialty item I love for camping is having 1-2 good knives with a cover. Covered knives pack safely and make prepping at the campsite a breeze.
OK, now let's talk camping food prep. Cause I've got tons of tricks I've figured out over the years.
Camping food prep tips:
Equipment: Think through each of your meals and what you'll need, equipment wise. Pull out all of the pots, pans, utensils, can opener, etc. you will need.
Containers: Pack extra containers or plastic bags for storing leftover food or sealing up opened containers. If you throw your bag of baby carrots or your open block of cheese back in the cooler, it will get water-logged, icy and gross. You'll need bags to put those things in once the original containers have been opened.
Wraps: Similarly, pack some aluminum foil, plastic wrap and wax paper. They always come in handy.
Meat: Slice, chop and prep all of the raw meat at home. I slice up chicken for fajitas, take the casings off my turkey sausage, pack my ground turkey or beef in a plastic bag and generally have all the raw meat ready to throw in the pan. No salmonella worries at the campsite.

🙌

Eggs: Crack and scramble your eggs in a bowl at home and then pour into an empty (disposable) water bottle. They store so much easier in the cooler than a carton of eggs, and you'll be ready to just pour them in your pan. Again, no touching and no germs at the campsite where it's harder to wash.
Cheese: Shred any cheese you need before you leave so it's just ready to go. Or buy pre-shredded.
Beans: Open, rinse and drain your beans before you leave so you don't have to worry about it at the campsite. Pack the ready-to-use beans in a small container.
Cooking condiments: Pack small containers of cooking oil, butter, salt and pepper and any other seasonings or condiments you need in small jars or plastic containers. You can also pre-measure quantities at home and then not have to worry about it. (But maybe take some extra just in case…)
Cutting board: I like to take 1-2 cutting boards as well so I can have a clean work surface. We cover our picnic table with a plastic cover, but even that gets dirty as the weekend goes on. Your wax paper can also double as a work surface though.
Again, a lot of this is just really thinking through every meal and every part of each meal - as well as the before and after of the meal - to figure out what you can do ahead to make life easier and less messy.
That definitely gets to be second nature over time, though, so you'll get there, but I wanted to share what I've learned here with you.
One other camping food favorite of ours…
My kids love cooking breakfast sausages for all of us in the morning. They use the same sticks we use for roasting marshmallows, and just spear the sausages.
For this reason though, I buy pre-cooked pork and turkey breakfast sausages so we don't have to worry about cooking them through. They are just heating them and getting some good char marks on them.
So I highly recommend investing in some good - and long - fire roasting sticks. Ours were a gift from my parents and they are fabulous - for backyard fire pits as well as camping trips.
Here's a few other nice-to-have items for food-related camping gear…
- Nylon food scraper - makes clean-up easy, especially after cooking eggs or making a cheesy one-pot pasta.
- Camping plates and utensils - better than throwing out paper plates; we have a set of plates, bowls and utensils that pack easy and clean up great.
- Safe dish washing soap - ours is a small bottle from REI I think, but that Amazon version looks good too.
- Sponge and quick-dry towels - these are great to have for dish clean-up time.
Whew, I know that was a lot. Thanks for sticking with me.
We've just done this so many times, and I finally feel like I've gotten it mostly figured out. So I wanted to pass that along for anyone who's new to camping, hans't been in a while, or just needed some fresh ideas for easy camping dinners, with a few hacks and tips thrown in for good measure.
Last thing - I did keep an IG story highlight of our most recent camping trip in my Instagram profile. The highlight starts with some of the food packing tips I mentioned here as we were getting ready the night before. Check it out!
You'll also get to see my cute kiddos (no, I'm not biased) and the gorgeous mountain views from the summit we hiked to.
Ah, I can't wait to go back!
I hope you found this helpful, and if YOU have some great camping dinner ideas or general camping tips or hacks, please do share them in the comments below. We can all learn from each other!
XO,
Kathryn