A round-up of healthy, easy and quick kid friendly meals and recipes you can throw together at the last minute on busy days.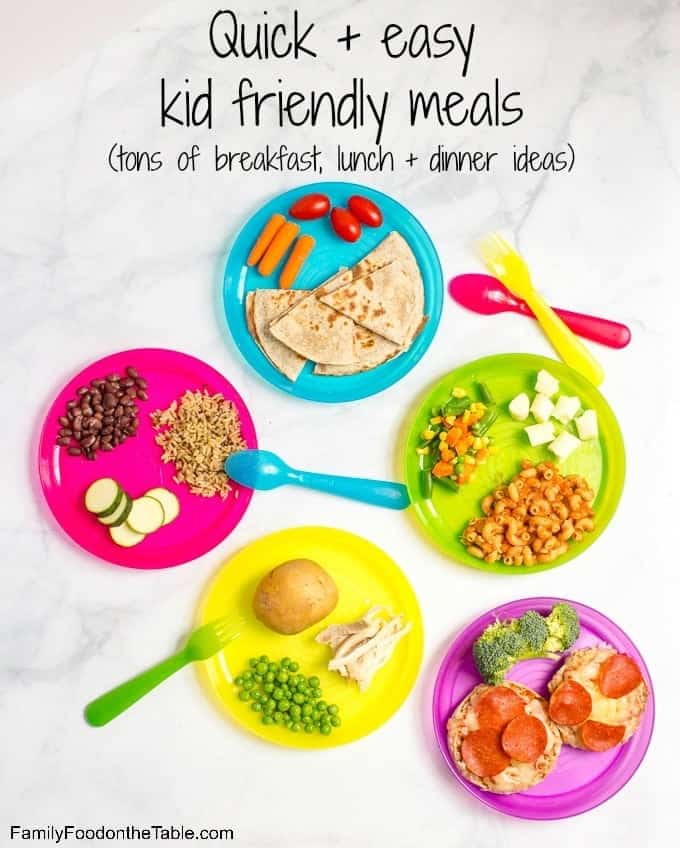 So I'm a planner. I have monthly meal plans for my husband and I for dinner and a separate meal plan that includes breakfast, lunch, snacks and dinner for our little ones.
Can you say Type A? Completely guilty.
But, as any parent knows, life happens, days get turned on their heads, plans get abandoned, and yet, we still must eat.
Especially those kids. I mean, really, it's an endless demand for food!
And as I mentioned last week with my zucchini cheddar whole wheat waffles, my kids have never had fast food or take out (unless the grandparents are keeping something from me!) so I've got lots of tricks up my sleeve to throw something together at the last minute.
(I also keep our freezer stocked and that's really helpful! Everything from muffins to taco meat gets stashed away. But for the ideas here, I've assumed you don't have a stash to draw on.)
Having some easy, quick kid friendly meals at the ready has been helpful this summer, giving us a bit more flexibility to stay longer at the pool, take an impromptu day trip, go for a picnic and more.
And I think it will be even more useful when the back-to-school season starts and life goes into overdrive again.
(By the way, I put together all 5 of these plates in less than 25 minutes. Not bad!)
So without further ado, here are some easy, healthy, quick kid friendly meals that you can whip up with on-hand basics.
(I made an easy printable as well so you can have these ideas at your fingertips.)
Easy Kid Breakfast Ideas
Easy Kid Lunch Ideas
Easy Kid Dinner Ideas (Mains)
Coming soon: Three of my kids' favorite broiler sandwiches. I love making these for a quick dinner.
Sign up for my free weekly e-newsletter and never miss a recipe. (You'll also get my free e-cookbook, Easy Weeknight Dinners, as a thank you!)
Easy Dinner Side Dishes
There you have it - plenty of mix-and-match ideas to choose from.
And if you're looking for some quick and easy snack ideas for kids, I've done a round-up of some of our faves. (There's a free printable for that one too!)
And in case you missed it earlier, here's the free 2-page printable again for this round-up of meal ideas.
What are your go-to ideas for last-minute meals? I'd love to hear from you in the comments below!