Easy meals to make at home include make-ahead breakfasts, simple lunches, snacks and family dinners that are healthy, delicious and use on-hand ingredients.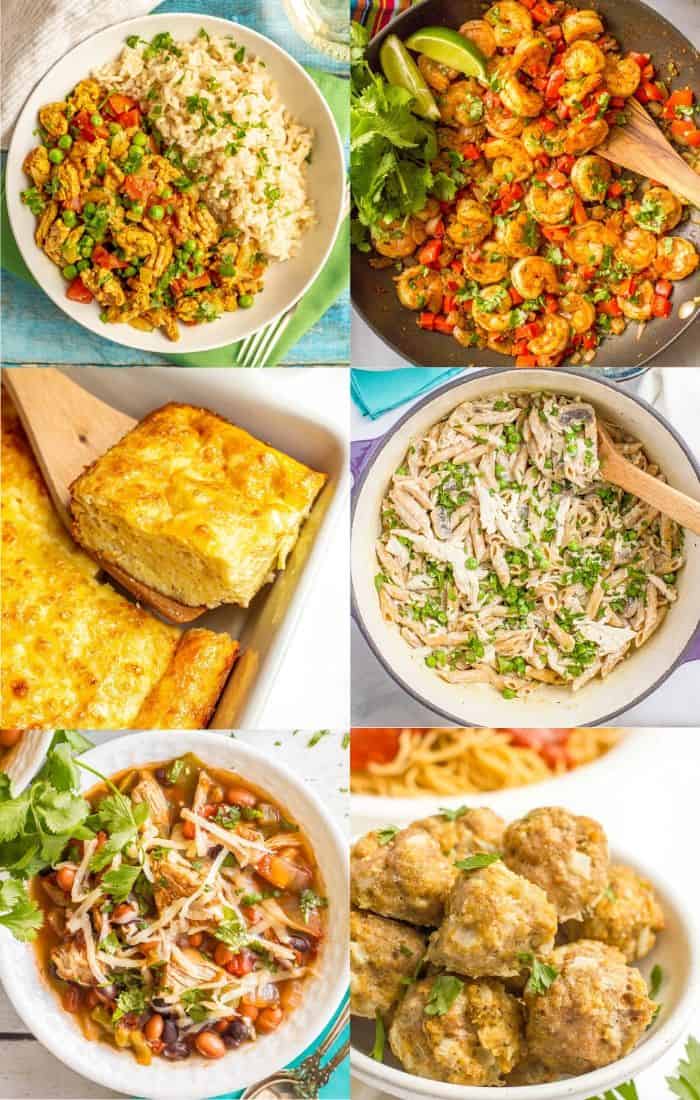 Planning meals and our monthly menus is one of my guilty pleasures.
It must be the type A personality shining through, but I actually really enjoy sitting down and mapping out our dinners, snacks and school lunches for the kids.
Right about now, I'm thankful for that.
With the coronavirus keeping us all at home, I know several friends who are stressing about all the food and cooking aspect of this new life.
Honestly, I am too.
I can't assume I'll be able to get all the exact foods and supplies I need any time I go to the store to stock up for as long as possible, so I've been trying to plan out some easy meals to make at home more generally and also allow plenty of flexibility.
Really, it'll depend on what we can get, right? (I've been checking Amazon too and I know lots of food companies can ship to you as well, such as flours and oats from Bob's Red Mill. 👍)
You can also check out my household and food supply stock-up lists. Though maybe we're now past that point?
Anyway, with everyone working from home and kids out of school, we'll certainly be needing to keep things pretty basic in the kitchen. Enter:
Easy meals to make at home
I've gathered some ideas for easy make-ahead breakfasts, simple on-hand lunches as well as some easy family dinners that have just a few ingredients and/or rely on pantry basics. Plus, some bonus easy healthy snacks to make and have on hand.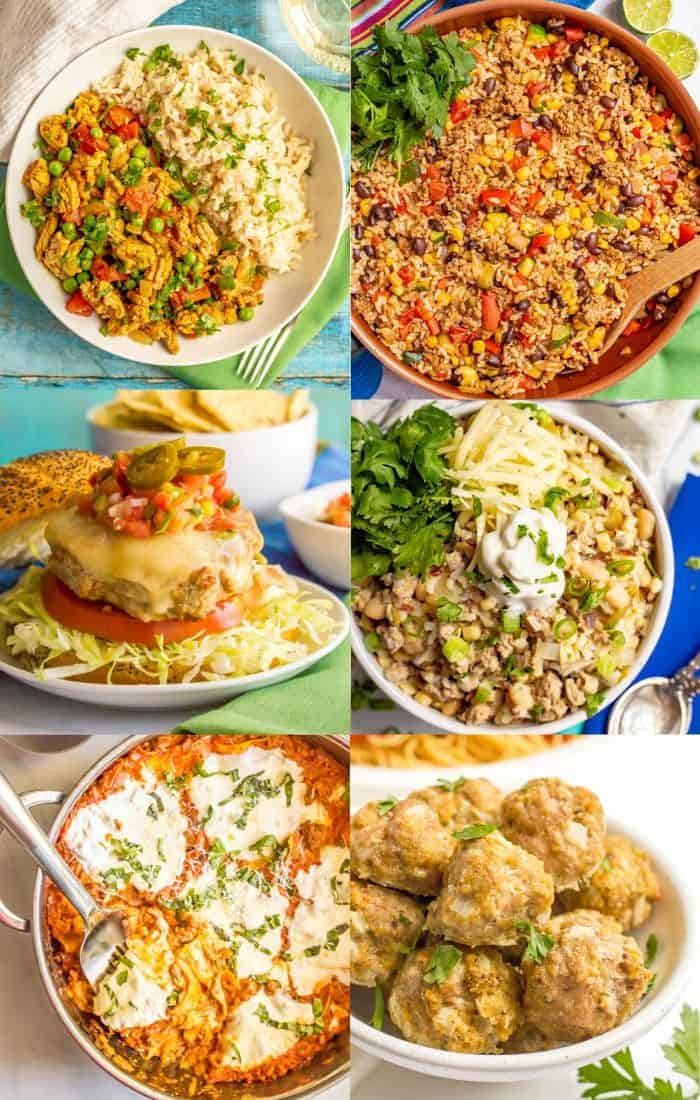 I hope these ideas, recipes and lists are helpful for you too as we navigate this new world.
Also, please keep in mind that I am a substitute queen and in many of my recipes, I already mention substitutions and swaps you can make to the recipes. These are usually in the bolded "Notes" section of the written post; sometimes that information is also listed in the notes section of the recipe card at the bottom of the post. That will be useful in the coming weeks .
OK, let's dive in.
Easy make-ahead breakfasts
When able, I'm going to prep a few of these a week so we have some breakfast options ready to go in the morning. Helps start the day off strong. 👊
Many of these are adaptable, so you can use the ingredients you have available or tailor them to suit your family's tastes.
You can also check out my easy, healthy grab-and-go breakfast ideas for more inspiration.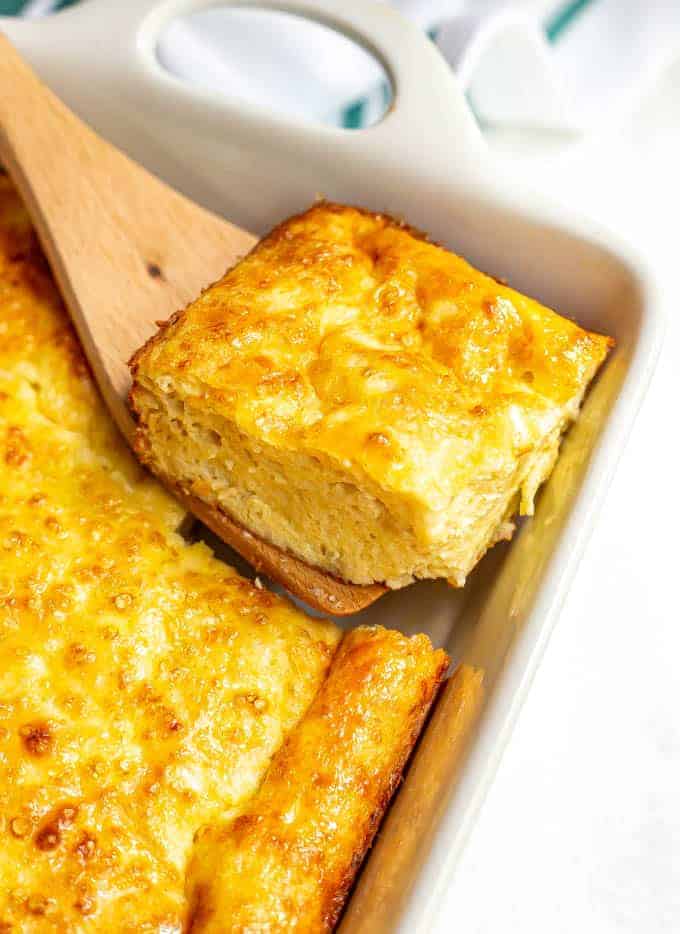 Simple on-hand lunches
We've packed my kids' lunches for years, but there's something about the thought of them at home and needing lunch every day for the next couple of months, in the middle of my work day, that stresses me out.
So I've got a running list of easy meals to make at home for lunches that I can either:
Prep ahead of time and just pull out to serve,
Put together quickly (5 minutes or less), or
Have them fix themselves or with just a little bit of help
My kids are 6 and 8, so they are eager to help in the kitchen, but still need some oversight and assistance. Which is why we are keeping things really easy with these ideas.
And flexible. Again, who knows what foods we'll all be able to keep on hand.
Sandwiches - turkey, peanut butter, etc. I've got a list of 20+ sandwich ideas and spreads if you need some creative inspiration in this category - or just ideas to keep things from being boring
Healthy lunch wraps - more ideas here and great for using tortillas, which are easy to keep in the fridge and freezer for longer periods of time
Hummus and dippers (pretzels, carrots, cucumber, etc.)
Cheese and snack plates
Egg salad, chicken salad, tuna salad
Muffins (see above from breakfast) - great served with yogurt and a fruit, or with a smoothie
Veggie burgers - homemade or frozen
Hot dogs or chicken sausages
Quick chicken tacos - just warm up some rotisserie or leftover chicken in a pan with some taco seasoning and any extras - beans, salsa, etc. Then stuff into shells and serve in minutes!
Grilled cheese and soup - a little more labor intensive but one of my kids favorites
Quesadillas - cheese, bean, spinach, chicken, any kind! Another great use of tortillas and goes pretty quickly if you have shredded cheese on hand
English muffin pizzas or English muffin ham and cheese melts
Pasta bowls or rice/grain bowls - a great way to use leftovers
Healthy snack ideas
My kids, like yours I'm sure, are snack fanatics. We don't go very long between meals without inquiring about a snack.
And knowing how snack-crazy they get when they are home all summer long, I'm guessing we're in for it during this quarantine time period too.
So snacks to the rescue!
I've previously shared some easy healthy snack ideas for kids, and those are great for toddlers, too.
Granted, I plan to pick up plenty of store-bought snacks as I can, and I definitely will relax my normally more stringent rules on making everything myself. There's a limit and we have reached it.
But these are some of our very favorites and you know me, they are gonna be pretty easy to put together. Plus, it helps me burn some of this anxious energy I'm feeling to get in the kitchen and fix up some yummy treats.
5-ingredient granola - my son's favorite; great for breakfast or snacking
Raw brownie bites - a healthy chocolate fix
No-bake energy balls (like peanut butter energy balls or chocolate chip ones)
Healthy chocolate chip muffins (or any muffins you have that double as breakfast or snack)
Trail mix and mixed nuts
Peanut butter and banana or apple
Smoothies or fruity popsicles
Cheese and crackers or small cheese/snack plate
Hummus and pretzels or carrots
Chips and salsa or bean dip (or microwave nachos for a treat)
Graham crackers with peanut butter
S'mores snack (break up graham crackers in a bowl, add mini marshmallows and chocolate chips)
Healthy cookies or baked breads
Microwave popcorn (use a glass bowl or paper bag to make it)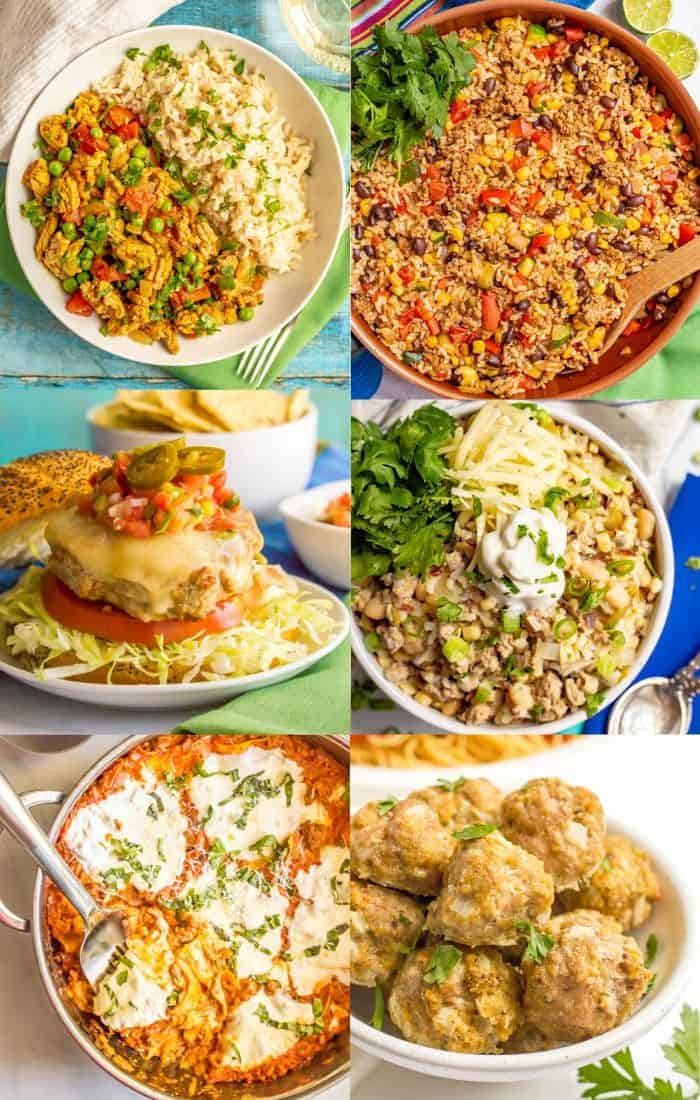 Easy family dinners
Dinner time after another long day of everyone stuck at home sounds a bit daunting. But it can be easy, it can be simple and it can be quick. Oh, and healthy too.
That's been my motto all along, but it's definitely true right now when we all need more and more easy meals to make at home, maybe more than we are used to doing.
You can check out my 30 easy healthy family dinner ideas for a whole month of basic dinner starter ideas (such as tacos, chili, stuffed chicken, sheet pan dinner, fried rice, soup and sandwiches, etc.) It's great for looking through if you're in a dinner rut.
Healthy, quick kid-friendly meals can suddenly be plenty good enough for the whole family and pool night dinners are easy, healthy ideas to make ahead or quickly throw together. They'd be great for a backyard picnic, too, if you're feeling a little claustrophobic. 👍
Also, definitely browse these chicken recipes with few ingredients, which all have 5 or fewer ingredients. So handy!
Or if you've stocked up on ground turkey, here are 12 easy, healthy ground turkey recipes.
Here's a few dinnertime favorites that keep things super simple, both with the ingredients and with the preparation.
I'll stop there but hope that gives you some good ideas for easy meals to make at home during this crazy time.
Feel free to poke around on my site or get in touch if you need help making a dinner from what you've got at home. I love figuring that stuff out! (And am happy to point you to recipes that aren't mine too. I've got lots of very talented food blogger friends. 😊)
You can feel free to email me (kathryn @ familyfoodonthetable.com) or message me on Facebook or Instagram. I sometimes get a flood, but I really try to read and respond to each one as I am able.
Finally, if you've got any great recipes or tips or strategies to share, please leave a comment below! We're all in this together and it's so important to help each other out.
XO,
Kathryn